Writing when you're angry is such good fun. If you are ever at a loss for what to blog about my advice would be to just put yourself in a situation that you know will result in you getting pissed off, wait until you're about to explode in the manner of Michael Douglas in the movie 'Falling Down'(see thumbnail) and then rather than going on a rampage of destruction that will no doubt lead to you being imprisoned, open your blog and go nuts!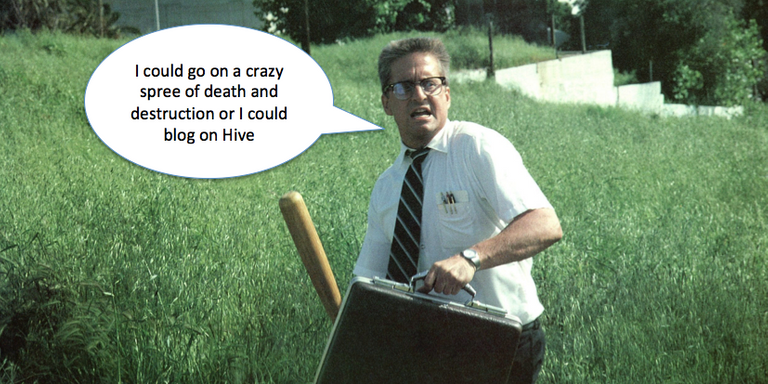 Today my gripe is that my employer, a well known British University, has decided to stiff all its employees by not paying us a bonus under the pretence that it can't afford to despite having significant cash reserves.
Yes, these are "challenging" and "unprecedented" times as the senior management love to tell us and at a meeting last week, the Vice-Chancellor (the head honcho) told all staff that the University would not be paying a bonus for the 2020/21 academic year nor would we be getting an annual living cost pay rise next spring. Disappointing news but hardly unexpected.
Today that has been followed up by an email from the Head of HR to tell us all that this is only half the picture and in fact, we won't be getting any performance-related bonus for this year either.
To be quite frank if the University doesn't want to offer me a bonus next year then I can live with that, it will make the meeting that I have with my boss every summer to set my objectives for the coming year and the objectives of the team I manage very short as I will just refer her to my contracted duties and the wage that this covers.
However, for the University to decide just a couple of weeks prior to our annual appraisals taking place that it wasn't going to offer a bonus for work already done has pissed me off no end!
It makes me wonder what's next? Perhaps I'll be asked to pay rent for my desk in the office when we return? Maybe we'll have to chip in for variable costs in the workplace such as electricity? Or it could just be that all remuneration from next year onwards will be in the form of magic beans!
I sent a short, polite email to my immediate superiors only to enquire about the discrepancy between the information that was given last week and what has been revealed today. I already know the kind of management drivel that I'll get back. I'd imagine something along the lines of
"The bonus scheme is at the discretion of the executive board"
Yes, I can read and have read your policies you patronising fucks! But don't you think it's more than a little bit naughty to slip this one in just weeks before the payment was due to take place when everyone up to that point was working on the assumption that they'd at least be eligible for it?
"The University is taking these measures to ensure that redundancies won't be necessary"
This roughly translates as "shut the fuck up and get back to work! You should be thanking us for giving you a job"
I can't help but feel that my employer is leveraging the kind of fear and doubt most people are living under in regards the economy and the job market as a whole to cut remuneration because they know they won't get the kind of blowback they would have done 12 months ago had they have tried to pull this shit.
Furthermore, I also believe the powers that be would be happy to see a few people leave their roles as a result of this. Afterall "natural leakage" is preferable to forced redundancy as far as the employer is concerned.
It's a sorry state of affairs to be in and I know I won't be the only member of staff feeling cheated and undervalued.
I read a blog by @cryptoandcoffee recently exalting the virtues of not burning your bridges. I certainly intend to keep my tirades to my blog, my family and my very close friends (poor bastards) while silently plotting my vengeance and ultimate departure.