Below, i cover my near term plans which i hope to accomplish this April. It will be so hard for me but i will try. I spend almost 24-hours each day on the PC but these days, i can only pull off say '2-hours of productivity'. I am really struggling due to very weak health among other struggles but my dad is very ill as well, meaning that i can't stop or just stop. I can't take a break either to recover or rest.
Here is a list of things i will try to do this month of April.
YouTube fix - Due to illness, recently i started doing videos on YouTube in the past months. I had a YouTube channel that was stagnant at '340 subscribers'. Resuming 'video-creation' lately, the channel began to grow and grew past '1k subscribers'. Finally, i completed requirements for monetization on YouTube 'i.e a minimum of 1k subscribers and 4k watch hours' and i applied for monetization but my application wasn't approved. Ofcourse, YouTube never gives clear insight on what video(s) or 'aspects of your videos' is infringing on their policies, meaning that i will have to make 'guesses' after analyzing some 514 videos that make up the said channel. Based on my guesses, i will need to delete, edit or trim videos. After a month, i will be able to apply for their monetization again. YouTube has a '30 days interval' policy between 'monetization applications'. Baffling!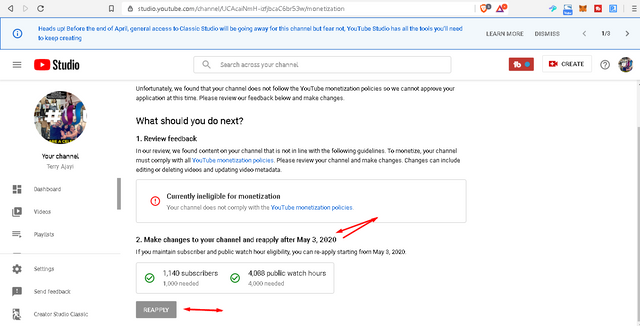 2. Send a proposal to 100 company emails - Due to my illness and very limited productivity, it took me one month to write the said proposal. I will look for at least 100 valid company emails and send them this proposal. Prior to now, i used to look to contact social media influencers but i am adjusting my approach for this month and focusing on enterprises and companies. My approach will be strategic and organic, meaning that i will do some tactical research. To trigger my inspiration, i will send my first email to @steemhunt. My proposal is simple; 'kindly help me kick-start the setup of a physical hub (Macrohard) in the Philippines, in return i will apply some of the productivity that stems from the hub in the furtherance of your company's movement'
3. Seek interviews from at least 100 people - I also wrote a separate proposal inviting entities or social influencers to consider interviewing me or vice versa. I will send this proposal to some 100 people/companies strategically too. If i am able to get 6-8 interviews in eventuality, that is a win. In these interviews, i will look to spiel everything about 'surpassinggoogle', discussing my projects, movement and everything. I will also intimate them on 'Legitimate Illiteracy' and on the application of blockchain technology in the furtherance of their respective vision.
4. Contact news outlets to cover my story - I am a legitimate illiterate. I also have stories and histories. I would like the world to hear my ulogacy. I am currently writing a proposal, inviting people to cover my story. Adjusting my strategy a bit, i will focus on reaching news-outlets, 'mainstream or individual'. I will look to send the said proposal to at least 100 researched contacts. If i am able to get two tangible responses, that is a win!
5. Keep on writing the verses for legitimate illiteracy - I started writing the verses out from the curriculum of legit illiteracy. You can find this here. Legitimate illiteracy is an entire school focused on revealing the 'rare intel' derived from the 'down-to-earth'. Along with each verse, i will create a corresponding explainer-video. So far, i have written out '26 verses' along with '26 explainer-videos' (videos ranging from 15-mins to 2-hours in length.)
6. Grow 2 Steem and 2 Hive communities to 1000 subscribers each - The said communities are the 'Ulogs and Marlians communities' respectively. This is a very manual effort but i will try my best. As i curate, especially on marlians.com, i will leave a corresponding comment inviting users to join these communities. Where we reach 1000 subscribers on these communities, i will actively look for ways to support these communities by proactively seeking others to join me in curating these communities.
7. Seek a delegation - For the first time, i will come out publicly and actively in pursuit of a delegation. I will do so on both Steem and Hive. Where i attain a tangible delegation, i will focus my efforts on 'growing communities' in a bid to spark many more noble dreams, exploring further the beauty of blockchain technology. I will start by growing '10 communities to a base of 1000 subscribers' each. I will strategically research 10 communities to grow for a start. Hive and Steem have better value proposition, where it can present many more communities with 'numbers'. Besides, 10 more thriving communities, means 10 more 'owners'. With a blockchain made up of 'owners', we have a more solid base.
8. Promote my witness more publicly - Unlike ever, i will come out more boldly and actively promoting my witnesses both on Steem and Hive. This is something i have never done boldly. My first focus in the near-term is solitary. As my witness starts to accrue extra rewards, i will focus on 'the setup and sustenance of a Macrohard physical hub in the Philippines'. With the existence of a physical hub, i will have more effective impact than has ever been the case and i can also begin to recover in my health.
9. Interview more people about their dreams - I will continue a series that i have started, one in which i interview people in a livestream 'ulogging-style' about their noble dreams in a bid to help them build it. I have already done 5 such interviews starting weeks ago. If i am able to do 10 such interviews this month. It is a win. See samples:
10. Continue the motion to set up @macrohard hub - My main and primary focus in the past year has been to 'setup a physical hub called Macrohard in the Philippines', which hasn't happened till date. I will keep on pushing the motion. Among other things, where this hub is setup, it will aid my recovery which is the basis of my overall effectivity.
11. Write two proposals each, for Hive and Steem - Like i tried to reiterate earlier, i will come out more publicly and actively with my endeavors. In a day or two, i will write two proposals, totaling '4 proposals', 2 published on Steem and the other 2 on Hive. In these proposals, i will be seeking 'witness votes' and 'delegation'.
Your Boy Terry
Support My Endeavors
Kindly Vote On The 'surpassinggoogle' Witness On Steem.
(
You can vote directly via steemconnect here
or visit 'https://steemitwallet.com/~witnesses' and scroll down till you find a witness search box, then type in 'surpassinggoogle' and vote.)
Kindly Vote On The 'steemgigs' Witness on Hive. (You can vote directly via hivesigner or can find it here: https://wallet.hive.blog/~witnesses)

Contact Me:
Email: comsilbronze4@gmail.com
Telegram: @surpassinggoogle
Discord: surpassinggoogle#1660
Donate:

https://www.surpassinggoogle.com/2020/03/surpassinggoogle-direct-donation-details.html