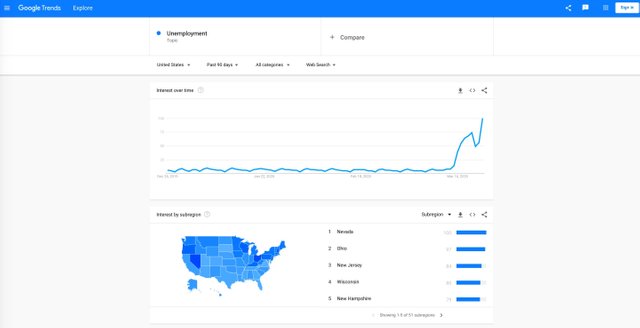 Since the announcements of the "Lock Down" (due to the Corona Virus), Layoffs are spiraling out of control in America right now.
I've just did a quick google trends search for the word "Unemployment" and my state of Nevada (Las Vegas at 100!) is ranked #1 and its only been like 10 days since the lock down. 📆
Studies suggest that many jobs will not come back for a very long time regardless if the pandemic tapers down or not.
Across America, reports are coming in fast stating that about 5-6 million people will at least visit unemployment line in for the month of March.
Can you say, WTF!! All this happened in just a few weeks. WOW! 😲
In the next few hours, the jobs reports will come out and in my opinion, it's going to look very bad. 🤷‍♂️
I believe we are just in the beginning stages of this "crises" and things will get much... much... worse.
This may affect the price of Bitcoin and Cryptocurrencies in 2020 for the worse.
As more people are becoming unemployed, they will not look into crypto's or stocks for investments as many will need all the money that they can get... just to survive the crisis.
Can Bitcoin go to $1000?? I'm not going to say anything. 😐
I hope I'm wrong but the numbers just don't lie.
It's going to be a very ruff 2020 for many of us and we may all be in beginning of a very long recession for a few years. 🙇
The only thing to do is to be positive and get to work... In times of crisis, people need to start hustlin' harder than ever before by learning new abilities and skill sets to dominate when the recession is over.
This post isn't here to scare you but just to prepare yourself for the worse and hope for the best. Lets GO! 🙋‍♂️
Keep on STACKIN! 😎
~ Charles Fuchs
For those who's interested in following my "Content" and "Daily" Posts... you can just follow me @stackin to get my updates.
You Can Follow Me Here:
➡️ UpTrennd: https://uptrennd.stackin.co
➡️ Facebook: https://facebook.stackin.co
➡️ Twitter: https://twitter.stackin.co
➡️ Instagram: https://instagram.stackin.co
➡️ Hive: https://hive.stackin.co
---
PI NETWORK: Pi is a new digital currency you can mine on your mobile phone for free without draining the battery or using data. Use The Referral Code: ( stackin ) to be on my personal team.
---
Crypto.com: Get The World's First ELITE Cryptocurrency MCO Debit Card and we both get $50! NOTE: You must stake 50 MCO to get the $50 + 2% cashback on all purchases. Must use Ref code: ( mqanqykcym )
---