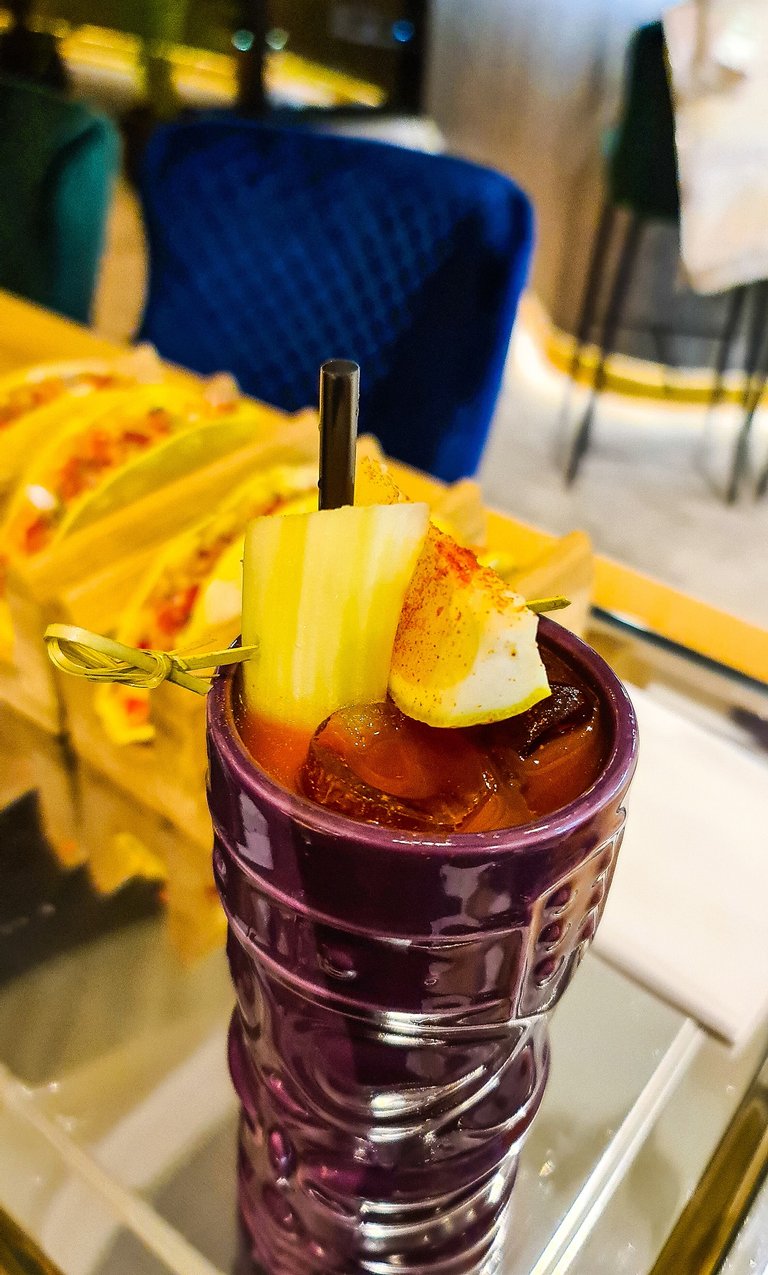 I am not an alcoholic person but sometimes I love to make cocktails. One of my favourite cocktails is Tequila Sunrise and I love to take it often whenever I get a chance.
Before going to the deep of Bloody Mary Story, let me share the background story of Bloody Mary.
After the celebration of New Year, Kharkiv city seems very calm and quiet. Not many people around and most of the shops are almost empty including megastores and departmental stores. Outside is cold obviously but not that much cold so anyone can go out for a walk easily. But everybody prefers to stay at home and I think many people went to another city for the holiday season to spend time with the family.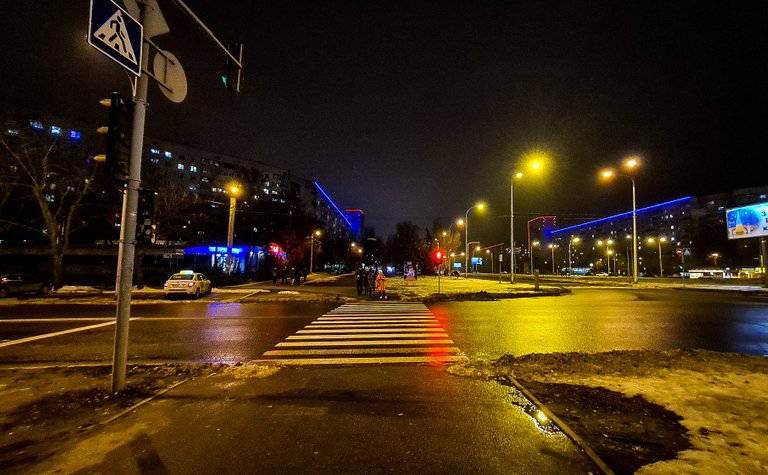 You can see the roads are almost empty except few patches of dirty snow which will melt soon. Only a few people were outside with their family and dog, basically, they were just walking for their dog. The crowd I have seen before the new year's completely gone and the entire city suddenly became so quiet.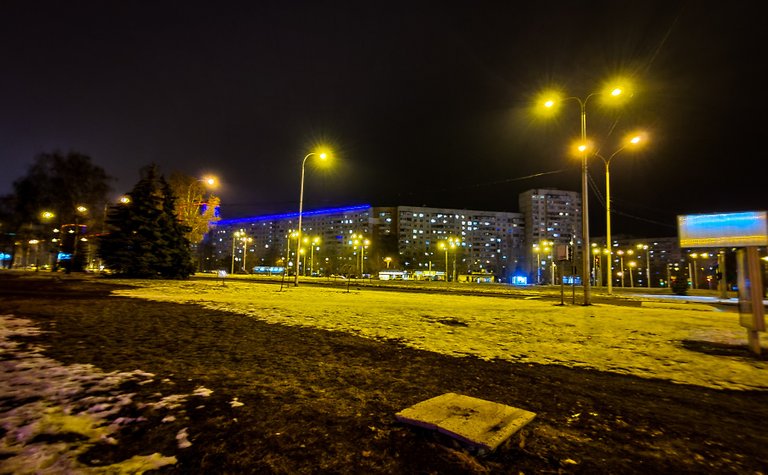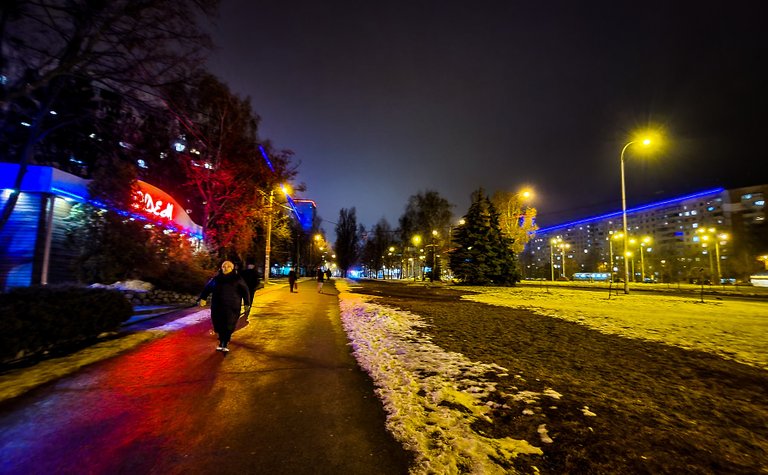 I felt relaxed while walking as nobody was around, no crowd, no rush so I didn't wear the mask as well. I was able to Inhale fresh cold air and the sky seemed pretty too. The night view of this city is beautiful, not too much but you will enjoy it. I went out around 5 pm and it was already dark outside and felt like midnight.
One new thing I have noticed today and that was all soviet residential building's roofs were decorated with light. A thin layer of colored light was defining the identity of the building and the structure as well. From the city scale, it looks very pretty and you will clearly understand the shape and size of the building by the thin fine line of lights. First I thought may be it is temporary and for the advantage of airway but no it's for city decoration purpose as well.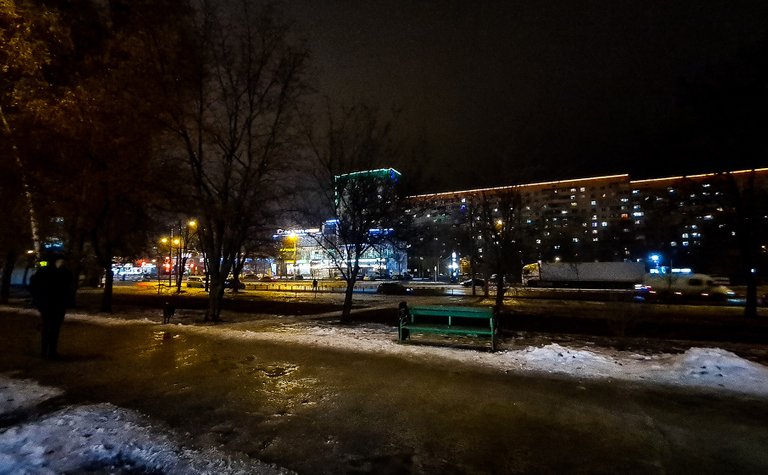 Maybe from this picture, you will be able to understand what I am trying to say...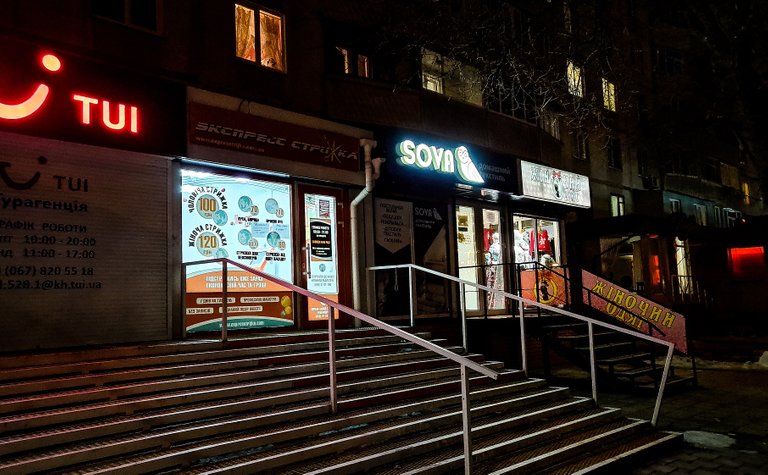 All shops were opened but nobody was around. In fact, the restaurants, bars, coffee shops were less crowded as well. I guess still everybody is busy with the new year and holiday season after all it's Sunday... Many people left the city for the holiday as well.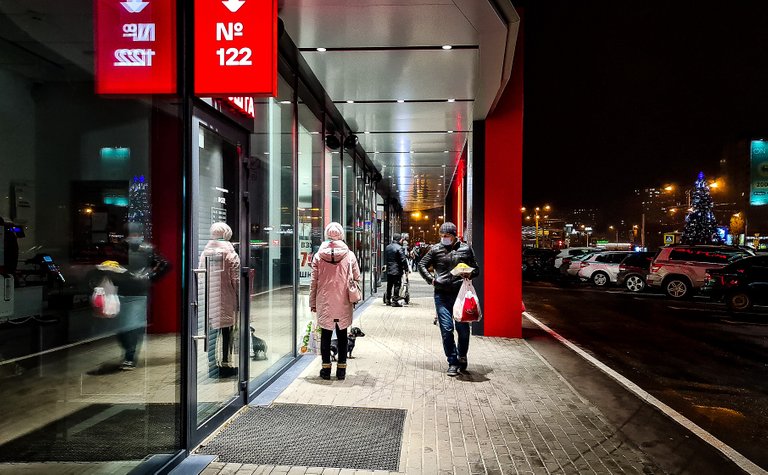 This is the entrance of the supermarket which was surprisingly less crowded than usual. Even the pet store was closed as well. I wanted to buy a toy for Gigi but couldn't buy it as it was already closed then. The entire superstore was less crowded and only a few people came to buy some urgent stuff. I also saw that bright Xmas tree, it was still bright with full of lights.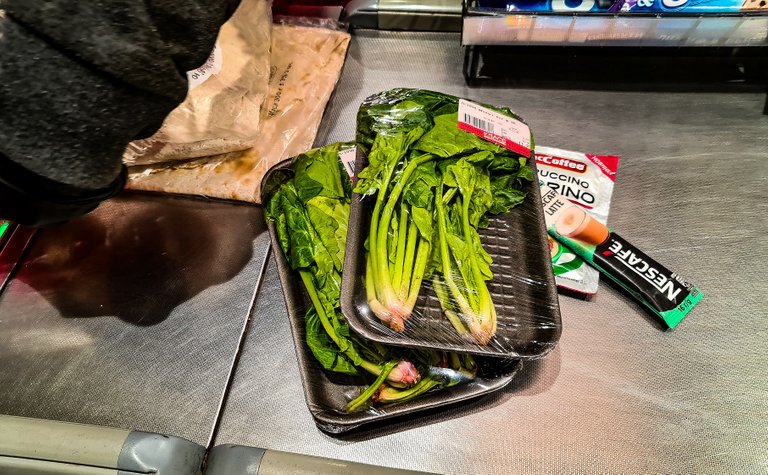 After spending 30 minutes in the store, I ended up buying 2 packets of spinach, bread, and flavored coffee. I have taken an iced latte and cinnamon coffee packets for myself because I love them. I also wanted to buy a ring light for indoor videos but the price is high now and doesn't know why but they wanted 100$ for medium-sized 60-watt ring light. Pathetic and decided to buy it later, not today.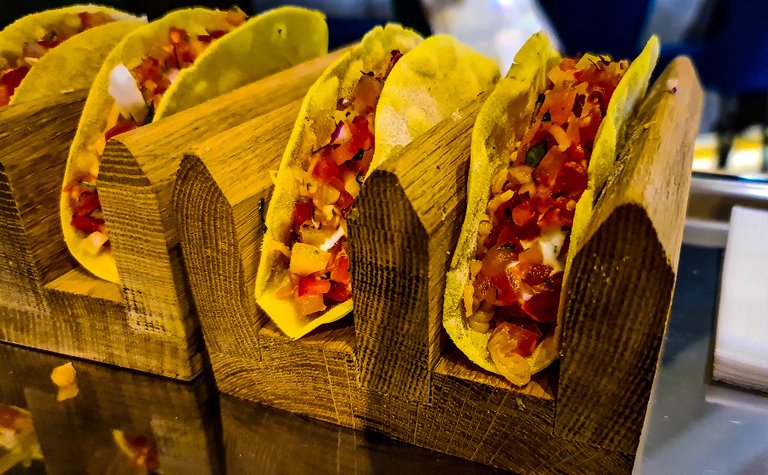 My heart was kind of broken so decided to eat my favorite beef tacos. It costs me 160 UAH for 4 tacos and 12 UAH for Cola. After ordering the food I decided to check the bar and after seeing the menu, I decided to taste Bloody Mary.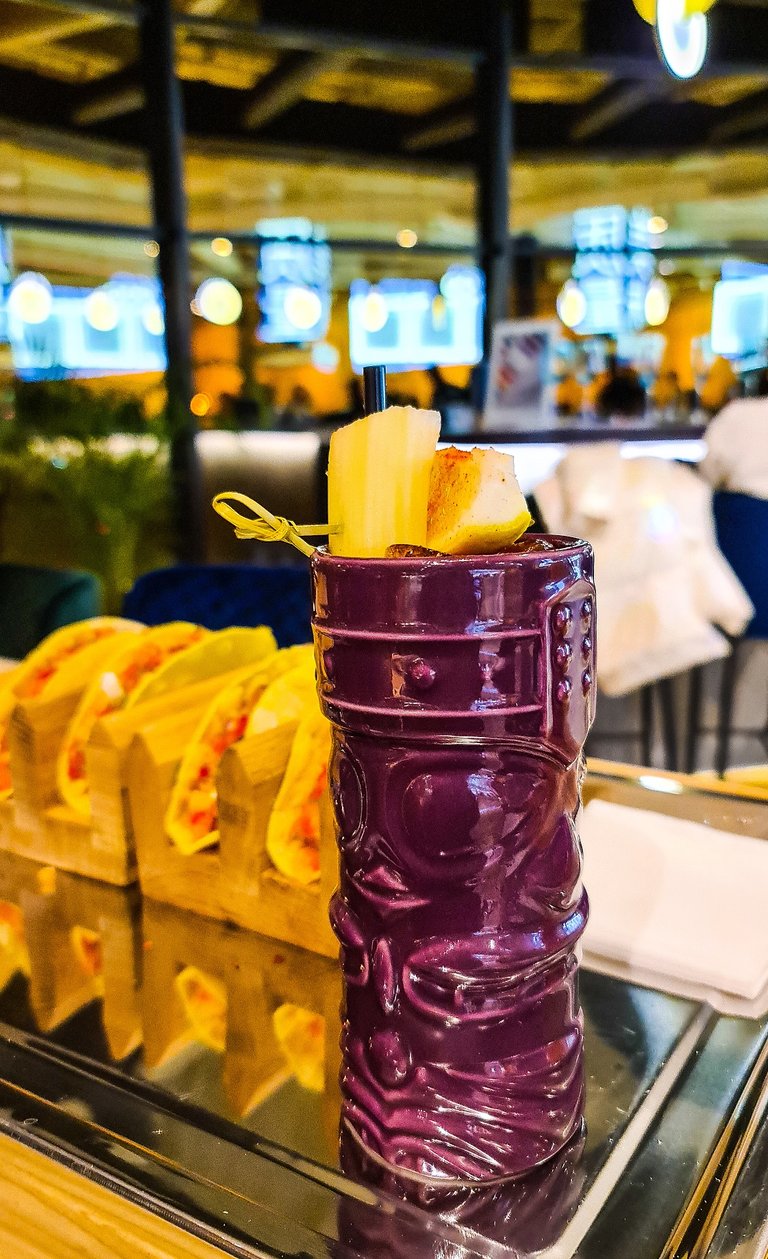 I asked for Margarita basically but they don't have it so decided to taste Bloody Mary which is basically a cocktail. The core ingredients are Vodka, tomato juice, and spices. For flavor, lemon juice, celery, black pepper can be added.
The bartender served the cocktail nicely with a piece of lemon, ices, and celery. Anyway, when I started tasting it, I tasted tomato juice and spices but not a single drop of vodka. I wonder where the vodka went because it was only about spice and tomato juice.
So that's my Sunday evening, enjoyed my time with tacos anyway...
---
Love
Priyan
---

---
Explore Life with Priyan...
---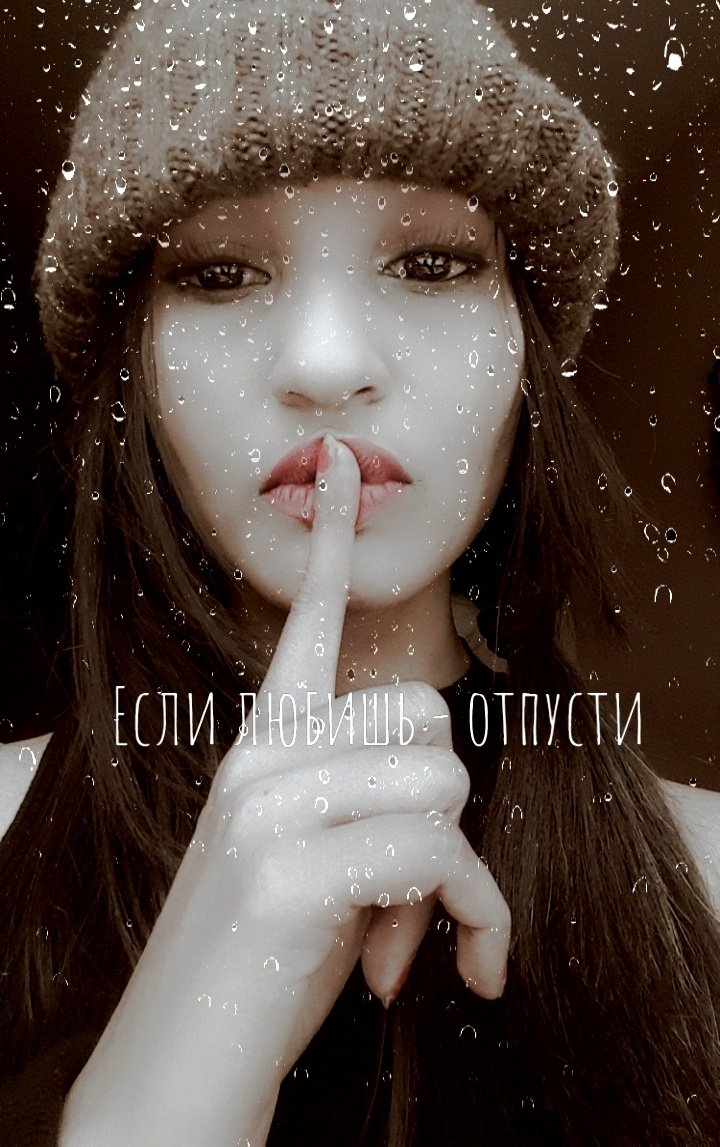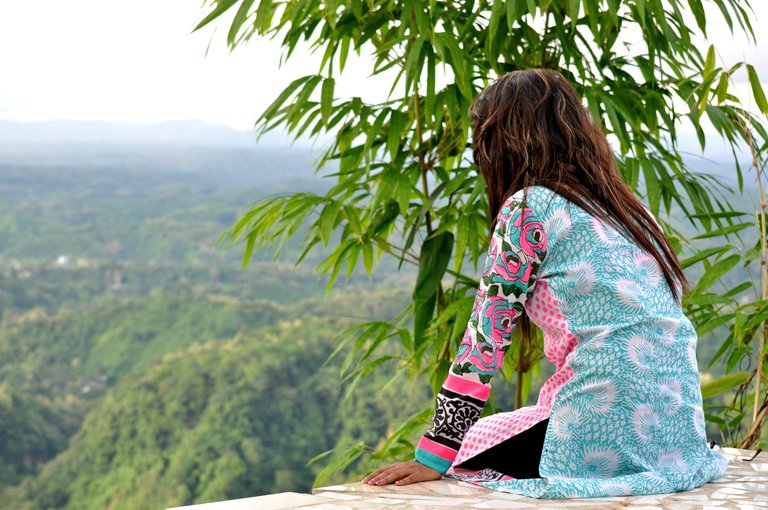 "I am @priyanarc... An architect, a dreamer, and a passionate writer who loves to write about life. I try to present my own perspective and experiences. Please leave your feedback and criticism because it's the only way I can know and reach your mind and thought easily..."

---
Find me on youtube...
Don't forget to subscribe to my channel...
You can find me on Twitter...
Original post written by @priyanarc...
All the pictures used are captured by the author...