Green world in Landgraaf
Sometimes things change and I might not know at the beginning of the week where I'm going to be a couple of days later. This is what has happened to me this week. My husband has scheduled meetings this week and next week in Holland and I planned to stay at home and work on my own stuff.
But last week I got sick and hurt my back as I spent all days in bed. On Tuesday this week I wasn't able to walk on my own and luckily managed to get a physiotherapy appointment in the evening. There were moments during the session that I couldn't breathe because it hurt too much. It was like he was putting all puzzle pieces together. It cracked in so many places and let me tell you that some of these places were really weird. After 30 minutes I felt much better but during the night my pain was back. Not as strong as before but I couldn't sleep anyway.
My husband didn't want to leave me alone and therefore asked me to join him in Holland. I was a little bit concerned about the trip as we were supposed to drive but I agreed. We booked a room in a wellness hotel and arrived here last night. I had troubles with sleeping again, so I was glad that there was nothing waiting for me today.
In the morning, I dropped him off in the office and returned to the hotel. I spent more than 2 hours in the wellness area, mainly in sauna and the relaxation room. Afterwards I was feeling much better and thought it was a good idea to go out and check out the surroundings. And it was! I've just returned to the room and I'm excited to share my impressions with you.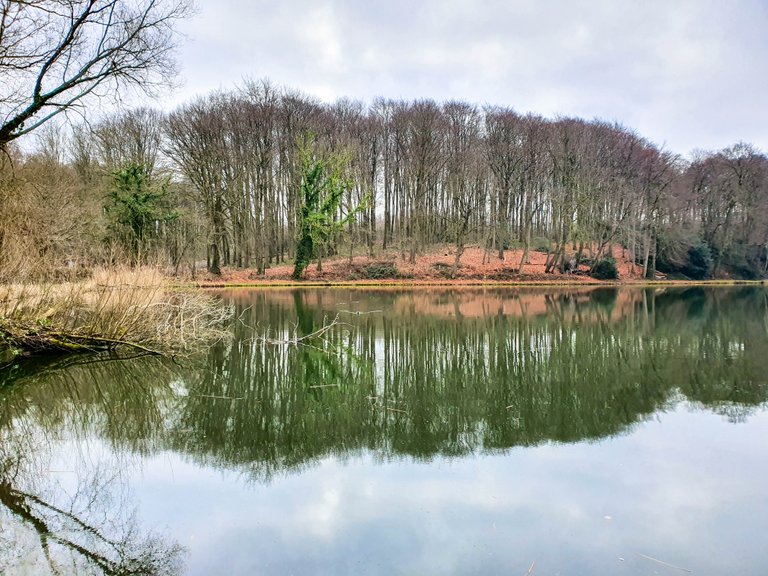 Landgraaf is a Dutch city in the province of Limburg. It is located just a few minutes away from Germany. It's a small place with about 38000 inhabitants but it has many things to see. It's very well known for one of the largest indoor ski slopes in Europe or the longest running pop festival in the world called Pinkpop.
Today, we will not go to any of these places though. It was a lovely day for a walk in nature. I read that there are many small lakes just 2 km away from the hotel and thought that it was a good idea to go there. I hope that you want to join me.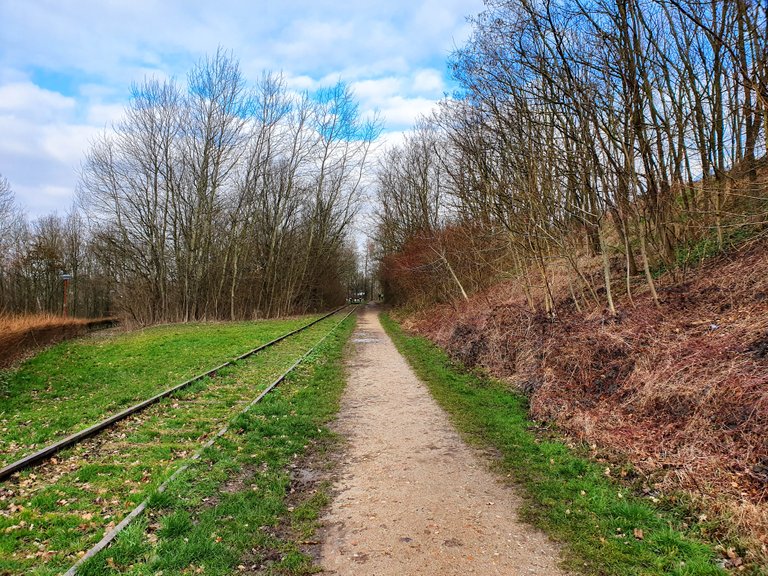 On the way I met these hairy fellows. I would like to say that they were friendly, but I would by lying. They were simply eating and pretending that I didn't exist. I was standing there for a few minutes trying to talk to them in different languages (in case they wouldn't speak Dutch) but apparently, they were just ignoring me. In the meantime, I noticed that they are so funny when they eat. Their lips are moving very fast and they take just small bit of grass at the time.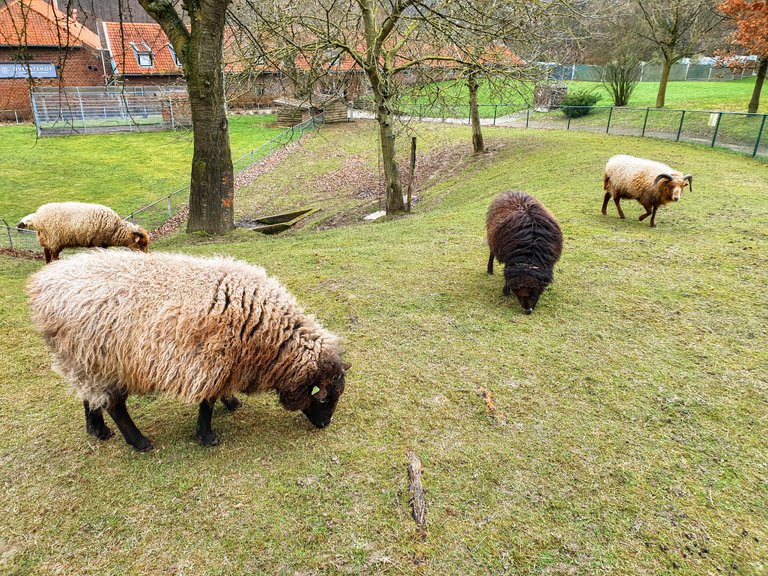 It looks like I was alone there but don't let me confuse you. There were many birds chirping around and they were louder than I would have thought. Apparently, there is a zoo close by so I could hear them.
Landgraaf is also known for its hiking trails. It is one of the few places in The Netherlands with hills. Can you see that lake in the back? I couldn't come closer as there was a fence in front of me but it was still very nice to walk here as it looks very different to the landscape that I normally see in this country.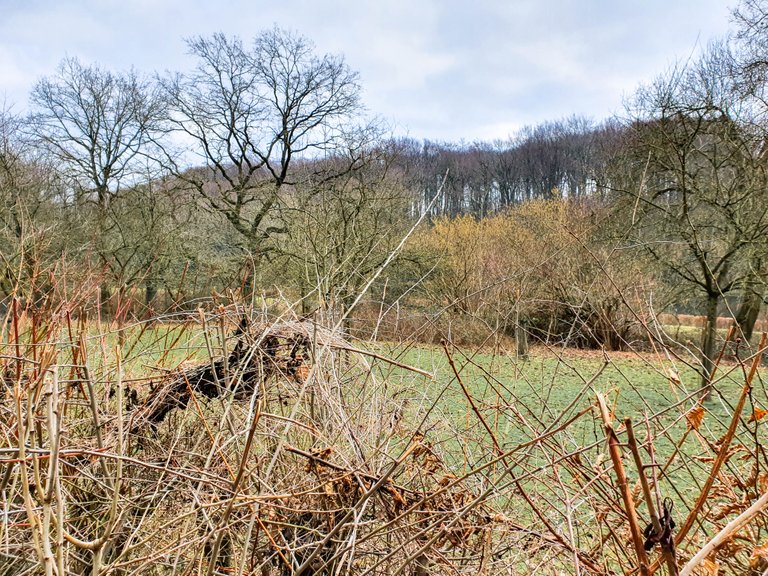 I loved this part. These trees were huge, and it almost looked like a primeval forest that we have in Slovakia. It was all rustic and rough and those trees were covered with some kind of a plant. It was interesting to see how high this plant could climb. I haven't seen that before.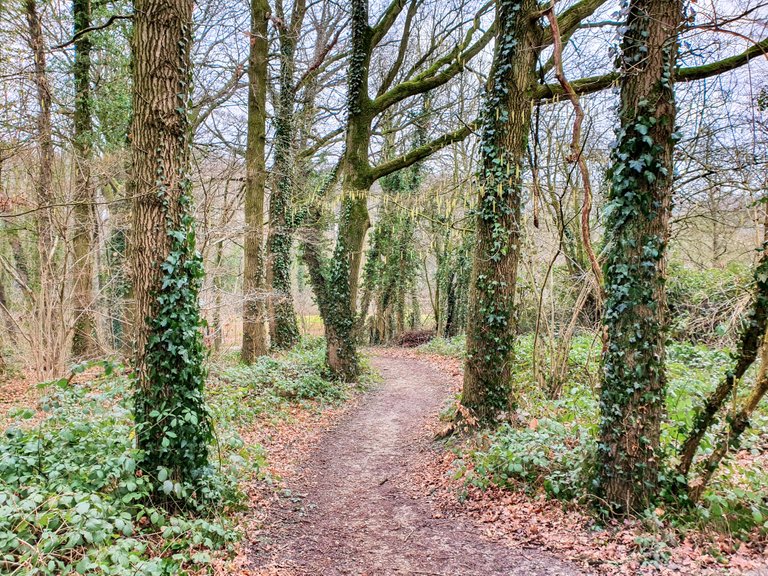 I wished there were some benches, so that I could sit down and stare at those trees for hours. I didn't expect to see something like this here.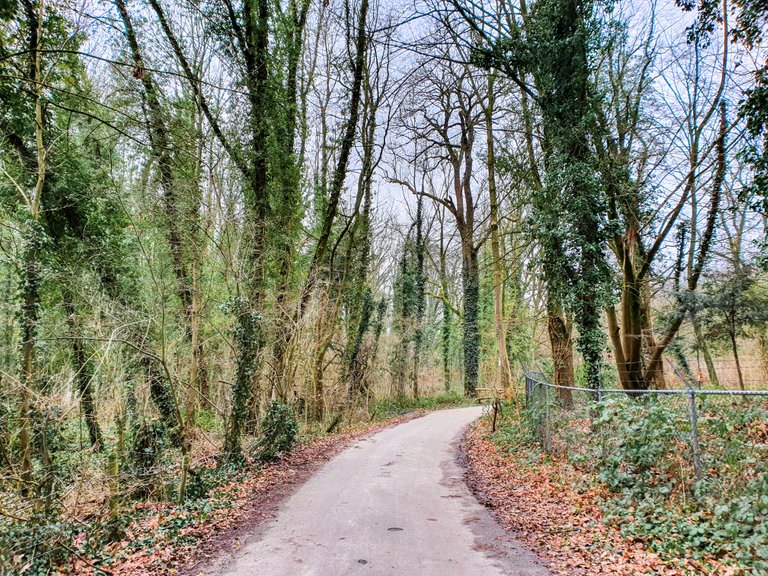 Don't get fed up with them please 😊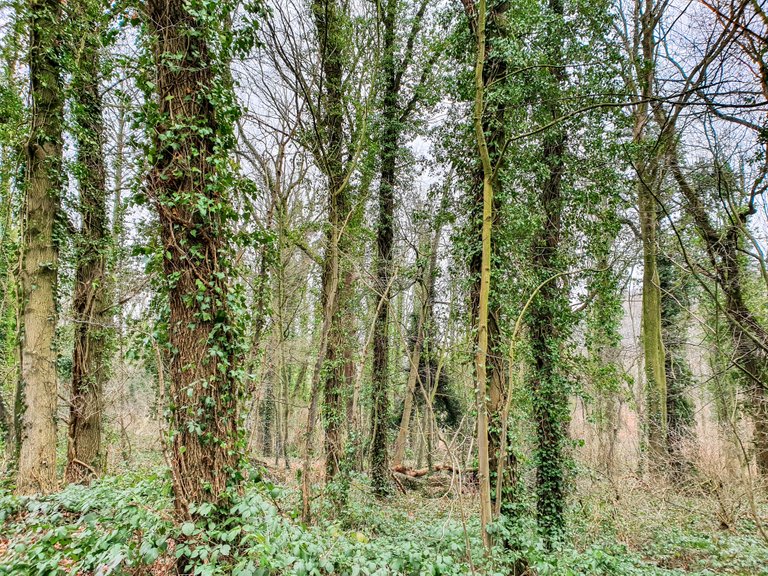 An older man stopped me here and told me: Look at that fallen tree. It is huge. I have to leave quickly as I'm afraid that another one will fall. He was really concerned, and I had to force myself not to laugh. It was such a calm, natural scene and he was panicking for no reason.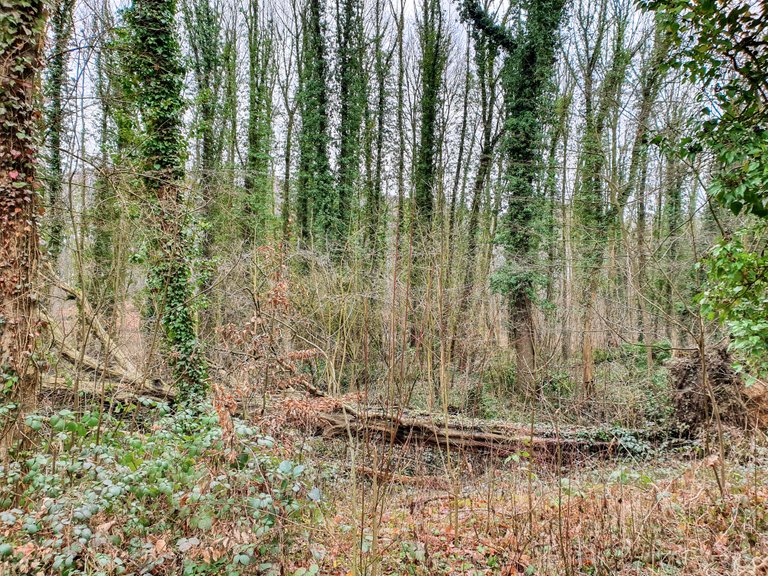 This is the place that I wanted to reach. This lake doesn't have a name as it's man-made. It looks like a fairy tale, but it was not. There was no maintained path and I was walking in the mud. Everything was wet and dirty.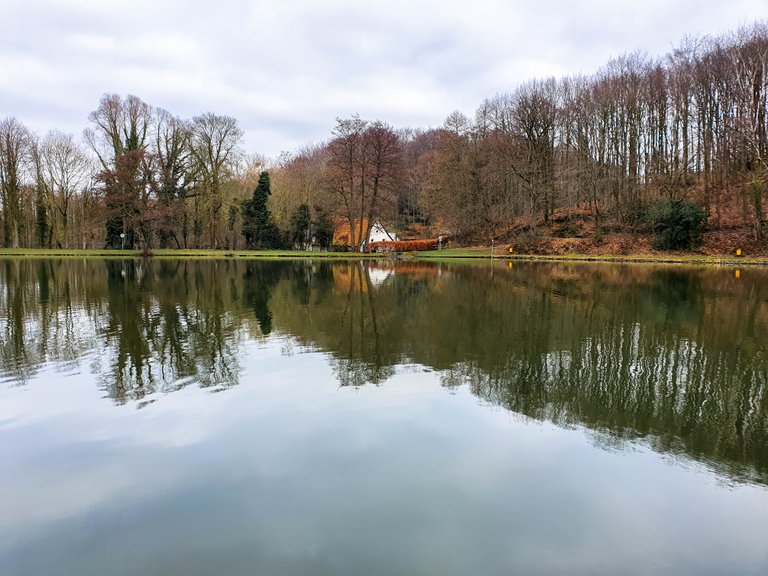 These two were curious and coming towards me quickly. I must admit that they seemed to be more comfortable with the mud than me. They didn't look very friendly and I didn't want them to bite me, so I rather turned around and left.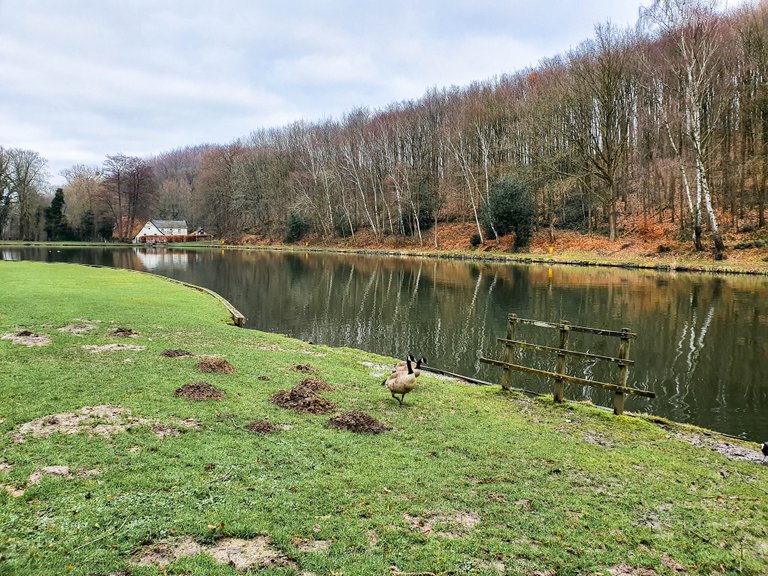 This is when I saw this sculpture and realized that I came to the sculpture park which is created by Alexander and Katja Taratynov who bought a small castle in the area and plan to create the real Artland here.
This statue is called Ob River. It shows a woman drinking water from the river Ob in Siberia. It reminds us of the beauty of the river.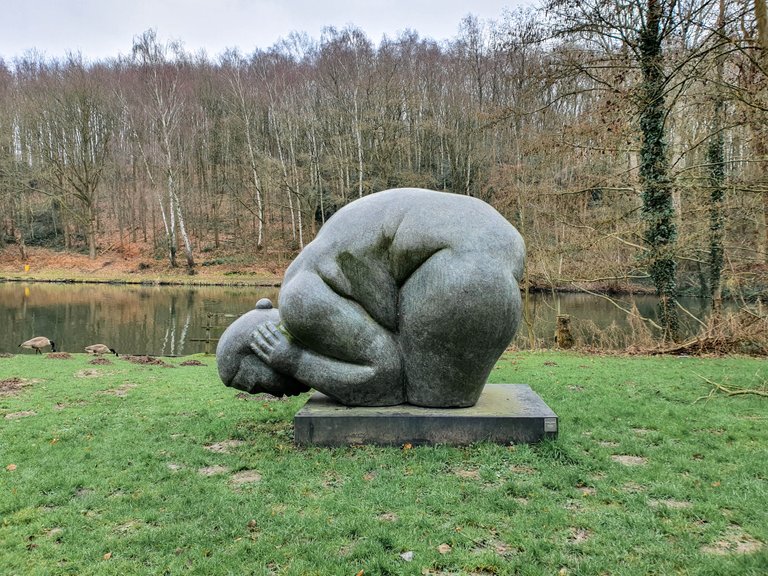 Look at the bulldog! Its name is Winston.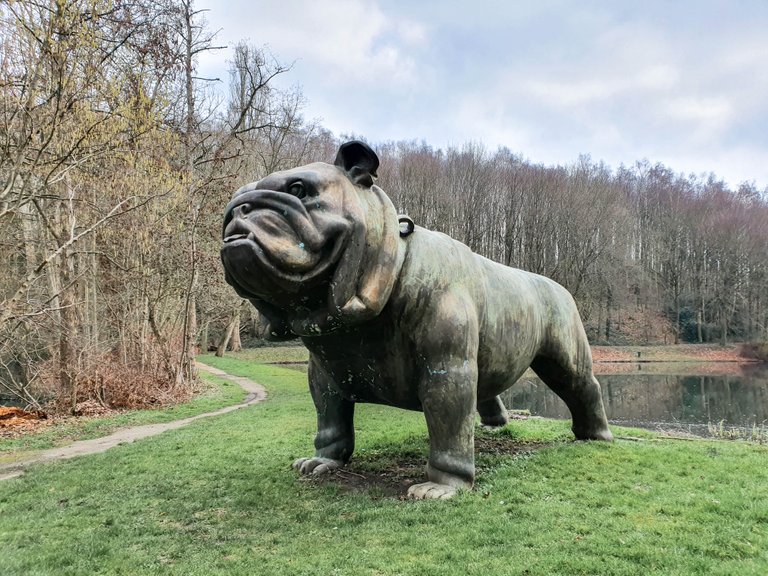 It's a bronze statue and I took this photo with the trees in the back so that you can see how big it is. It's at least 2 meters tall.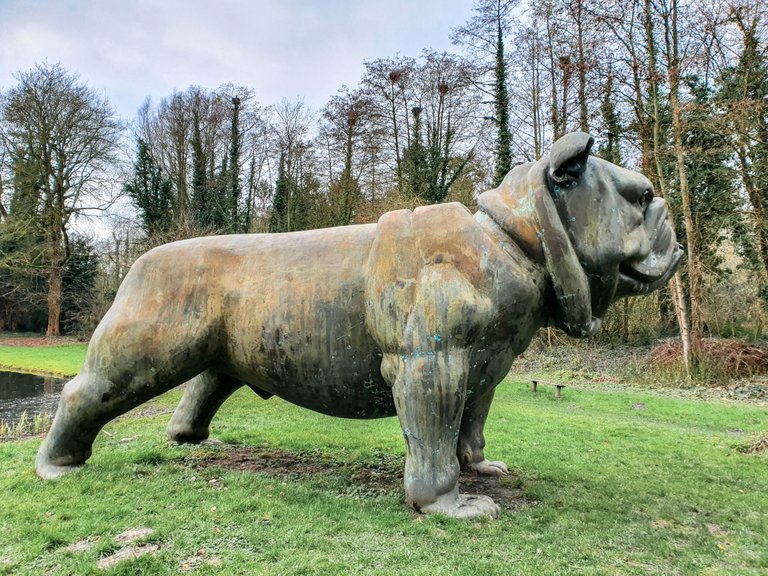 Most of the statues didn't have any sign, so I don't know what they are supposed to depict. This one looks like a very advance yoga posture to me. Probably impossible to do.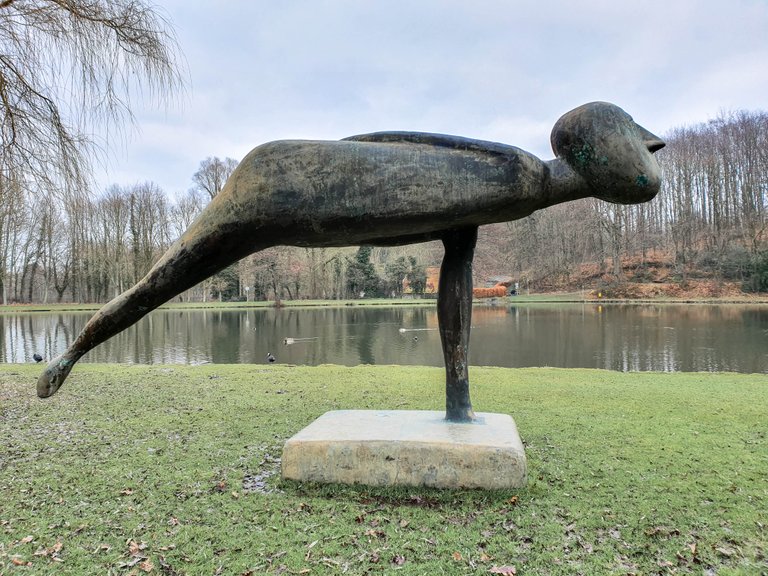 I don't think that I can say much about this one 😊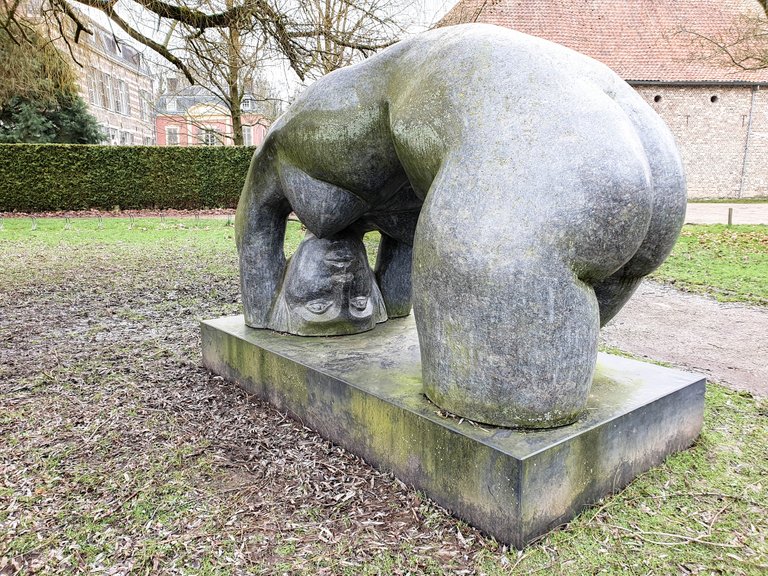 It looks like this work was about to attack that poor innocent bench...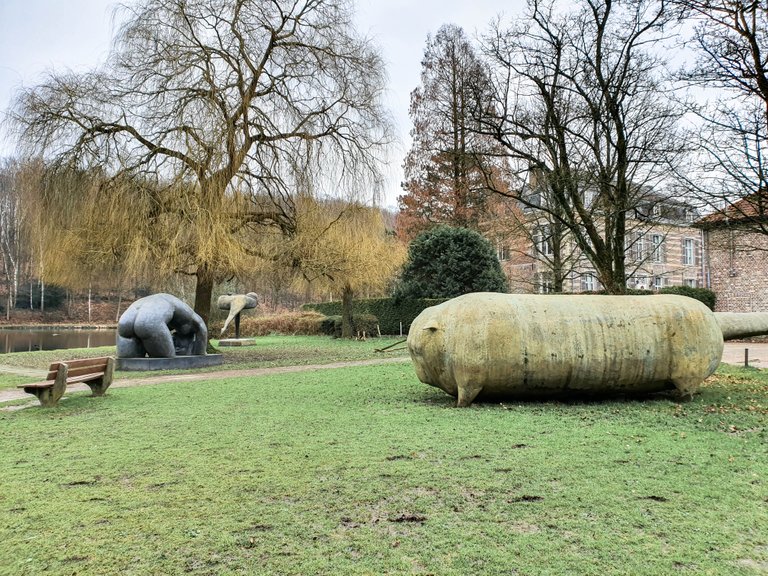 Well, what do you think this cold be?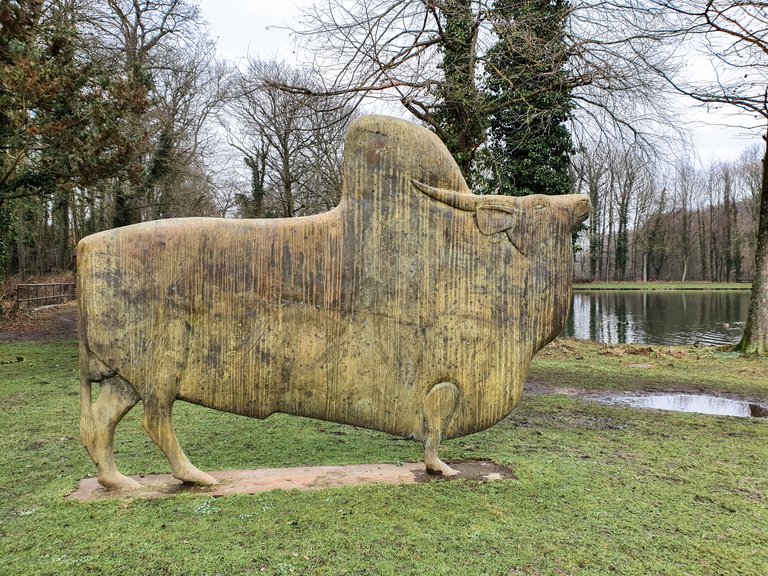 And here is some luck if anyone needs it...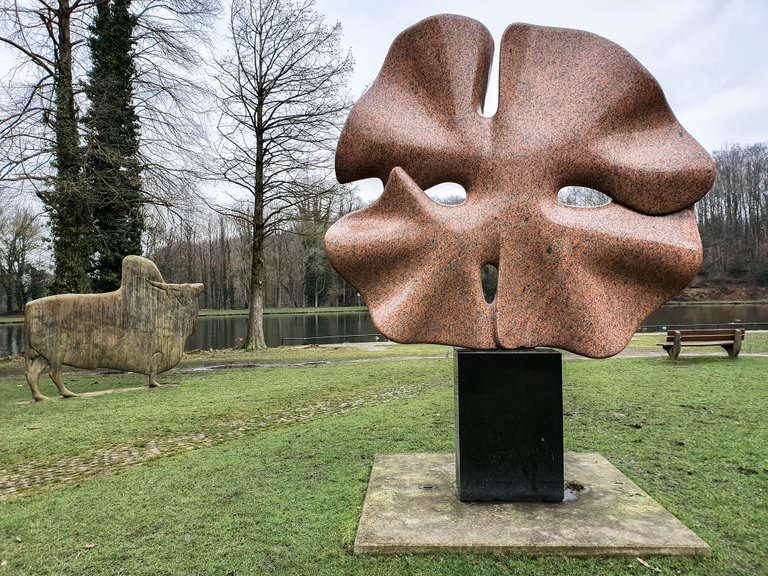 I started to feel my back again and realized that it was better to go back to the hotel and relax. I took another path which was a bit longer but very interesting.
You don't even know if there are trees underneath that aggressive plant...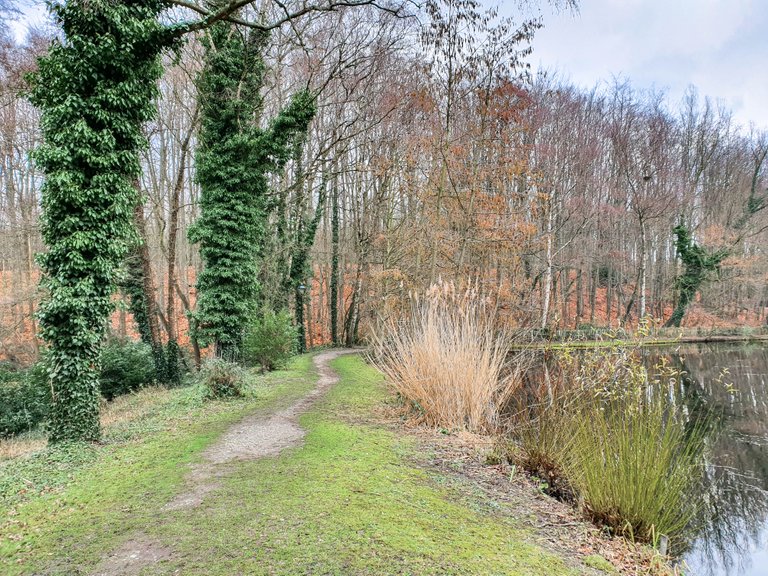 The water was calm and I liked the reflections of the trees...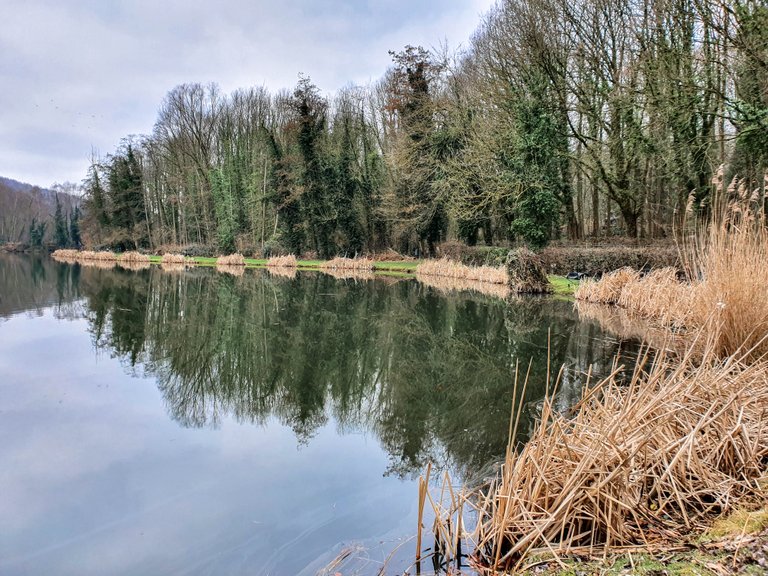 This reflection was even better!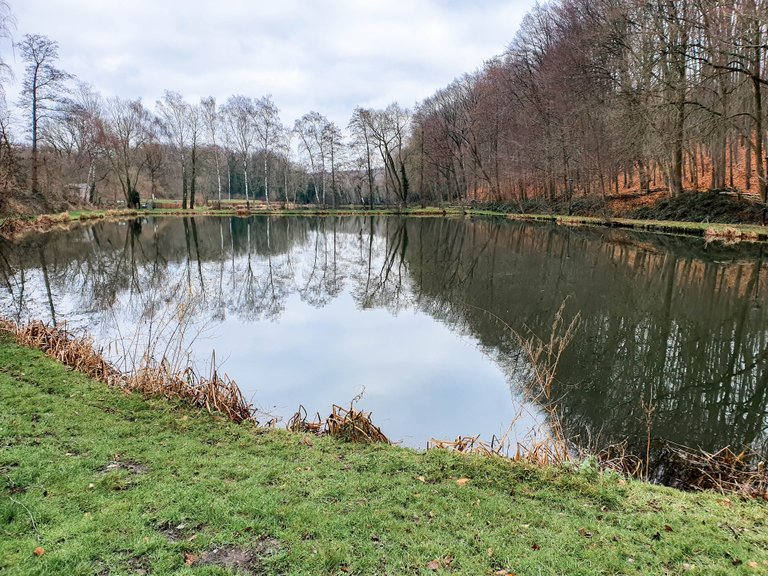 And now, I'd like to show you some tiny treasures that I saw during my walk today...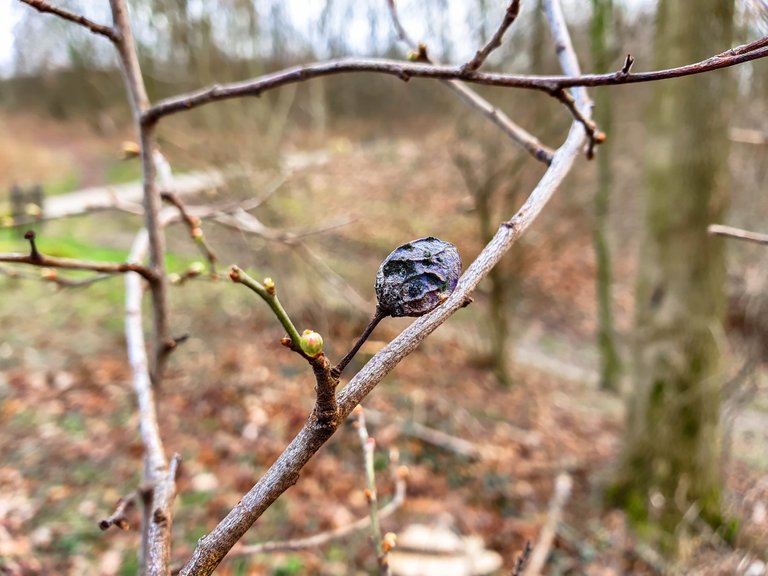 These are my favorite because of their color...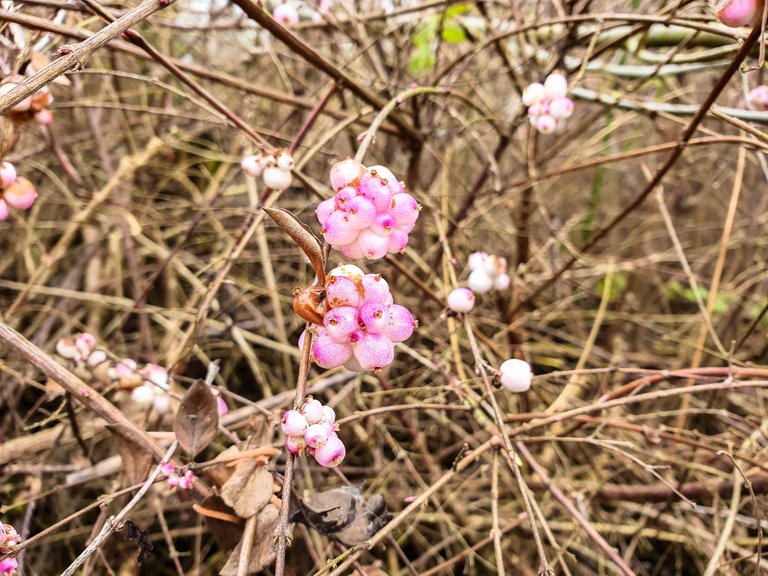 It's crazy to see flowers blooming in February, isn't it?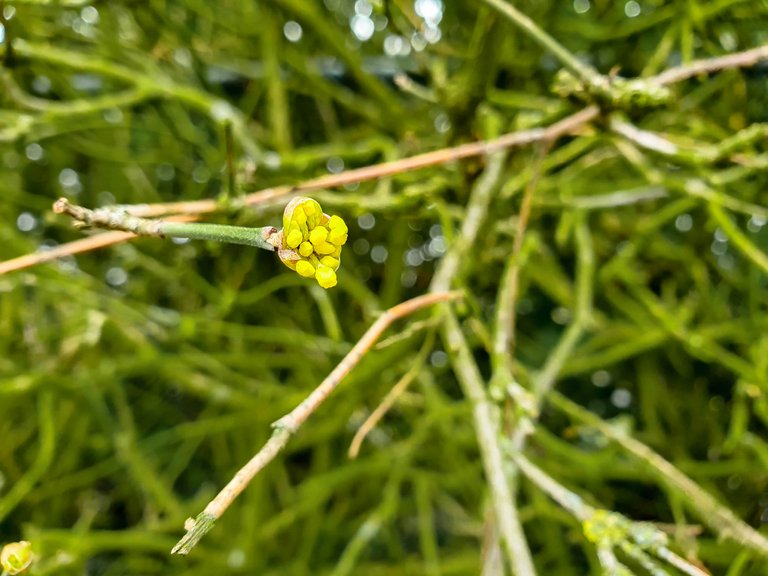 I hope that you have enjoyed our walk today. I'm going to lay down now as my back hurts again and it makes me very tired.
Thank you for visiting!
Cheers!
---
---