Rhineland region is well known not only for its impressive nature along the river Rhine but also for its many medieval castles that stand not that far away from each other. If you would stay here for a week you would be able to visit one of those castles each day as it's a perfect place for day trips.
We have visited a few of them in the past already and today I will take you to the castle Satzvey that we visited last weekend. This moated castle is built in Mechernich, about one hour drive from Cologne.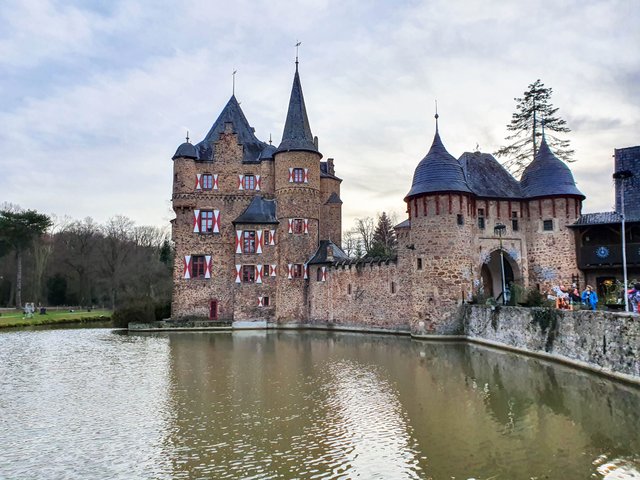 The first written document that mentioned the castle dates back to 1396 but it is believed that the castle is much older and its history can be tracked back to the 12th century.
It is owned for 300 years by one family and even today it is the main residence of Count Beissel von Gymnich.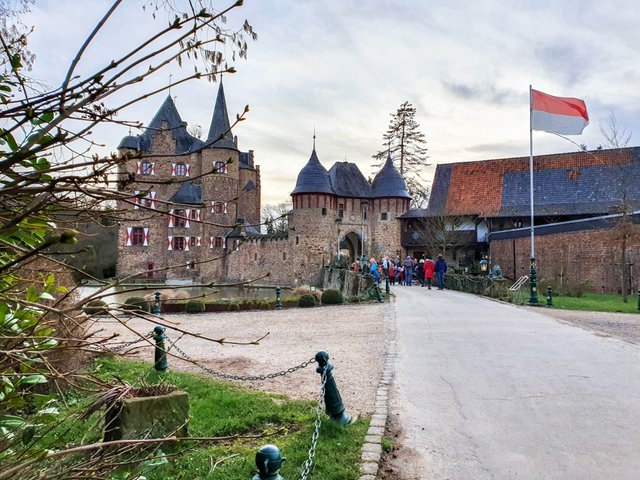 It's one of a few castle hotels in Germany and you can also visit it with a tour guide. We came here on Saturday afternoon and were surprised to see many people around.
It looked like an event, but we checked the website and there was no mention about it. It turned out that the website doesn't seem to be updated regularly and the tours were not available for that day. We were disappointed that we couldn't enter the castle but decided to check out the event.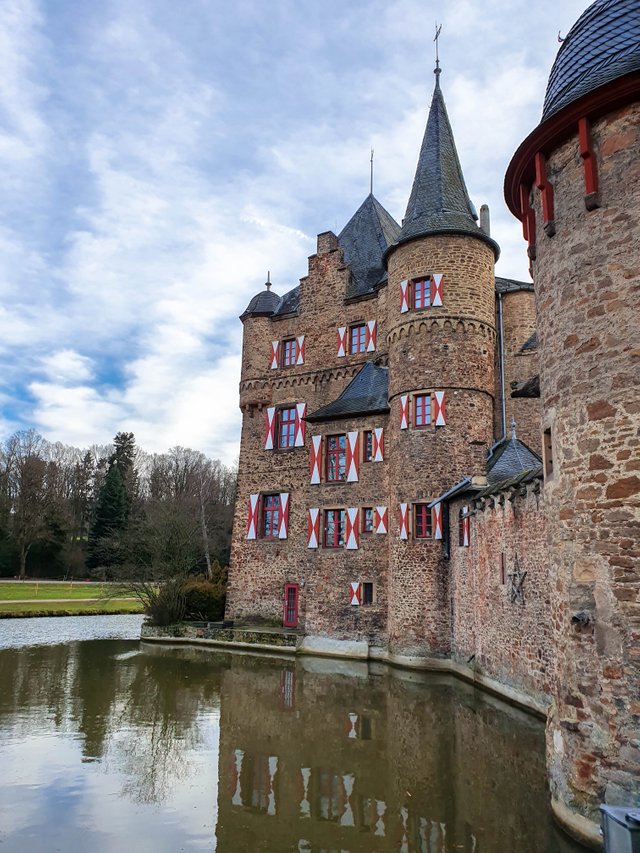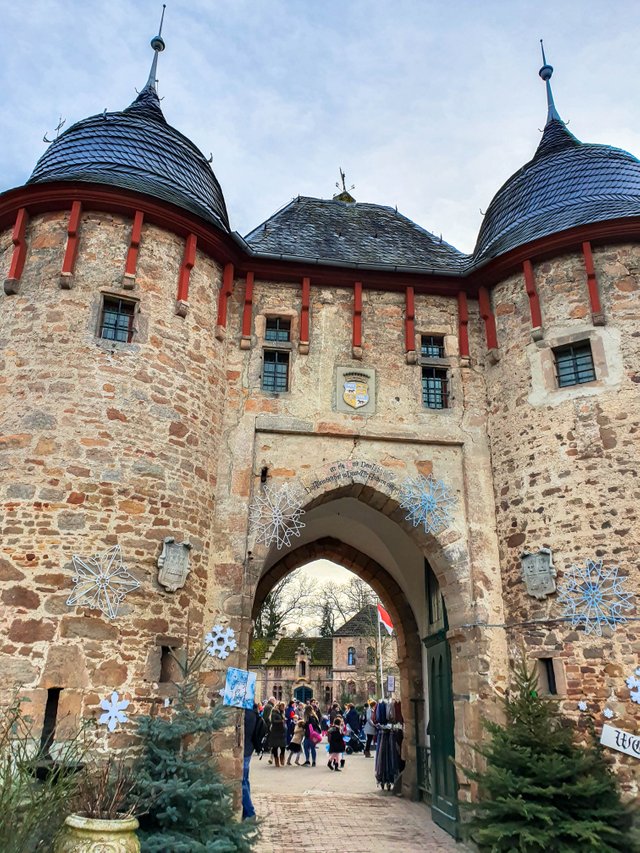 This castle is one of the best maintained castles in Germany. It is a large complex of various buildings and it is used for many events during the year. We didn't know that it was so popular, but we read that there are many festivals, jousting tournaments, competitions and medieval markets.
We got the yearly program now, and therefore we will be better prepared next time. If you ever decide to go there it will help you to google the events to make sure that the castle will be closed during your visit.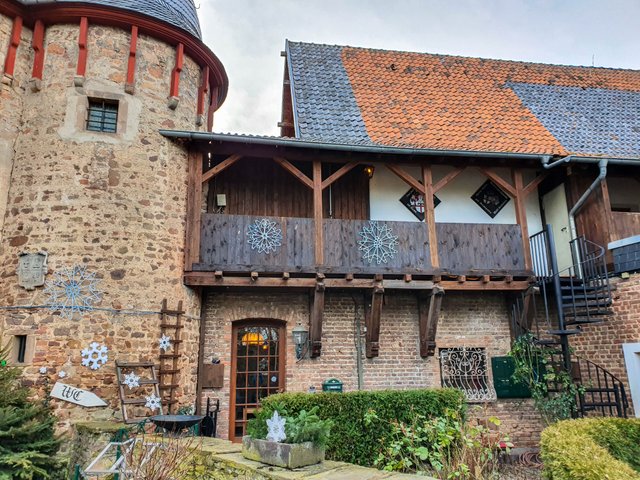 The first knights games were organized in the early 80th by Count Franz Josef Beissel von Gymnich and his American wife Jeanette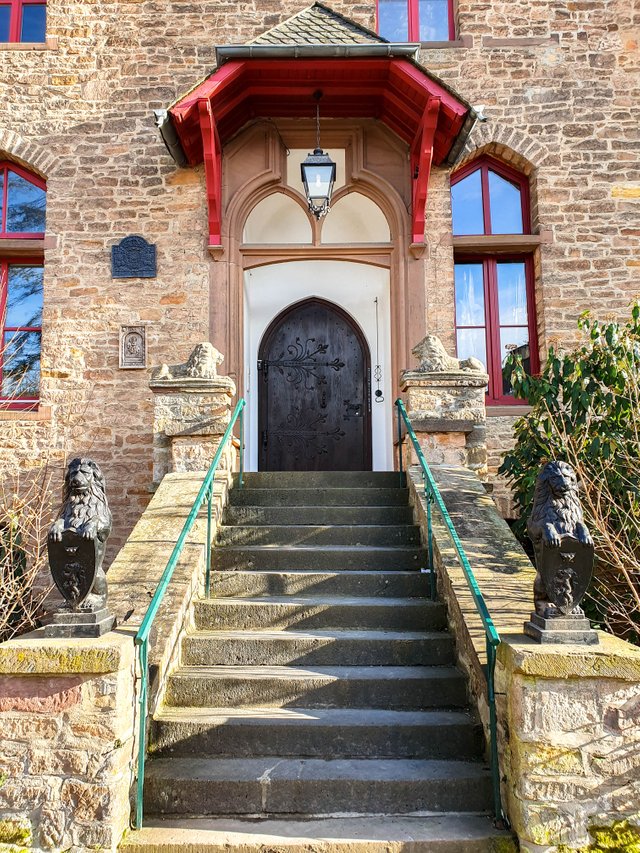 The German aristocracy didn't believe in their projects at that time. They didn't think that doing some tournaments and plays would somehow help the castle but count Franz proved them wrong.
His concept was successful and the family succesfully preserves and maintains the castles with the money that they raise during those events.
There is a range of events, such as Christmas at the castle, Fairy tale winter, Easter market, night of the witches, knights games, concerts, Halloween, school for knights, and many more.
---
In the past, the castle was known as the castle Vey. This name comes from Otto Von Vey who took ownership over the castle in 1368. In 1391 the Vey line died out and the castle changed its ownership to Heinrich von Krauthausen. The castle as we know it today was built at that time.
In the 18th century, the castle was sold to Karl Otto von Gymnich and his descendants own the castle up until today.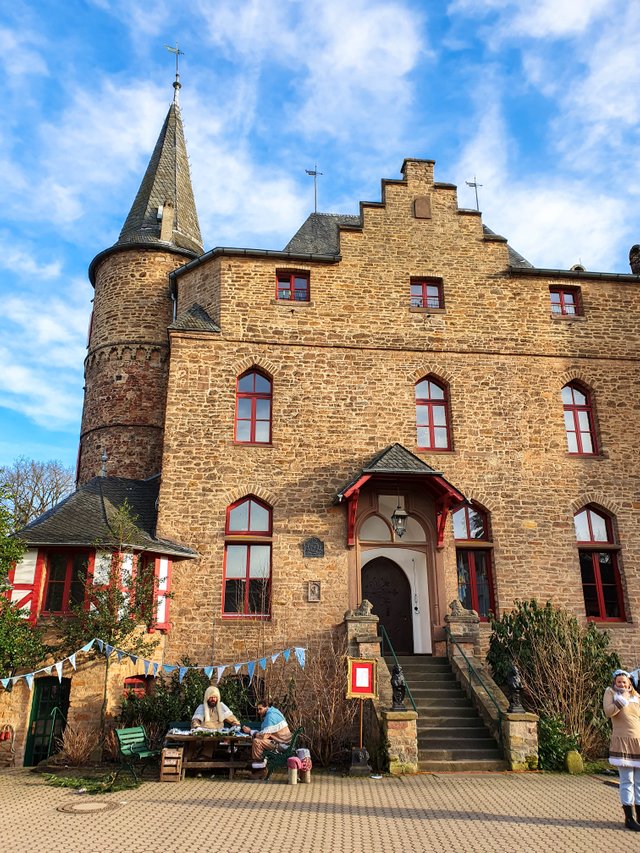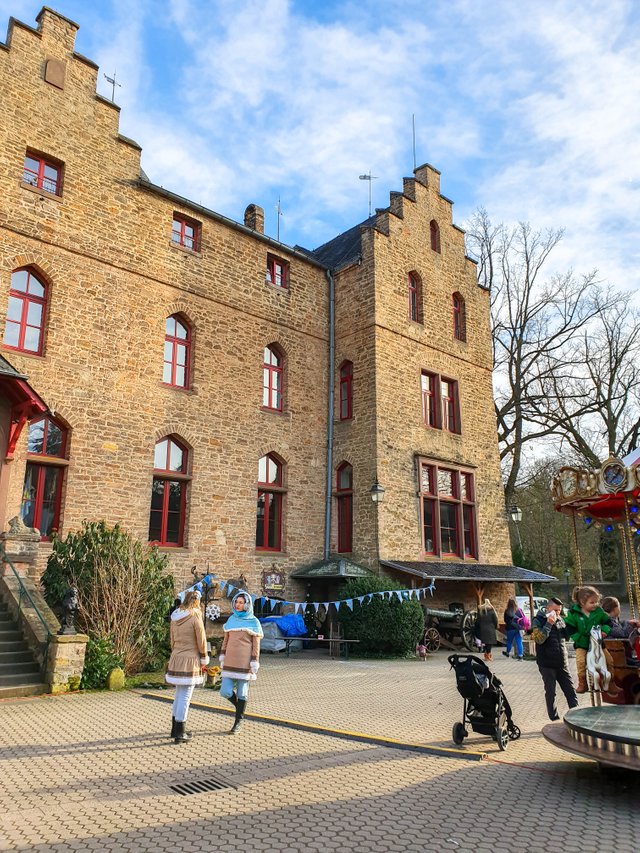 The castle's courtyard is split between different part of the castle as there are various buildings dividing it. I didn't expect it to be so big. It's an impressive place surrounded by thick walls of the castle, restaurants, bakery and countless small shops.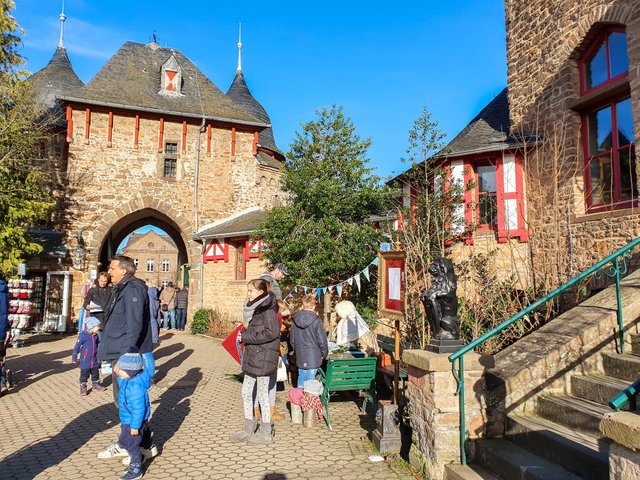 The event that was held on Saturday is called the Fairy tale winter at the castle. It is a children event and there were many families with kids. There was a theater as well and kids seemed to love it. It was quiet and all eyes were focused on the stage.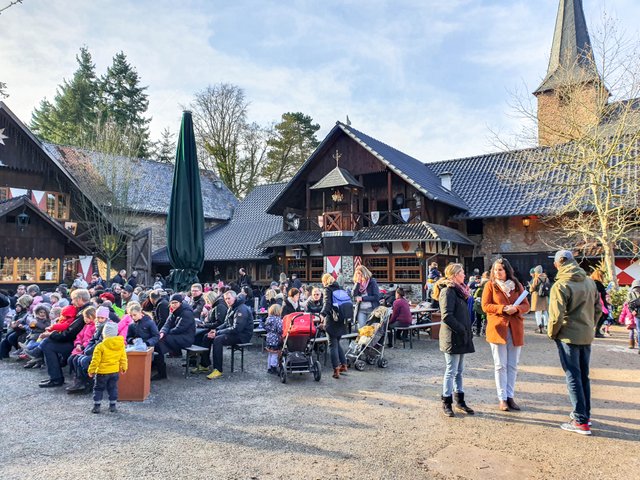 This is the restaurant called Senfmühle. Here you can choose from many sorts of mustard that is made here. We bought two jars. One of them is with chili and there is a caution on the jar: to be used at your own risk. We tried it already and it's so hot! I used 1/4 tsp in the soup today and it was more than enough.
The second jar is with wild garlic and it's so delicious! You can also get some food here but nothing on the menu was vegan, so we only ordered 2 cups of apple punch and continued our visit. It was a lovely sunny day and it would have been a pity to spend it inside of a restaurant anyway.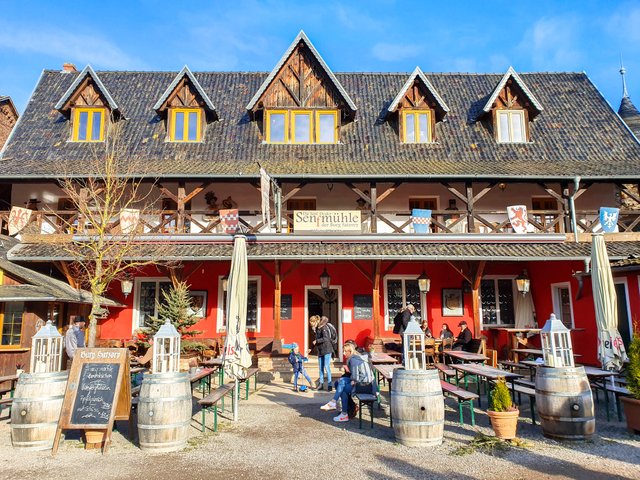 The castle Satzvey makes you feel like you were transported into medieval times. I can imagine that it was that busy back then too, just people were dressed differently 😊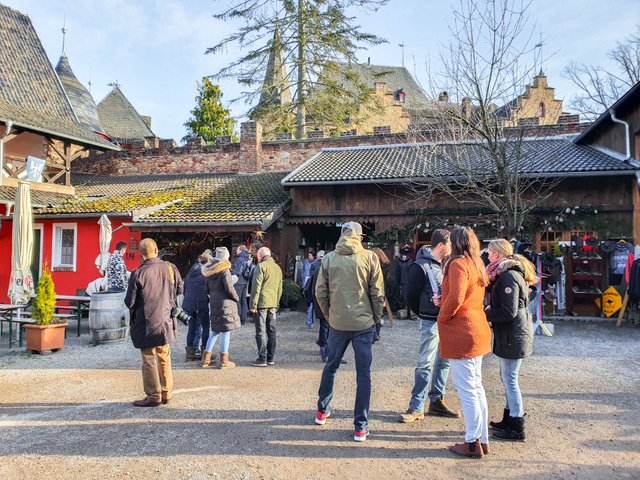 There were also some stalls with handmade souvenirs, such as jams, honey, armbands, etc. These were not that popular as there were at the end of the complex and people were mainly standing close to the theater. I liked these stalls as they were authentic and those products were interesting.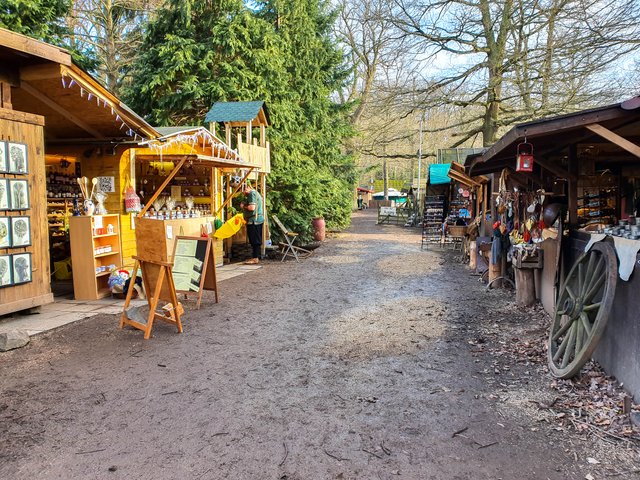 The castle has its own bakery! And they even had 3 sorts of cookies that were vegan. Of course we bought all of them 😊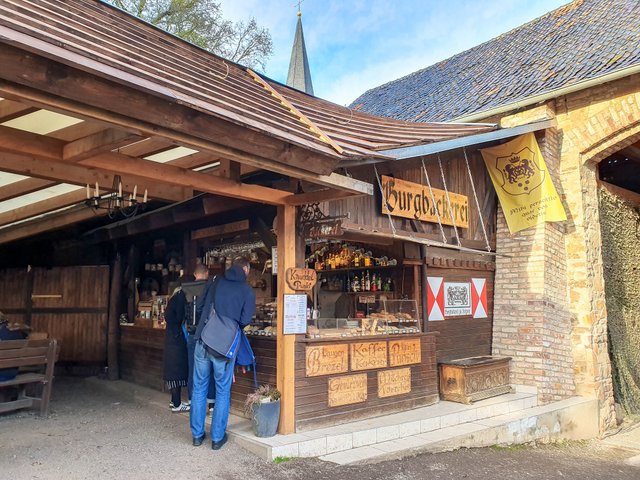 Look at those mugs hanging from the ceiling... You can get cocoa and punch here too!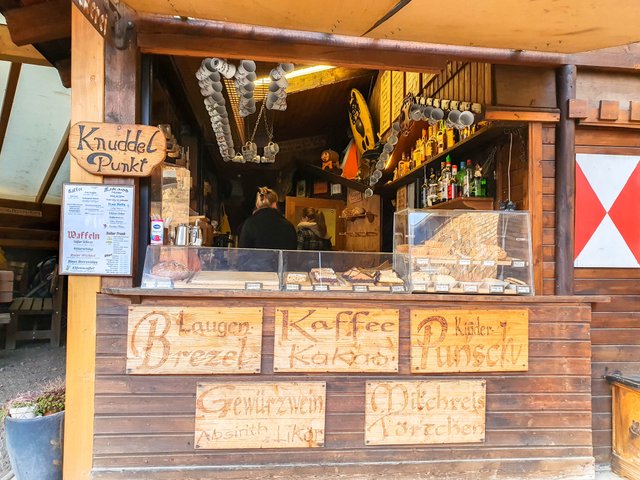 Let's go back to the theater part...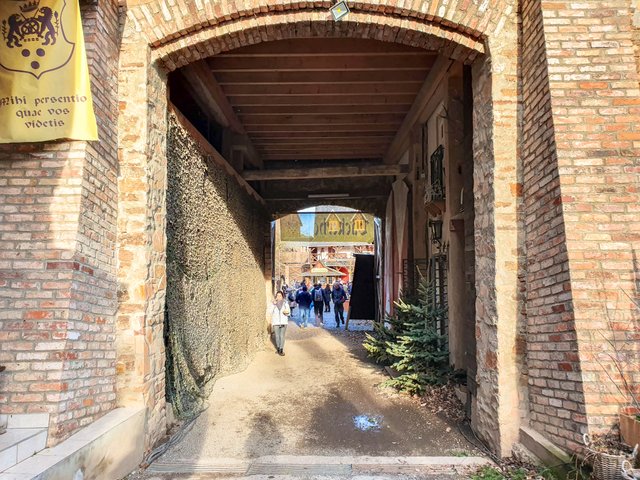 There was a carousel too!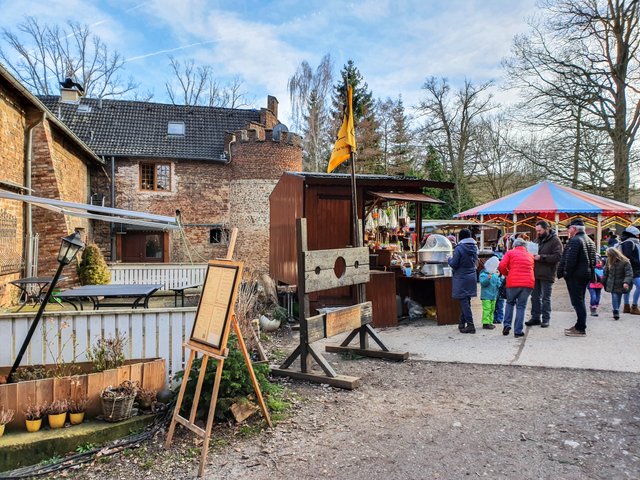 I have just noticed that majority of people were dressed in blue! Maybe there was a certain dress code, who knows...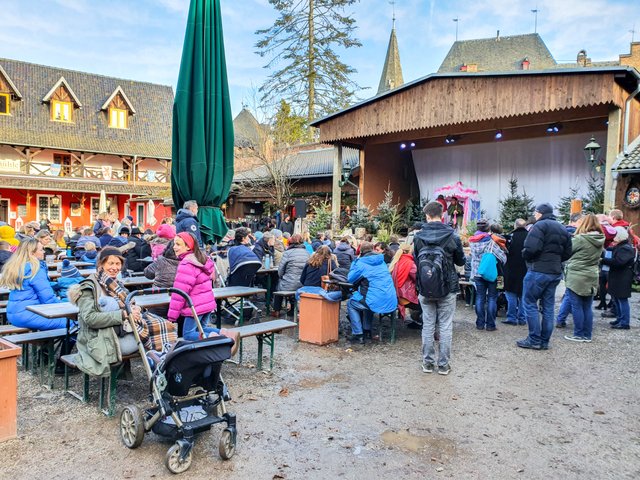 As I mentioned before, there are many small shops in the complex. We wanted to get so many things but didn't have any money with us. We asked if we could pay with credit card, but it was not possible because the walls are too thick and there is no signal for the terminal. We had about 20 EUR and thought that we would only get a cup of coffee.
But then we entered this shop on the right. The lady was selling clothes from organic materials which were fair trade as well. She couldn't accept the credit card but led us to the office where a guy gave us the required amount of money and we had to transfer it back to him when we got back home. He only wanted our ID's for this transaction. That seemed to be a good deal, so we agreed with him and purchased one jacket each.
When the play finished, all kids went home, and the courtyard was suddenly empty. The only people there were the actors and us.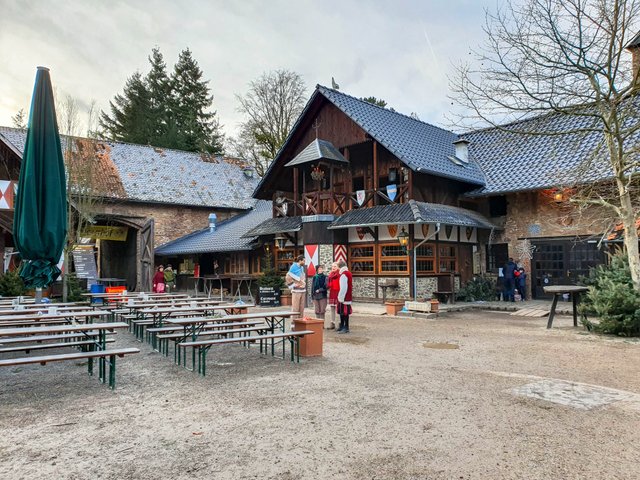 We thought that all people left until we returned to the main courtyard. It looked like the program continued there. There were different fairy tale characters talking to people and I noticed all the characters from Frozen.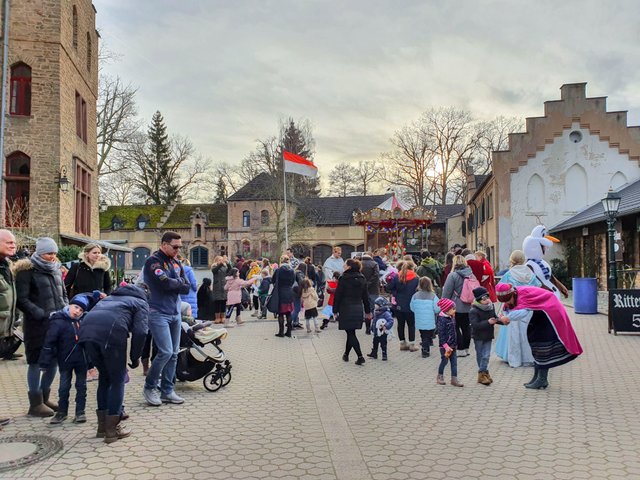 On one hand, it would probably look better if there wouldn't be that many stalls but on the other hand they belonged to the atmosphere for that day.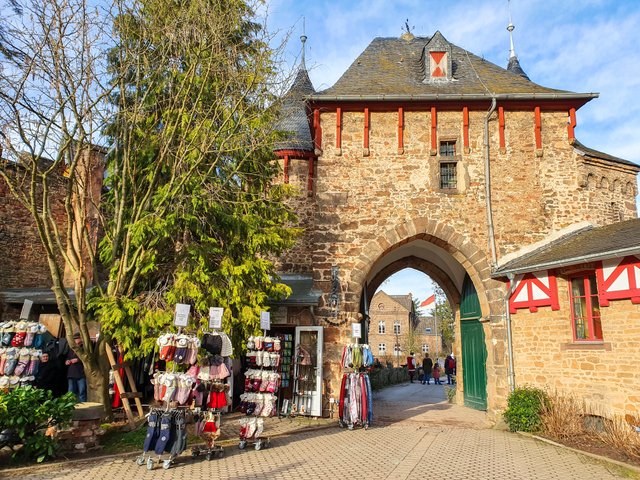 On the way back to the car, we enjoyed a nice view of the moat and castle park. Next time, we will go inside.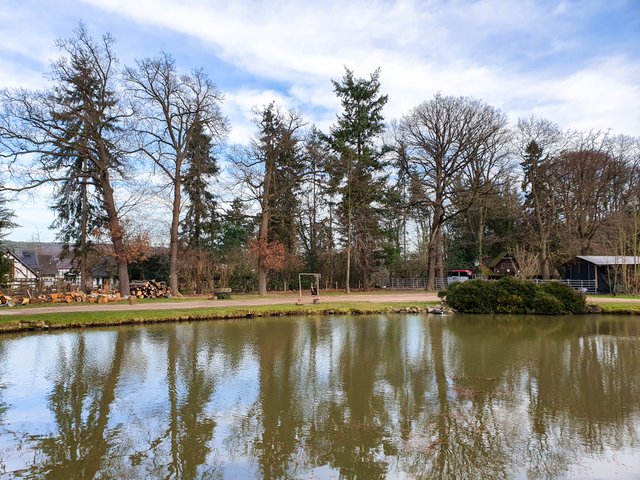 I hope that you have enjoyed our tour of the castle Satzvey!
Thank you for visiting!
Cheers!
PS: You know what was the best part of the day? That we got in for free and we don't even know how. We entered through the main gate as everyone else and nobody asked us to purchase a ticket. The lady from the shop told us that it's a paid event and this is when we realized that we saved some money like this 😊