High quality content can get your website to number one on Google. Suppose, you have content on your website and that content ranked on Google's 4th page. It's the blog with "car reviews". If it's not informative than it won't get much engagement. Google always wants to rank the content which has lots of information, fresh and exciting to read.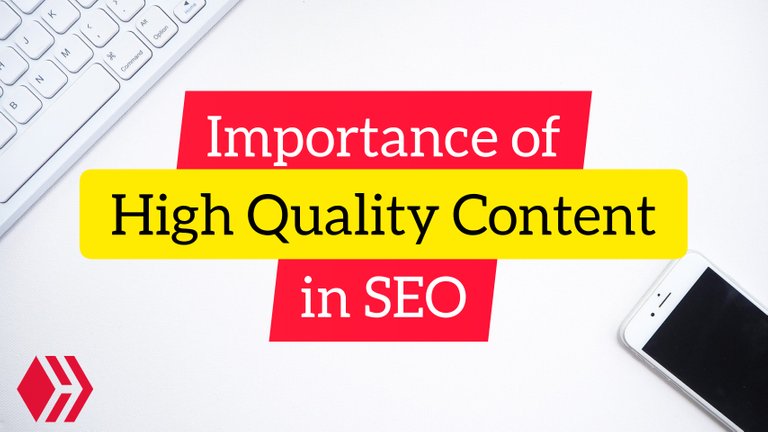 So whatever the topic is, if you post isn't enlightening you won't get engagement. When people won't stay on your site for long and leave just after reading some lines of the review, then the content is going to fall in the rank.
And we want to rank up the content in Google search, not down. Right?
How to create High quality content
So, content is the key driver to move up your ranking on Google. And Google loves Good quality content.
Perform good keyword research.
We already learned about keyword research. We can choose multiple keywords for a page. One keyword for our brand, one keyword could be related to the content and another keyword could be related to the user's intents. Let's go back to our example about "Car Reviews". Maybe someone wants to search on Google with the keywords - Best Tesla to Buy? or How to Choose Best Car?
These are questions related and we're going to answer those questions. That where choosing the right keyword can help us to respond to the user's query.
You have to create content that will fillup users requirements.
If someone doesn't know how to cook fish, we're going to answer that.
If someone wants to about mountain climbing, we're going to answer that question.
You can't just write down a few lines to fill up the page. If users don't find it informative, you're going to lose traffic.
Make your contents clear and readable
As content writers, we also want to make content easily readable. Write for your audience. Don't try to impress anybody with high vocabulary type words. Don't use hard language, make it with regular and common speaking language so that your readers can digest the content quickly.
Keep your content organized
We need to make a well-organized content for the readers. Use heading, subheadings, break your content in the paragraphs, etc. When you will keep the content organized it will be easy for somebody to read. If you don't use subheadings, or don't categorize your content with different sub-topics, then readers may find it difficult to understand.
Add resources from well-known sites
By adding some resources from other popular websites you're telling your audiences - Hey! I did some research on this topic. So this is not just some fairy tales!
These resources will add value to your content. If you are writing about investment than you can quote some 1-2 para from Investopedia with source link. This will make the content more credible.
Use White Hat Techniques
Another important tip is we want to use white hat techniques while writing content. White hat technique means we will use our keywords effectively and smartly in the content. Because we are going to answer somebody's question through the content. We want the content to be naturally written, not just stuffing the keywords. I already talked about Keyword Stuffing in my article.
So do good keyword research, make the content readable and organized, add resources, and use white hat techniques.
Various kinds of Content
Use Infographics
Most of us write content with just words and texts. Infographic is simply just a graphic that visualizes exactly what you're trying to explain. For example, If we want to write an article on - How to Write Good Engaging Contents? we don't necessarily have to write everything in the text we can use infographics.
Here you can see an example of infographics. This graphically explained about "Ways to build long term client relationships" without using any text. So, infographic tends to be easier to understand because this is visual. Infographic tells a better story than just text.
Include Videos and Images
You can use videos and images in your content. Especially when you are writing a blog post. When it is a blog post, sometimes images tell better stories than infographics. You heard that perfect image or video clip can tell thousand words than just text. So images and videos are great to use in the blog post.
Review your Content
When a user stays on your web page for a longer time, Google will rank your website generously. So if you are using everything like infographics, videos, and images, then there's a chance that your post going to get more engagement than your competitors. Contents that are not well organized, well written, somebody will not understand. So be creative in the types of contents you use.
Longer engaging content tends to rank well in the search engine. Don't make your content so big or so small. As you can see, when the content words are more than 2500, users are going to lose interest in reading. But some researchers said, bigger contents (more than 3000 words) have a better chance to rank. So, I suggest you make it at least 2000 words to get a better ranking.
So let's create a step by step method to create high-quality content.
Start with an eye-catching, comprehensive introduction.

Content should be relevant to the topic and keyword.

Create a click-worthy title. For example - 5 beginner drum techniques you must know!

Add LSI keywords into your post.

Include subheadings and use keywords in heading and subheadings.

Lessen your sentences and paragraphs.

Using internal linking within your blog posts.

Include suitable images with ALT text.

Combine callout boxes.

Update your content regularly. For example - if you wrote content for the years 2019, update it for 2020.
Finalize your call to action.
And remember, I told you about Do'sof high-quality content in the whole article. Let's know about some Don'ts!
You have to Avoid plagiarism

Don't copy images without proper source or attribution.

Don't give more limited information to your readers.

Avoid writing long paragraphs
I hope you got some good ideas about High quality content and it's importance in SEO. Let me know how you create content for your website in the comment section.
---
Check out my other SEO related articles on Hive -
You can find all my SEO related posts under the tag #hiveseo. If you want to talk about SEO ping me on Discord.
My discord: pitboy#4591