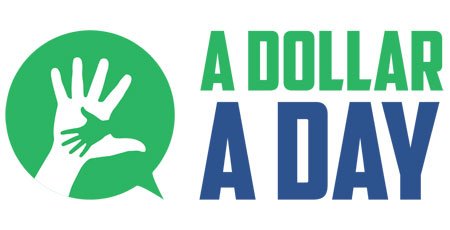 Of all the projects I've been involved with on Steem the one I am most proud of is 'A Dollar A Day'.

This charity project was based on the concept of many people donating a small amount regularly - hence the name.

At its peak in 2018 @adollaraday raised over US$5000 for a dozen or so projects around the world.

To me, it showed the Steem Community at its very best.

---
Alas when the Steem price fell away so badly at the beginning of 2019, and when Steem Backed Dollars (SBDs) stopped being distributed in post rewards, the A Dollar A Day economic model was rather undermined and the project was put into hibernation.
The project didn't die though, and I kept it on tickover by distributing a number of lump sum donations to various projects - most recently to @drutter's well pump project 'Mission : Agua Possible'.
---
Now with activity on the blockchain bubbling up, the STEEM price showing signs of stirring and SBDs back in rewards and reaching the dollar value again I am feeling now would be the time to get A Dollar A Day back up and running in full-on mode.
The basic model would be the same. Steemians would be invited to make regular small donations - ideally 1 SBD a day if possible. These donations would then be aggregated together and regular (daily/weekly) grants would be given to a number of vetted and authenticated charitable projects around the world. Those projects would report back on their activities on Steem.
Before going for a full-on restart it would be useful to set out some clear objectives...
1. To raise funds to improve the lives of disadvantaged people and communities around the world.
2. To raise awareness of the power for good of the Steem blockchain.
3. To attract and recruit more people to join and contribute to the Steem ecosystem.
---
The next two questions would be...
a. Who would be interested in donating to @adollaraday either regularly or on an ad-hoc basis?
b. What sort of projects should @adollaraday support with grants, and what checks and balances should be put in place to ensure full accountability?
---
Some of the projects that @adollaraday has previously supported are still present on Steem and I would certainly be revisiting them.
But I would also like to reach out to and explore possible collaborations with some other charitable projects that have appeared in the interim like @achimmertens's NOBEL Community and @drutter's Mission: Agua-Possible.
There might also be interesting avenues to explore with @ecoinstant's @quintaesencia project in Colombia, and maybe even opportunities to work with @reggaesteem in Jamaica?
---
---
So I'm looking for feedback...
- Would you be willing to donate to A Dollar A Day?
- Do you know any projects that might benefit from support?
---
---
If it looks like there will be enough interest from both sides - the donators and the receivers - I will press the button and A Dollar A Day will be firing up again on all cylinders.
The mission ... Do Good & Promote Steem.


Thank you.
---
---
[ A Dollar A Day logo by @hungryhustle ]