The Bill and Melinda Gates Foundation
Pure philantropy, that's what it is, if you watch the news. The money that the B and M Gates Foundation has given to all those different NGO's and programs for vaccinations and research. How sweet of them to do this. They must be so kind for the human race and love every single one of us...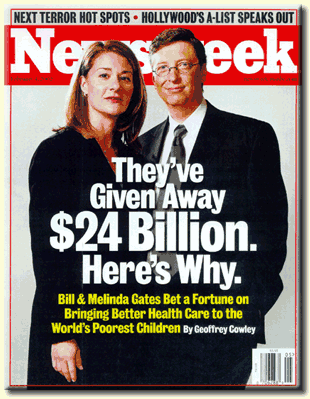 Ok, I'll stop the sarcasm. There is whole bigger picture here. This pandemic and especially the actions by the governments all over the world is completely controlled by Bill and Melinda Gates. Really? Yes, really. And it is not that hard to see how. First of all, the report on which all the lockdowns are based, by The Imperial College showed incredible doom for the entire world. 2.2 million Americans would die, 510 thousands in the UK, if we didn't impose a lockdown. So the countries did, all over the world. Who funds The Imperial College? Yep, Bill and Melinda Gates through their foundation. Now off course those numbers of doom have been reduced very substantially to about 60000 in the USA by August this year. But not the lockdowns. The only real way to go back to normal will be by a "good vaccine". And guess in what the Bill and Melinda Gates Foundation's Trust has shares? Monsanto, Pfizer, Novartis, etc... The big firms that will deliver the vaccine. So this philantropy has a different side of the medal. It is pure business, it has nothing to do with love for humanity. It is a business model on a scale that is unprecedented: Entire humanity.
So think twice, when you read about the kind and philantropic Bill Gates...
Who is Bill Gates by James Corbett
Sincerely,
Pele23