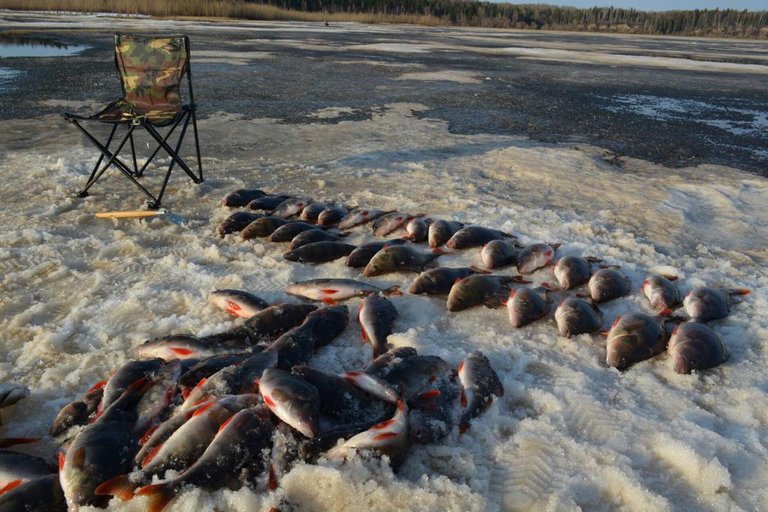 ---
Ice Fishing isn't a thing in my region of the world, I reside in tropical Africa so there's a zero chance or snow or ice sheet. On 2Up Tuesday, Luke; one of the core team at Uptrennd asked why we used social media and I stated that I used it to know about other cultures, new Habitats, Trades from the other side or the globe. This article justified my reasons; I have learnt a fee things from some of my acquaintances that I have made on various Blockchains and dapps, they like to share their Hobbies with me while I share some of mine and that of our countries in specific.
Here is one of my acquaintance that went ice fishing, from this photo you would agree with me that it was a successful boat fishing trip. The fish caught are called Perch, and they are so large ranging from 500 grams to 1.5 kilograms(0.5kg to 1.5kg); isn't that amazing?
You need a license to go fishing in most open water(sea), but you do not need one to fish on rivers and lakes. Ice Fishing is common on Lakes and Rivers in colder regions of the world, its also done on commercial scales on frozen seas in places like Russia, Canada, USA, China and so on. My friend here never needed a permit or license to go ice fishing with his colleagues, this were catch from last winter and they already planning for this years winter fishing and camping Trips.
Basically, ice fishing is just a fishing but on frozen water, the hooks are casted through holes drilled on the water icy surfaces and its could leisure or a major source of living. Its a delicate task because you need experience to know how thick the ice is to be able to dig on it and proceed with your fishing which could last hours. Its not strange they had a huge catch because during winter the fish have little to eat below the ice so once there is a bait, the fishes rushes it and get caught.
Now on my bucketlist anytime I find myself in colder climate, I'll definitely love to go ice fishing like this and catch some fishes o my own. Would you try ice fishing someday too?