A Bit of Background
I was born in Dayton Ohio, but grew up all over the place being that my father was in the military.
There was a time when I was a kid that we weren't moving around quite as much and we ended up living in a town in Ohio called Troy. This happened to be at a point in my childhood when I was developing a lot of memories!
It is funny how the mind can play tricks on you, though. Things aren't always quite the way that you remember them! On the other hand, things may be pretty much exactly how you remember them and you are the one who has changed.
Of course there is a 3rd option, which is that you have changed and the thing you remember has changed... Quite a lot! Sometimes the thing that is interesting is the stuff that has stayed the same. Now that I've said a whole lot of nothing, I'd like to show you some photos of a park where I used to hang out at age 10 back in the 80s.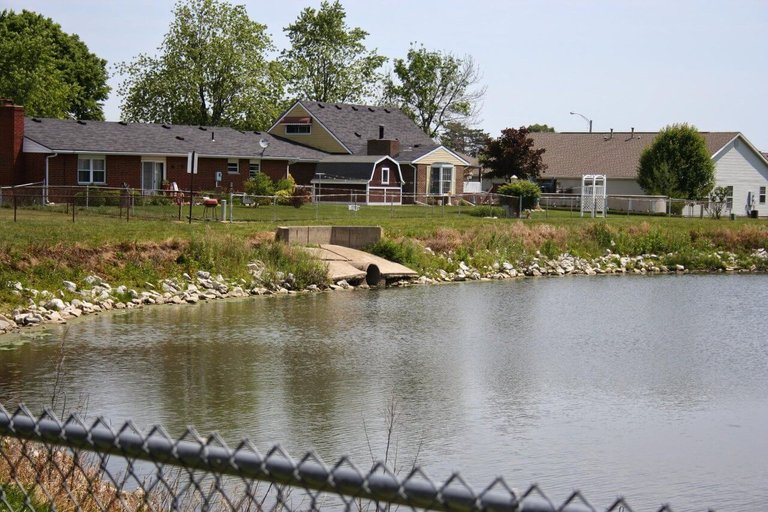 The most immediate thing that I notice that is different is that now the lake is completely surrounded by a fence. There was no fence before. In fact, there were no fences around any of the houses either. I used to sit on that spill-out and fish right there.
I suppose there are fences everywhere now. Artificial boundaries presumably for everyone's safety.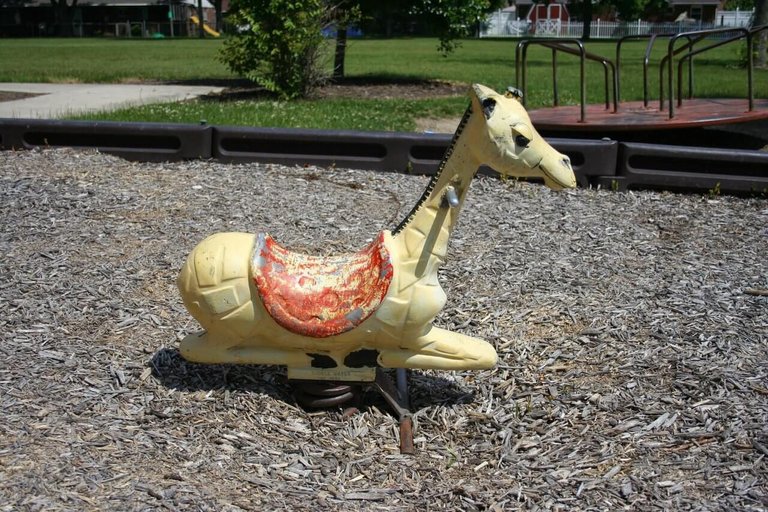 Now this is the hilarious part. All of the kids amusement items are still there. The exact same ones that were originally installed in the 70s! But, wow! They are completely buried under years of mulch buildup.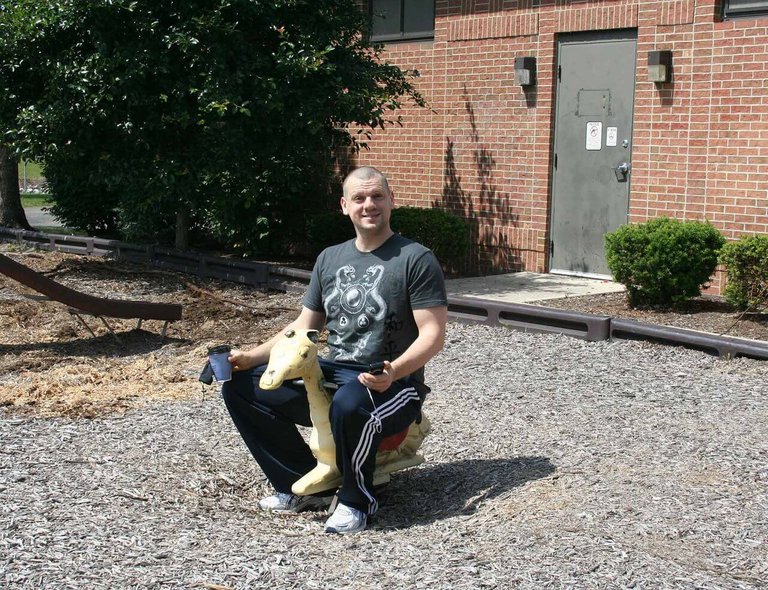 I thought I'd sit on the giraffe thing just to show how ridiculous it is. it is basically buried all the way up to the foot rest. You won't be rocking on this thing any time soon.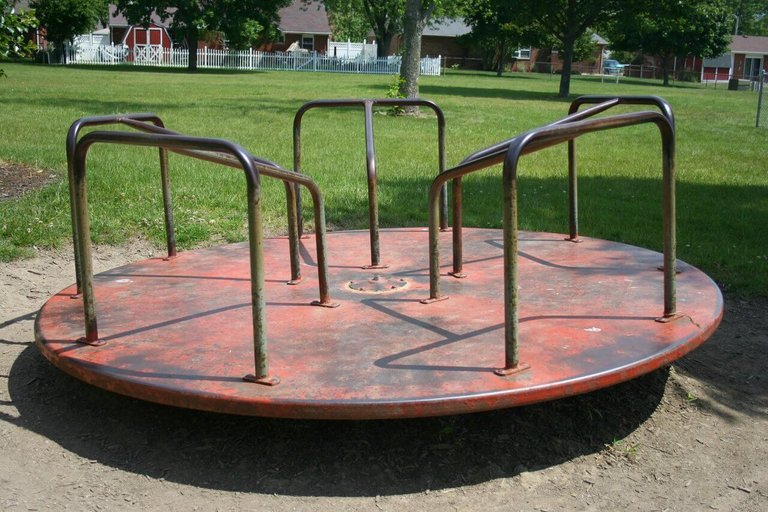 And yep - that's the exact same merry-go-round. I am simultaneously nostalgic and horrified when I see this thing. Oddly enough, it is completely solid. Crooked as hell, but totally solid! No wobbling at all.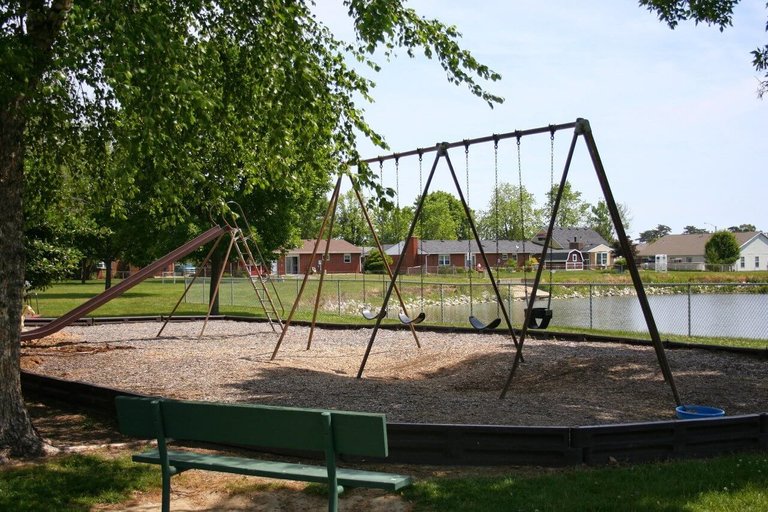 The swing set and the slide are the same old 70s ghetto style rusty models as well. I can tell you one thing, though. There was no mulch back in the day. You crashed and burned in the old days.
I find it hilarious that they just keep piling mulch on top of mulch. It is easily over a foot deep at this point. On the swing they just keep making the chains shorter and shorter. It will be funny to see this place in another 10 years or so.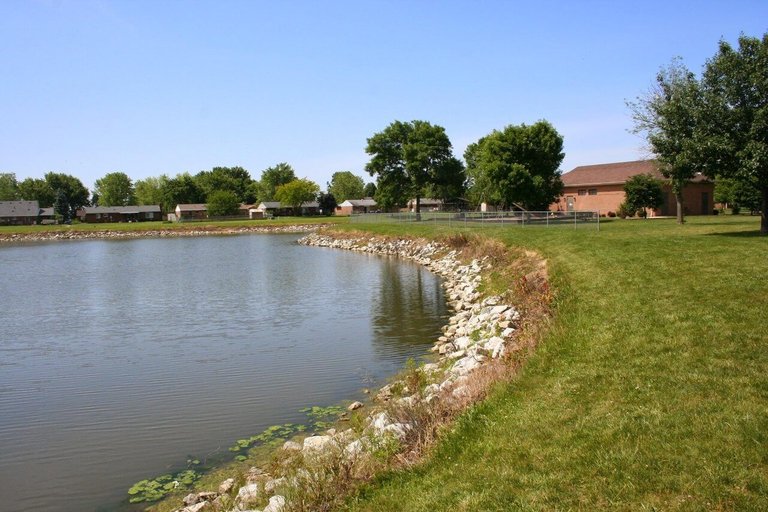 I will give the city one thing, though. This part is 100 times better maintained than it was back in 1985. There certainly were no landscaped stones when I was a kid.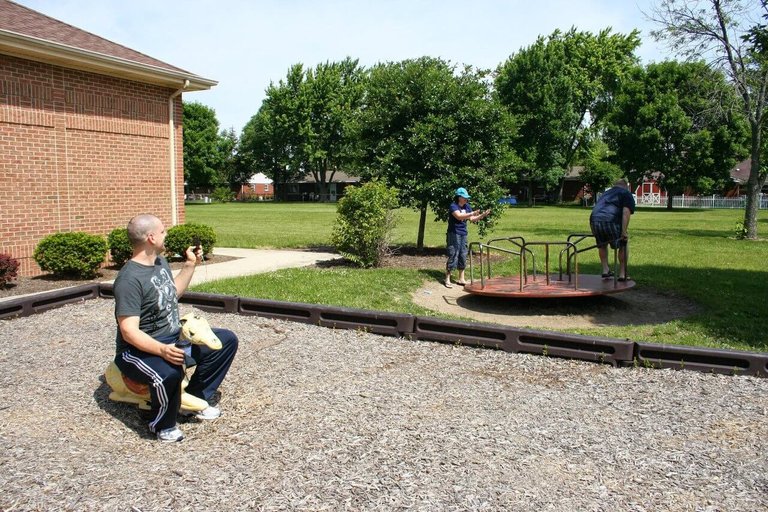 There's my step-dad's wife watching him attempt to ride the merry-go-round very precariously. That was quite entertaining!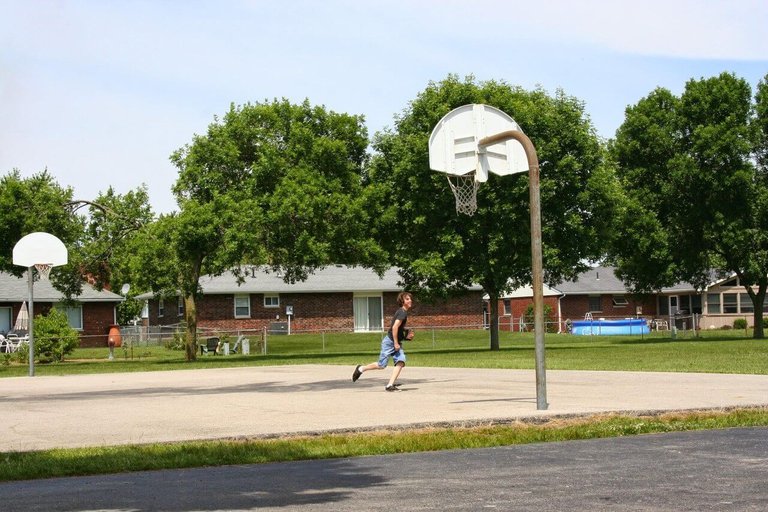 This is a new edition. Now they've added a basketball court! When I was last here, it was just an open field. I suppose that is progress! One thing that is a little sad to me is that there were no kids anywhere. The kids in that picture were my step-sister's. We were in town for over a week and I never saw more than one kid in the park. Growing up, this park with littered with kids running around.
I remember we used to bring cardboard and ghetto blasters and have break-dancing competitions here on a little section with pavement by the utility closet.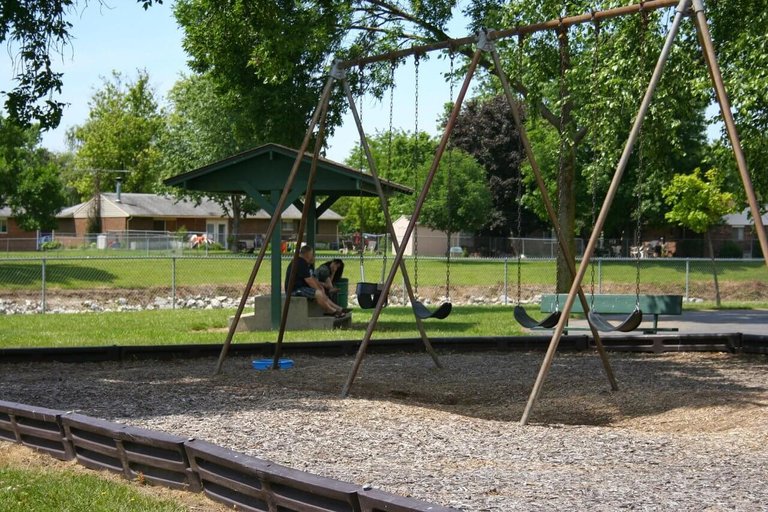 I have a little story about that little pavilion that we are sitting under in the background. When my big sister was about 15, this guy in the neighborhood decided that he was totally in love with her and spray painted her name all over the pavilion. He got caught by the police and they made his scrub it all off.
I guess it worked because my sis ended up having a kid with him. I never said she made the best decisions!