Alright, I guess since I'm on vacation its time for me to air out my frustrations with this rise in conspiracy nutcases, further exacerbated on Hive because it's one of the last fortresses these people have as they get cast out from other places.
Now, I know this post will not make a single flicker of a different in anyone's views. I know that I'm preaching to a choir who already agrees, and needlessly aggravating those who don't.
So I want to go in without the expectation or hopes that minds will be changed, but also risks those people who are wrong to double down on their views in a subconscious defensive strategy.
That being said, I just need to air out the grievances I have with it all.
The first thing I want to attack: Freedom
Freedom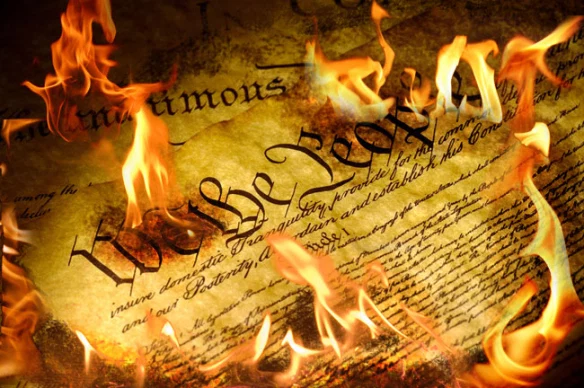 Having lived in China for many years, I have a rather nuanced experience with what freedom actually means. Here, it isn't a word in the dictionary. In the US, freedom appears to have no concrete meaning and instead seems to be some umbrella term to mean almost anything.
If I were to put it in the US Dictionary, I would define it as 'political hypocrisy'.
Let's look at the right-wing, for example. The right are hell-bent on maintaining their freedoms, whereas the left seem to want to strip all freedom that isn't the freedom to do exactly what they tell you to do.
The right want the freedom, the right to bear arms. Why? To protect from the tyrrany of the government.
The right want smaller government, let the people do what they need to do to thrive, the government should just do the minimal things to keep the country in check.
Then, when the left say 'defund the police' - the right are up in arms (literally) protecting the militarised police services, some of which account for upwards of 25% of an entire states' budget!!. Hypocrisy?
Then, when the military and police come hammering down on peaceful protestors who happen to be left wing, illegally as can be and is defined by any legitimate lawyers out there, the right wing and their guns are... whisling idly into the wind as they turn the other cheek?
Hypocrisy
Americans don't want freedom. Americans apparently despise freedom. The left are at least somewhat open about their distaste for the concept. The right seem to desperately cling on to the illusion that the bill of rights means something, when really it fell apart long ago.
Nobody bats an eye at any of the other amendments that have been castrated time and time again. Because most Americans don't even know the bill of rights beyond Guns and Speech.
Ever asked an American what the 9th amendment is? Try it, and see them stare blankly into the void. Let's take a look:
First
No establishment of religion. It's going ok, and mostly to the dismay of the right wing who are typically pro-religion.
Second
GUNS
Third
Obsolete: No soldiers in your house
Fourth
No searches without warrants. Utterly dead. This is routine, as infinite footage will show. TSA, wiretapping, NSA spying, combing through metadata and so forth.
Fifth & Sixth
A joke. Speedy Trials can take years. In some cases 7 years. Good luck getting a competent defense lawyer on your minimum wage income.
Seventh
Nonsense (Any case worth more than $20 has the right to a jury trial...?)
Eighth
Dead. Prohibits excessive bail, fines & cruel/unusual punishment. Bail is routinely set at prices immeasurably higher than any person could realistically afford. Rape and physical abuse is rampant in the prison system. Yeah, another joke.
Ninth
basically the 'other' category. 'Just because something isn't a right written down doesn't mean it's not a right' - pretty vague. 70% of Americans support medicare for all, and that healthcare is a right, not a privilege. This is not being respected due to popular support of the people.
Tenth
Powers not granted to the federal government become state-owned. The federal government frequently goes way beyond its constitutional powers. Dead.
Conclusion.
4 of 10 are utterly dead
2 of 10 are kinda dead
2 are totally obsolete
And that leaves us with Amendment 1 & 2. Cool.
The bill of rights is meaningless. Nobody actually cares about the bill of rights, and those who do, did a terrible job at defending it.
Freedom!!
So when we hear screaming and tantrums about freedom to NOT wear a mask, even putting the lack of logic and reason aside, it doesn't even fit the agenda of the American people.
You don't have freedoms or rights, you have privileges in which you feel strongly about some and demand them to be rights according to your personal opinions at a given time in your life.
The left feel that freedom of Speech is kinda hurtful and thus this 'right' should be questions and probably stripped away entirely. This is already happening in many parts of Europe including my home country of England, where a joke or comedy routine online can put you in prison.
So when you complain about your rights to not wear a mask, try driving around at 150mph without a seatbelt for a while, see where those rights get you. If you don't end up in Jail, you might be lucky enough to end up impaled on a pylon with your brains spewed over a sidewalk.
Of course, you won't do that because the mild inconvenience of putting on a seatbelt and driving slowly is generally accepted to be a good idea.
All people across the world, the US included, make societal sacrifices to their rights to a level in which they agree as a nation to be reasonable. Just look around.
Your right to swing your arms around ends at my nose.
Your right to have sex ends at people under 16 or whatever the rules are there, and those who find you disgusting.
Your right to work ends when you stick your fingers up a girl's dress.
Your right to bear arms ends at, I dunno, tanks?
Your right to freedom of speech ends at inciting violence and 5 other areas of exception (including time & place).
And finally, your right to have CoVid-19 ends when you start spluttering it all over other people's faces.
Next time...
As for the whole nonsensical arguments of pseudoscience, well, this is already a long enough side-rant so I'll make a part 2 addressing that, unless anyone actually picks up on this post and starts debating in the chat.
If so, I'll gladly take the bait for a while at least, and compose a post-response to that/those.