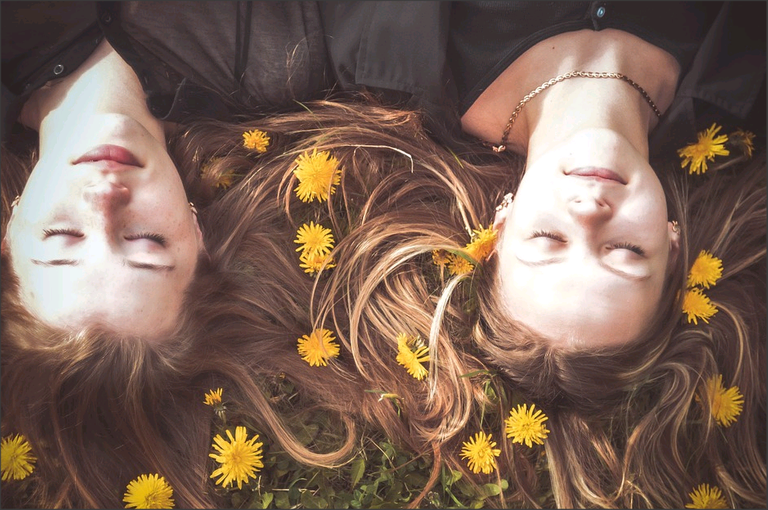 Source

They met in high school. Jane kept looking at him when he came in. The only open seat was next to her. The scruffy-looking girl walked over to the seat and bumped into her classmates. Math class was about to start. The newcomer was looking for the calculator in her bag. She had forgotten it at home. She gestured in frustration. -Hey, I've got another one. Jane said - Thanks, my name is Brittany.
From that first day they became friends. They met to study together. They loved going to the movies and then eating pizza. Jane was an educated girl, refined and a good student. She always stood out with her excellent grades. Britana was more careless and not very good at studying. Jane helped her get better grades.
Both girls were pretty. The boys always asked them out. Jane refused, saying she wasn't interested in any relationship. She hadn't met the right person. Brittany was the opposite. She liked to party. She accepted all invitations. It bothered Jane, she didn't understand how she was wasting her time like that.


Source

A video spread through social networks. It was a scandal at school. It was a sex tape of Brittany with the team captain. It was very painful for Jane to see her friend's reputation destroyed. After the first video, someone uploaded another one where Brittany was with two boys. The parents pulled her out of school. She was depressed. Jane was the only person who gave her support. I visited her every day, trying to cheer her up. They spent hours watching movies in the house and eating pizza.
Jane was accepted to a prestigious out-of-state college. She communicated with her friend every day. By chat or video call. Brittany was getting more and more rebellious and frustrated. She started working as a waitress in a bar. When her shift was over, she would go out and party. She was overdoing it with alcohol and drugs. One night she overdosed and was admitted to the hospital. When she woke up, Jane was next to her. She had traveled as soon as Brittany's parents told her.
Brittany agreed to be admitted to a rehab center. But her life would always be full of setbacks. The temptation to relapse was always there. Jane graduated with high honors. She was quickly hired by a major company in the city. This allowed her to help her friend, who was going through a bad economic situation and wanted to rent a place for herself, away from the constant complaints of her parents. That need made her get involved with some drug dealers who were arrested by the police in a raid.


Source

The money Jane had saved up was used to pay her bail. They argued that day. Jane wanted Brittany to understand that she had to get her life back on track. She had to make changes. Leave bad company. Letting her help herself, she was willing to do that, as always. The discussion got more intense and Brittany told her never to call or seek her out again. To forget she existed. Jane tried to stop her, but she got slapped. The lifelong friend left, and she was left with a wounded soul.
Two years had passed since that night. When Jane saw her friend's picture on the news. She was wounded in a shootout with the police in an attempted bank robbery. She ran out of her office to the hospital. She explained to the doctor and the detective guarding the room that she was a friend, that she needed to see her, that she was the closest thing she had to a family member. They let her in. The injury was serious.
Jane held her hand. She was motionless. I talk to her, hoping she'll react. She told him she missed him. Then, in tears, he made the big confession. I love you, Britt. I've always loved you... not just as a friend. I've been in love with you since the first day I saw you. I love you!
The body didn't seem to react. But Brittany was listening. Even though the body wasn't moving. A tear ran down her cheek. Now I understood why she had always been there, next to her.