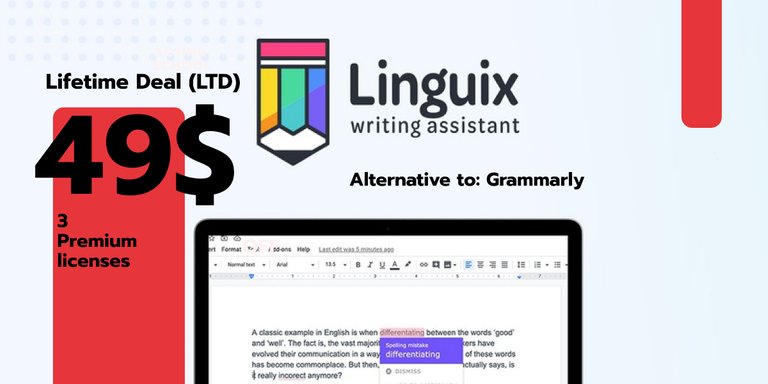 Hello Dames and Gents,
Welcome to another thrilling article by your boy Jacuzzi.
Today I'm going to do a product review of a new piece of software that I'm currently using. What might the software be? Well it is "Linguix". This is a grammar assistant program, to help you type express yourself better.
---
Here is the link :
---
Currently, I use "Grammarly" for my spell checking in my documents and this has been going fine. One thing about I dislike is the ongoing cost to pay for premium features, and I feel it's a pretty hefty price tag.
Enter "Linguix". This is an A.I. driven software to help you write and express yourself better. Also, currently they have an LTD (lifetime deal) going on through AppSumo. So for $49 one time charge you get a lifetime use of grammar checking at premium levels.
Is it Grammarly? No… But it has Potential.
Pros and cons I've discovered so far.
One of the pros I have discovered, is that the spellchecking is more "snappy" as compared to Grammarly. i.e., the correction seemed to come up faster without the slower processing. Granted it's only a few seconds however, This is one thing about the Grammarly app I did not like.
On the con side
Linguix Seems to be little more lax with the grammar suggestions. Case in point here are two screenshots of this article being written. One in Linguix and one in Grammarly.
| Linguix | Grammarly |
| --- | --- |
| | |
You can note the difference in red lines and underscores up to this point in text. All of them are sort of Edge case Grammar rules that are optional...
All said and done however I do like the quickness of the app, and It catches the bigger issues in typing. Additionally, as it is in pre-release, the team will be developing (hopefully) more features in the near future. This combined with the price tag is a win for me.
The cost for lifetime subscription ...
$49 Bucks, and you also get 3 Premium licenses. So, one for you, one for a friend and one for other friend who can't spell.
What are your thoughts on this?
have you tried app yourself?
Let me know in the comments below!
---
Here is the link :
---
---

Any Support is Welcome!
Bitcoin (BTC) : 18zopjg9Y2VA1ouCqCZapN3UzdpK3UnMdm
Ethereum (ETH) : 0x849C33abCb753540fD0D6cDd25df05BC20a1254E
litecoin (LTC) : LdWUz5haDfkn4D1fxmte8nJePEGjJv6Lqh
Bitcoin Cash (BCH): 1DRRtY3j5xzx6Dn9ofQgoosXdqGVsYYNcU
Helix (HLIX) : HPnubkb9FBtSZKPjRvqD166BX4vPK3GtAz


Thanks for reading my post, you inspire me to keep posting!
Thank you for your support!