Sometimes I come across food that is seemingly familiar but different at the same time. Strangely, this happens pretty often when I'm in Vietnam. I have to say everyday is a new discovery and we just have to be brave enough to try the NEW. No major harm ever comes from trying the new.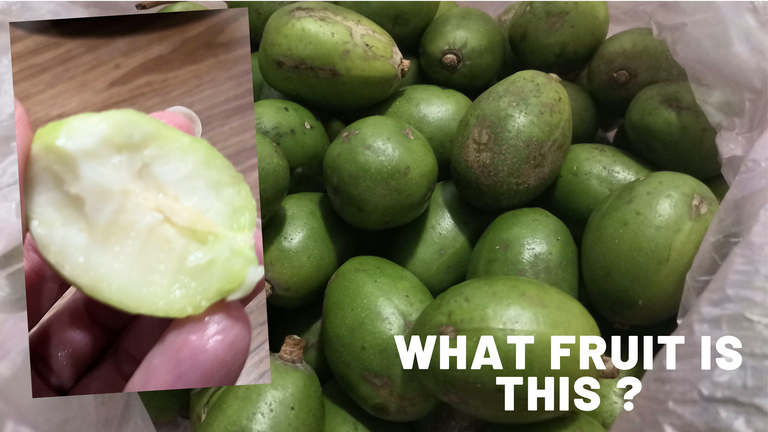 This fruit is something which I've eaten before back home in Malaysia and also here in Vietnam but it's always been peeled and ready to eat condition. I never knew how this fruit would look like before that nor do I know what it's called. Though there is a difference between the ones here and back home.
| Malaysia | Vietnam |
| --- | --- |
| Size of an egg | Half the size of an egg |
| Seed is large | Seed is small or none at all |
| Very sour | Almost tasteless |
In Vietnam, many prefer to enjoy this fruit in a form of a juice rather than eat it on its own, but I'd much prefer to enjoy the fruit on its own. One whole bag which is almost 2kg in weight cost only VND30,000 = USD1.29 = MYR5.59.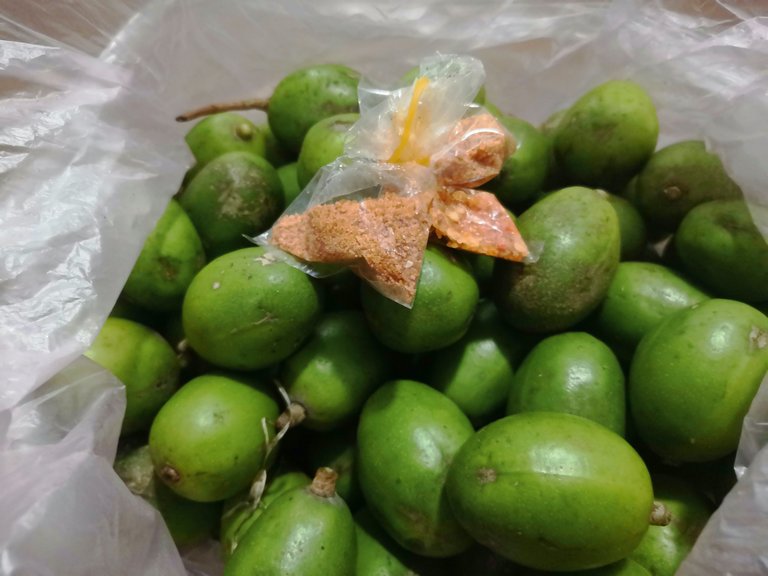 To be honest, I have no idea from which fruit family it comes from; I do have my speculation, perhaps mango, plum or perhaps apple. All I know there is a name they call it here by the locals but I'm not sure how it's spelled to pronounced. No matter how I try to reach for it, I can never find the word itself. Even if I did see this fruit with it's skin unpeeled, I wouldn't recognised it. Thankfully, they are mostly peeled and packed along with cut juicy mangoes and sold. Each pack cost VND20,000 = USD0.86 = MYR3.73.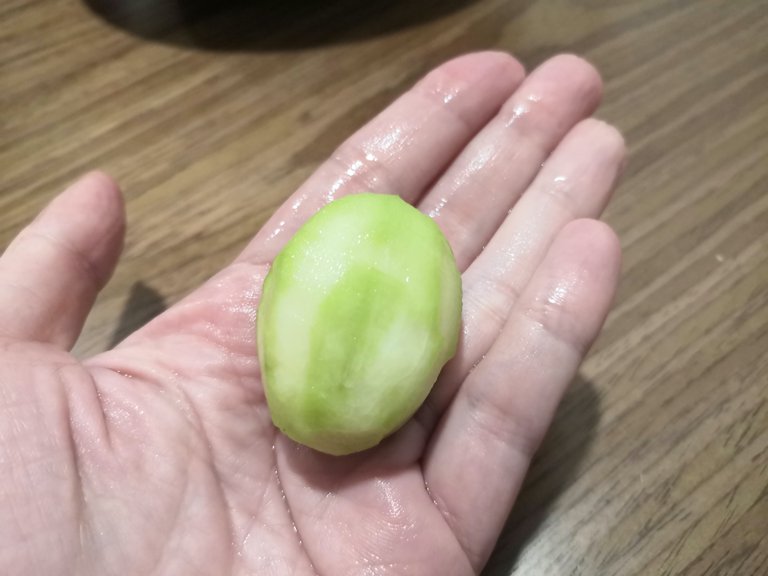 This is how the fruit looks like after the skin is removed by using a peeler. And after taking a bit, the inside is white with sometimes no seed at all. You can eat it with salt which is commonly provided by the fruit sellers or if it was back home, I would eat it with cut red chilli and thick black soya sauce.
So, if you know what this fruit is, do tell me because I have absolutely no idea what this is. It would definitely make it so much more easier to buy this from the fruit seller 😆
That's all for today. I'll definitely share more in my next post. Hope you enjoy my photo taken from my Huawei

---
Come & join FRUITS & VEGGIES MONDAY by @lenasveganliving
• Take and post at least 3 photos of fruits and vegetables. (It can be variety or just one kind from the garden, supermarket or anywhere you wish, PLANT BASED RECIPES ARE WELCOMED).
• One entry only!!!
• PLEASE MAKE SURE THE ENTRY IS 100% ORIGINAL CONTENT!!! (images and text)
• Text must be at least 100 words.
• Use hashtag #fruitsandveggiesmonday
• Mention the creator @lenasveganliving, the host @plantstoplanks and the title FRUITS AND VEGGIES MONDAY