Announcement!
500 Hive Prize rewards will be given away to Top 5 winners of the Twitter competition. We are thankful for @theycallmedan & @threespeak for sponsoring our Hive marketing campaign on Twitter. It will help us to be more active promoting Hive on one of the biggest centralized media like Twitter.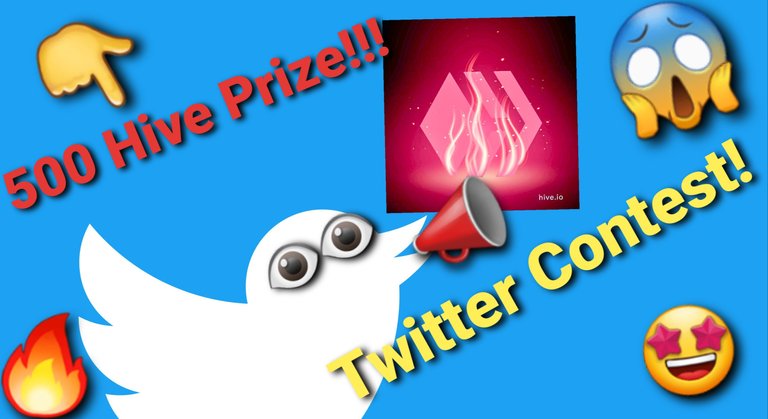 What is it?
We will be doing a Twitter Marketing Competition. The Top 5 winners will get 500 Hive prizes in total.
All Top 5 Winners will get
| Rank | Prize |
| --- | --- |
| 1st Place | 200 Hive |
| 2nd Place | 125 Hive |
| 3rd Place | 100 Hive |
| 4th Place | 50 Hive |
| 5th Place | 25 Hive |
What do I need to do?
Be active on Twitter and keep on Tweeting using tags like #Hive, $Hive, #HiveChat, hive.blog(link), or peakd.com(link). The Top 5 most active users for the week will get 500 Hive distributed to them. Please use the cashtag $Hive when talking about the price. We recommend also to add #Crypto in our tweets to reach a larger audience on Twitter.
What is the requirements to be on the Top?
You need to be one of the most active users by promoting #Hive on Twitter. We will collect all your original tweets, retweets with comments, and replies(comments) that include any of our tags/links. Retweets only will not be counted for some valid reason.
When does it will start and end?
This will be starting from August 20, 2020, at 00:00 UTC Time and will last until August 27, 2020, 23:59 UTC Time. All data will be gathered and collected within this date ranged. Its 8-20-2020 - 8-27-2020, a 7-day long Twitter contest which is open for all.
Where can I see all our Twitter data?
Our google spreadsheet is made publicly available transparent for everyone to check and verify. I am inviting you to visit the open records, search for our Twitter accounts to see how we are doing on this Hive marketing promotion on Twitter.
https://docs.google.com/spreadsheets/d/18eWON-86uDc4fNG3cDuvoXNhKbKvJv5ZglzK1u14OIs/edit?usp=sharing
What if I did not make it on Top 5?
We will have a consolation upvotes prize for the Top 6-30.
Conclusion:
This is our first ever big contest on Twitter. What we are suggesting is we do tweets that can add value to our readers. A good example is by inviting frustrated people on centralized media who are de-platformed, shadow-banned, de-monetized, blacklisted, accounts removed, censored, and many more. See our sample;
We will be doing a manual review before finalizing the winners after collecting all our tweets. This will help us to reward deserving ones. The winners will be announced on August 28.
Final words: We want to say that we appreciate all of you, every single tweet promotion is one step closer to our goal.
Please follow me on Twitter and Hive 😍
We want to recognize our great people on Twitter we always see every day. I am grateful to God to have you guys in our Hive Family. We love all of you, I am praying to God that He take good care for all of you and your family. <3
(Note: The list is the only name I know based on my limited capacity that I figured out on their usernames on Hive connected to Twitter accounts. If you think must be included on our list, we will appreciate commenting down and we will be happy to add you. Cheers!)