It has been a month since we started to count on our daily twitter activity on Hive. Compared to last July 11, we can clearly see the numbers really improved a lot which in my humble opinion our daily report helps is a small way for inspiring our Hive community to be more active on twitter.
We are doing daily twitter data reports on @hive-data account that shows our tweets, retweets, engagements, impression, reach, Top 50 most active twitter hustlers, top tweets of the day and highlight tweets of the day that needs our attention.
https://peakd.com/hive-133987/@hive-data/daily-twitter-data-reports-as-of-august-11-2020-tuesday-or-or-daily-free-hive-marketing-tips-giveaway

Our Daily number of Impressions grown and improve in exponential way as of today with 9.1 million reach compared to 2 million reach of last July 11. We are very happy to see this numbers grow because as far as I am concerned that Twitter can add some value in our existence on Hive. Although that we know that centralized social media will not go anywhere but as the beat of the rhythm goes and the music is still playing, we can dance and make fun of it to extract any value that is left.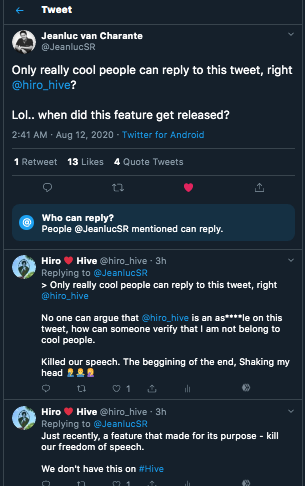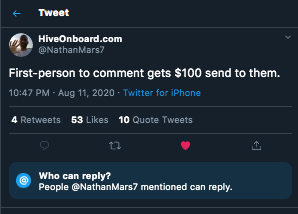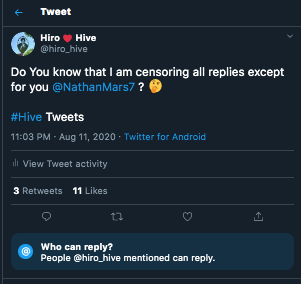 Myself and some of great Hive'ians are making great fun on twitter recently with added features that censors our post reply which is a nail in the coffin in the dying freedom of speech. I am just shaking my head because of these new features, that word verification, and truth verification can be obsolete in the coming days as we see more of this.
This is the real utility of Hive comes very significant, I heard what @fulltimegeek is saying that I want to quote If people realized it is harder to mine the truth than bitcoin, they will begin flocking on Hive. Stay safe everyone
We want to recognize our great people on Twitter we always see every day. I am grateful to God to have you guys in our Hive Family. We love all of you, I am praying to God that He take good care for all of you and your family. <3
(Note: The list is the only name I know based on my limited capacity that I figured out on their usernames on Hive connected to Twitter accounts. If you think must be included on our list, we will appreciate commenting down and we will be happy to add you. Cheers!)
Also, I really do love Ramen!
Please upvote, share, and follow me. Thank you...