I'm going to confess right away that this #whereonwednesday was written whilst sitting at a café over a cake and coffee and not from my office. However, despite the concept of whereonwednesday being all about day-dreaming about where I'd rather be whilst sitting in my office at work I think it still counts from the café - It is, after all, still Wednesday!
Anyway, today I was thinking about a trip Faith and I made to Darwin, some 3200km away from home, a while back; I was there to compete in a big shooting competition and we stayed an extra week to do the tourist thing. I've been thinking about it lately as I have been doing a post-series about the Darwin bombings up that way. It was our first time there and so we sort of hit it like tourists and went all over the place. I wouldn't call it a hectic trip, Darwin and hectic don't mesh together, but it was really interesting and enjoyable for sure!
One of the coolest places we found was Mindil Beach. We were staying not too far away and walked down there most nights to soak up the atmosphere, grab some food and watch the sun set.
There's a very cool market down there called Mindil Beach Sunset Market which has music, food and stalls plus thousands of people all situated literally in the sand just off the beach. The stalls carry all sorts of local items, arts, crafts and produce, some eclectic and odd and some really interesting. It's the food stalls that capture most people's attention though, and there's no shortage of them!
Some of the foods available are: Australian, American, Greek, Japanese, Italian, Chinese, Vietnamese, Indonesian, Turkish, Sri Lankan, Spanish, Malaysian, Indian and French. If a person can't find something to eat here they have issues!
We wandered around the stalls, engaged with some of the many characters, and come sunset headed down to the beach with a couple healthy serves of a very scrumptious paella to eat as we watched the day draw to a close. Idyllic? You betcha!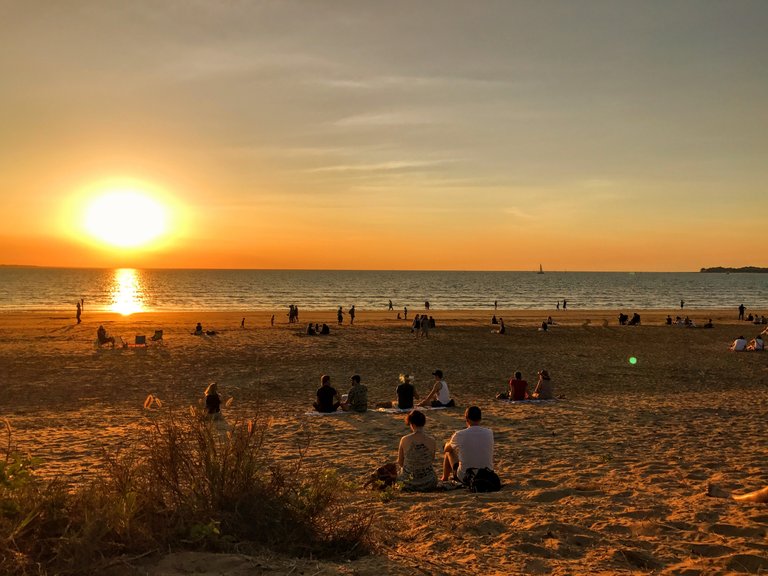 The image here shows the beach and a few people on it watching the sunset. It was a warm night, as always, in this tropical region of Australia and the sunset was pretty glorious. You may wonder why no one is in the water though...Well, That's because of these little fellas...They grow them big up there, some of these crocs reaching up tp 22 feet in length.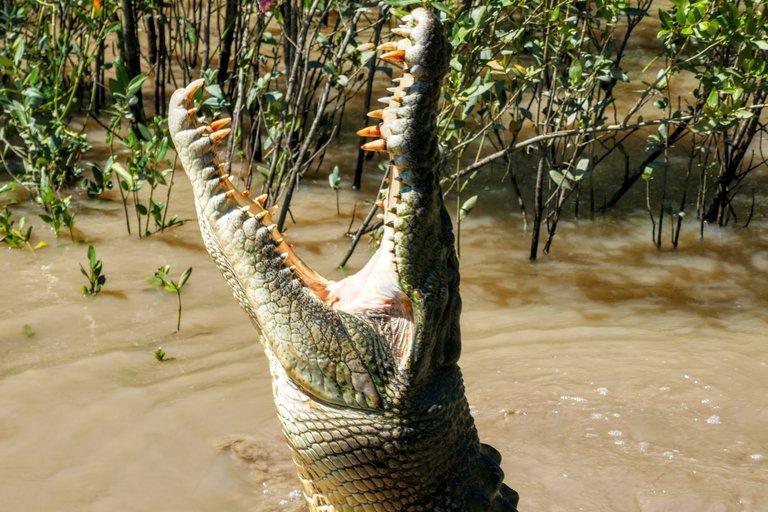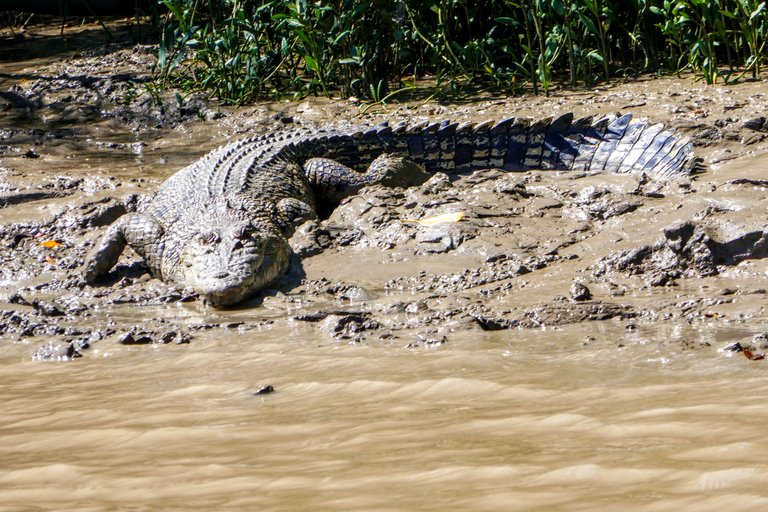 I snapped these two from an aluminium boat on the Adelaide River south of Darwin, but these salt water crocs are just as comfortable in the ocean so...Swimming in Darwin is for the extremely brave, or the incredibly stupid. You don't have to observe the warnings...But it's a good policy.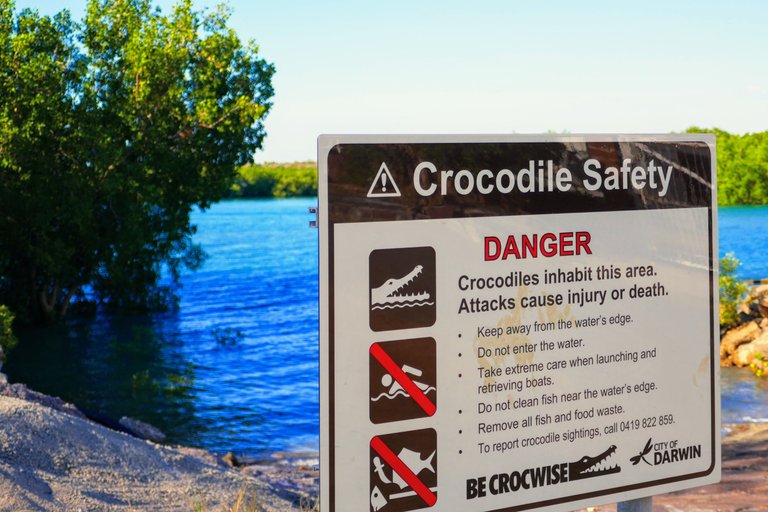 Taking some time to wind-down with Faith, some chow, a couple of coldies and a splendid sunset at the end of each day was nice and there's few better places to do so than at Mindil Beach. Just watch out for the crocs if you decide to dip a toe in.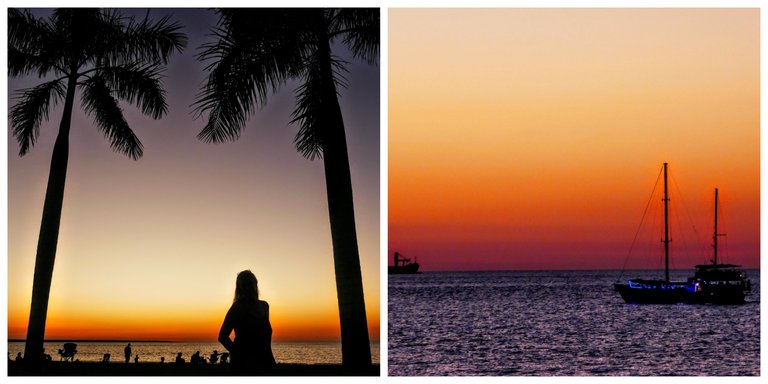 We had really great time in Darwin, and I'd recommend to anyone that it's a place they should visit whether you're from overseas of from Australia. It's a long way from anywhere, but it's relaxed, warm, and there's loads to do, even if you just want to sit around the pool. There's no crocodile's in the pool...Well, there could be! (See last image below.)
We only really had a week there, around August and so there's still much we would like to do there including heading back to Mindil Markets.
So, that's where I'd rather be right now, but I'm not...So, I'll have to keep day dreaming.
Thanks for reading y'all.
---
Tomorrow isn't promised - Design and create your ideal life, don't live it by default
An original post written by a human
Discord: galenkp#9209 🇦🇺
Bonus text and pictures...
Not your typical swimming pool: Here's a mate of mine who I competed against in the shooting competition I was in Darwin for. He decided to get into the cage of death with his girlfriend and get submerged into a pool with this bloody great croc. It's safe, or as safe as can be of course, but I wouldn't do it. There's no tame crocs. You can do this at Crocosaurus Cove