Today I met a returned soldier at work, a man who served in the Australian Army during the Vietnam war, and post-war, for over 20 years; He was an incredibly interesting man to talk with, insightful, intelligent, informative and an intensely proud Australian, like myself I guess - A proud Aussie I mean.
We spoke at length and he related some of his experiences from the Vietnam war and during his military career, and about the impact they have had on him in his civilian life.
He suffered greatly in war and after his military career ended and I could see it in his eyes and hear it in his voice that, now many years later, his experiences stick with him, move him and hurt him also. The quintessential modern-day veteran I guess.
It reminded me of the sacrifices so many have made, my new friend included, for our freedom and way of life - Whether one agrees with war, the reasons for them, or not, I don't believe it is right to forget, nullify or discount those that have served in them.
As a keen history buff I've studied the wars Australia has fought in and have had the privilege of visiting several significant Australian battlefields to pay my respects also. Doing so has deepened my understanding, both softened and hardened my opinions on various aspects and made me feel more Australian. I feel a little more understanding of where I came from.
Inspired by Harold (Harry) B, the veteran I met, I came home to look through my photos and note books from past battlefield visits in Europe and Papua New Guinea and, as usual, I became somewhat engrossed all over again.
I decided to write about one of those battles, a significant World War Two battle, that was essentially a battle for Australia and over the next few weeks I'll present to you some history and more personal facts and thoughts about my arduous trek across the Owen Stanley mountains retracing the battles, and stories, over that infamous 100km slog from Owers Corner to Kokoda, Papua New Guinea.
The Kokoda Trail is a brutal trek through deep jungles, high mountains and a journey through a past tainted by tragic history, and heroic deeds. I trekked it in November 2007 and from that moment my life was forever changed. It has been the most physically demanding trek of my life, and the most meaningful, and memorable.
The image below is from day one of a six day trek over the approximately 100 kilometres of the Kokoda Trail in Papua New Guinea and whilst it was arduous, it was nothing compared with what the soldiers who fought on the Trail experienced.
Thousands of Aussie's fought and died on and beside the Trail over battles between July to November 1942 in their efforts to repel the invading Japanese. The enemy had landed on the north of Papua New Guinea with the intention of taking Port Moresby and then attacking and taking the Australian mainland.
It was a brutal jungle campaign with the ultimate prize being Australia itself. The Aussies were isolated, poorly equipped, grossly outnumbered and lacked support but fought like the crazy bastards they were (are) known to be and prevailed. After halting the enemy outside of Port Moresby they then pushed them back to the small village of Kokoda (where they had first made contact in July) and beyond. There, joined by some American elements, they pushed the Japanese completely out of Papua New Guinea.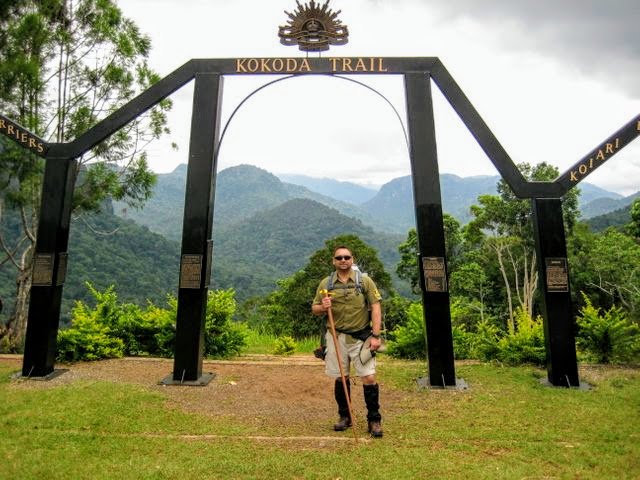 The trek itself was treacherous in places, incredibly hot and humid in the day and bitterly cold at night, brutally hard physically and mentally and emotionally draining.
Each step was difficult. Once over that threshold behind me in this picture there were no flat parts...Just very steep inclines and declines, mountainous peaks, creek and river crossings, jungle, mud, critters and the left over detritus of war...You'll see images of me with mountain gun shells piled up beside me, holding live hand-grenades and other detritus left from the titanic struggle that played out here.
I dropped 8 kilograms (17.6 lbs) of weight along the way as I completely lost my appetite, found humility, let go of any vestige of hubris and ego and learned much about myself. I came away feeling more Australian, if that was even possible, and more certain that a human with the right attitude can prevail over one without. I came away different. Better.
I'll write some words about my trek, the challenges, fears, expectations and realities and post some more pictures in the near future. I hope my story inspires people to learn more about the sacrifice made by so many; Sacrifices made to preserve and secure our way of life by men who gave up their own.
Thanks for reading and I hope you look out for my next instalment.
---
Tomorrow isn't promised - Design and create your ideal life, don't live it by default
An original post written by a human
Discord: galenkp#9209 🇦🇺
The original post was written and posted by me late in 2017. This post has been reworked and reposted for the @nonameslefttouse #showcase-sunday concept.