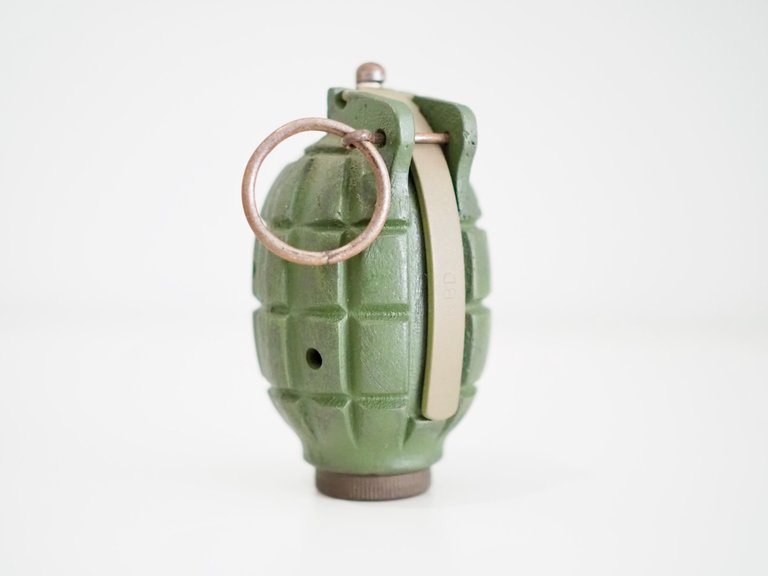 In true G-dog style I was unaware, clueless, oblivious...OK, you get the idea I guess.
I knew it was happening, the opportunity to move to a new blockchain for those who are keen; I just didn't know exactly when, until the indomitable @mattclarke enlightened me with a blockchain launch Countdown timer. As the name suggests, it is on the countdown to the launch time of the new chain. I thought I'd provide it for those who are in the same position as I am...That is, unaware, uninformed, ignorant or simply confused...No, not in general, just in relation to the new chain.
I wondered for ages (two seconds) about what image to use on this post and, of course, decided to pull out a hand grenade and photograph it. Abracadabra...And poof, here's that image!
Yes, this is a real hand grenade. Of course this one contains no explosives, and no firing mechanism and is indeed drilled through so none can be fitted...I wouldn't be so silly as to put a live grenade on the blockchain. However if this was live, one could pull the safety pin which will release the striker lever and begin to cook the grenade (i.e. begin the timer-delay process)...At that stage it would be advantageous to throw that mother-fucker away, preferably at something you wish to blow the fuck up. Job done.
So, the blockchain grenade is is hot...It's cooking and in the coming hours (refer to countdown timer) will go bang. It'll not be as fun as throwing real grenades but it's certain to take those who head on over there on a new journey. I'll be there, and I know you can't live without me, so...
---
Tomorrow isn't promised - Design and create your ideal life, don't live it by default
An original post written by a human
Discord: galenkp#9209 🇦🇺