"A journey of a thousand miles begins with a single step.
Chinese Proverb
6th February 2020
This day, I decided to change my lifestyle and made the very first step. I drafted a plan to stick to, and I'm following it. It's been exactly 40 days ago.
My original plan was to lose 10 kg weight during the first 30 days. I managed to overdo it. That surprised me quite well. I didn' feel it demanding or difficult at all.
---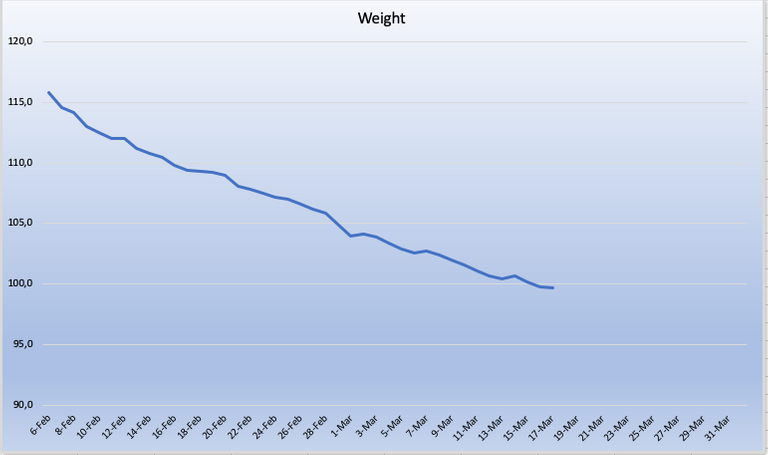 On the right side, you can see the chart of my weight losing project. The most interesting part was that I didn't feel hungry during this period except for the first week. But that was normal. I'm trying to eat at least four times a day, and instead of snacks, I grab some fruit.
I am not taking any fat burner or other artificial food supplements. I try to beat myself purely by the power of my mind. :blush: I'm only avoiding sweets, sugar, carbohydrates, and alcohol if it's possible. I exercise for one hour every single day. Usually, I use my elliptical trainer but it's spring now and I've already tried cycling and running. Today bought my first running sneakers. :grinning: I will focus on outdoor activities for sure. I usually burn 700-900 kcal a day with these physical activities. I still keep writing my diary, just to track what I'm eating during the diet.
My starting weight was 116 kg, now it's 99,9 kg. I've lost 16 kg in the last 40 days. I feel much better, I'm full of energy and vitality. Losing weights gives me self-confidence and it opens many doors in life. It's easier to overcome my laziness day by day. Oh, and I discovered a few forgotten shirts and pairs of jeans in my wardrobe... :wink:
At this very moment, I cannot see any reason to stop or to take a break. I'll keep going according to my plan. The next aim is 96 kg by losing 20 kg. I wanted to reach it in 5 months, but it seems that I'll get there in the next few weeks.
I know I can do it.
Do you have a similar story? Share it to strengthen us!
---
I would appreciate your feedback in comments!

If you like the post, please click on upvote/resteem button!
Thank you in advance!

---