Drawing her gaze. The reflection of his soul. My portrait in realistic drawing.. Dibujando su mirada. El reflejo de su Alma. Mi retrato en dibujo realista.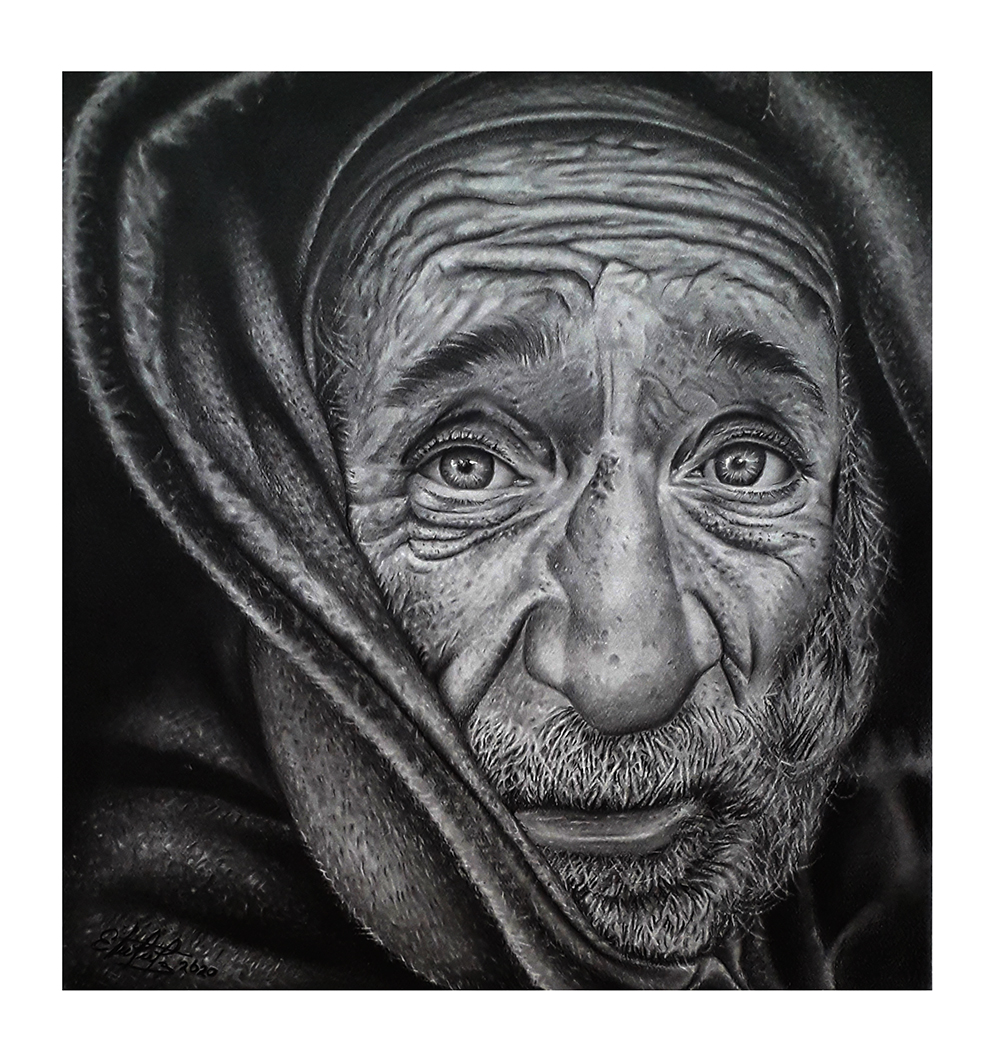 Aging is like climbing a great mountain; while climbing the forces decrease, but the gaze is freer, the view broader and serene. Author ..... "Ingmar Bergman"
Envejecer es como escalar una gran montaña; mientras se sube las fuerzas disminuyen, pero la mirada es más libre, la vista más amplia y serena . Autor....."Ingmar Bergman"

Starting with this phrase, I want to welcome you to this space of art and drawing, wishing the entire community a successful day. Today I want to present to you another work in realistic drawing where I go back to the elderly, where I redraw the looks and expressions that constitute a certainty of their long journey in life and that their looks reflect the sweetness and great wisdom.
Empezando con esta frase les quiero dar la bienvenida a este espacio del arte y del dibujo deseándoles a toda la comunidad que tengas un exitoso día. Hoy les quiero volver a presentar otro trabajo en dibujo realista donde vuelvo acercarme a las personas de la tercera edad donde vuelvo a dibujar las miradas y expresiones que constituye una certeza de su largo camino de la vida y que sus miradas reflejan la dulzura y su gran sabiduría.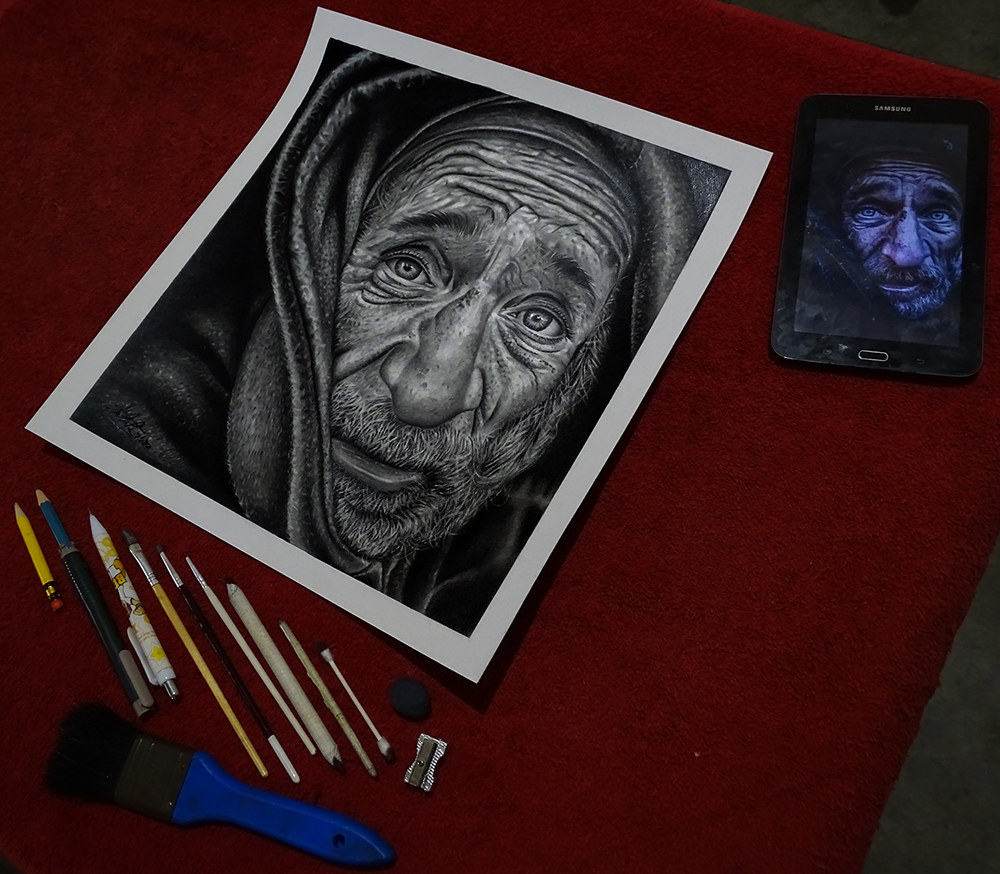 Fuente

Process and step by step of the drawing
To carry out this work in realistic drawing, the face of an old man must pay close attention and visualize the details that an aged face represents. You must have the concentration and patience when doing them. With the 2B and 6B pencils, mechanical pencils and small soft cell brushes I begin to draw the eyes with very subtle layers of graphite creating volume to the pupil, iris, sclera, looking to make shadows and lights to make the most realistic and give the feeling looking at you. Then I draw the details of the skin in the same way creating very smooth graphite layer textures. Then pulling out small pores with the tip of the pencil. Small wrinkles and different imperfections and using a moldable eraser creating different lights to continue the same process with other parts of the face such as the nose, cheeks, lips, hair, beard to complete the portrait.
Proceso y paso a paso del dibujo
Para realizar este trabajo en dibujo realista el rostro de un anciano se debe de prestar mucha atención y visualizar los detalles que representa un rostro envejecido. Se debe de tener la concentración y paciencia a la hora de realizarlos. Con los lápices 2B y 6B, portaminas y pinceles pequeños de celda suave empiezo a dibujar los ojos con capas muy sutiles de grafito creando volumen a las pupila, iris, esclerótica, buscando de hacer sombras y luces para así hacer lo más realista y dar la sensación que te mira. Luego dibujo los detalles de la piel de igual manera creando texturas de capas de grafito muy suaves. Luego sacando pequeños poros con la punta del lápiz. Arrugas pequeñas y distintas imperfecciones y usando en borrador moldeable creando distintas luces para así continuar con el mismo proceso con otras partes del rostro como la nariz, mejillas, labios, vellos, barba para ir completando el retrato.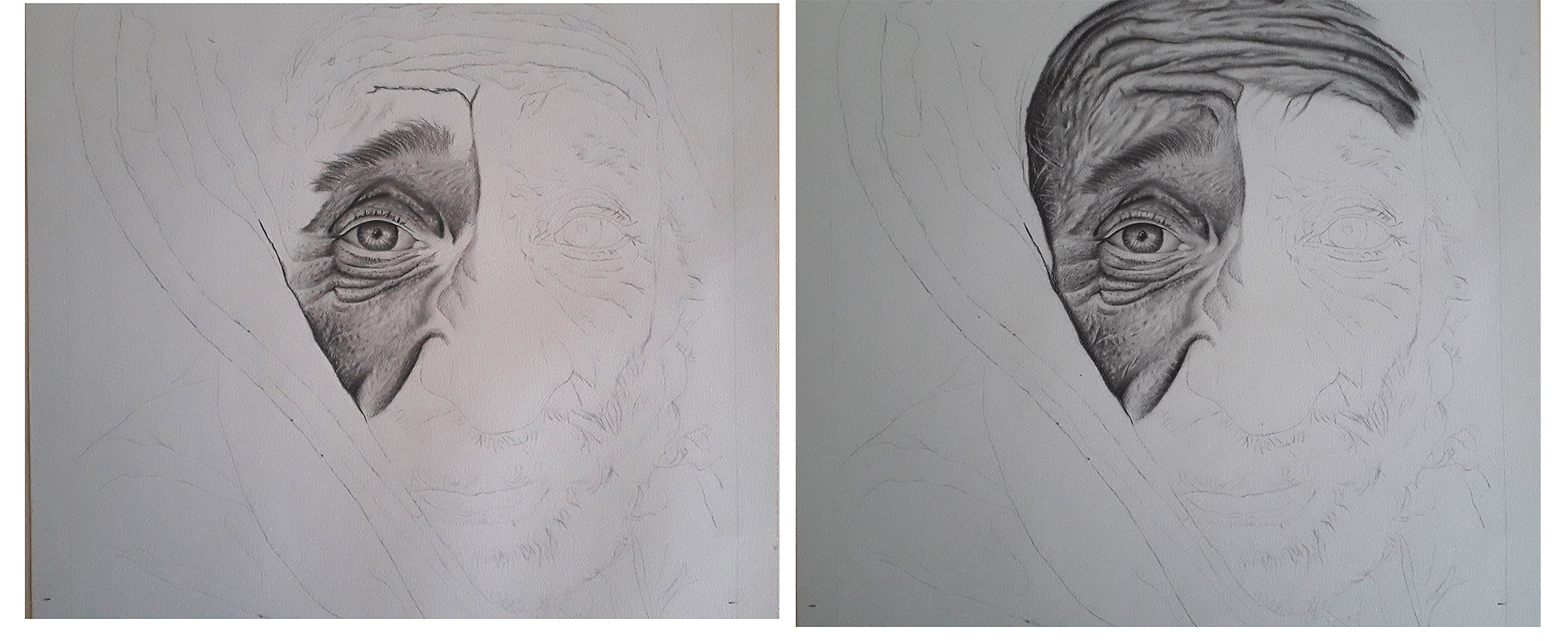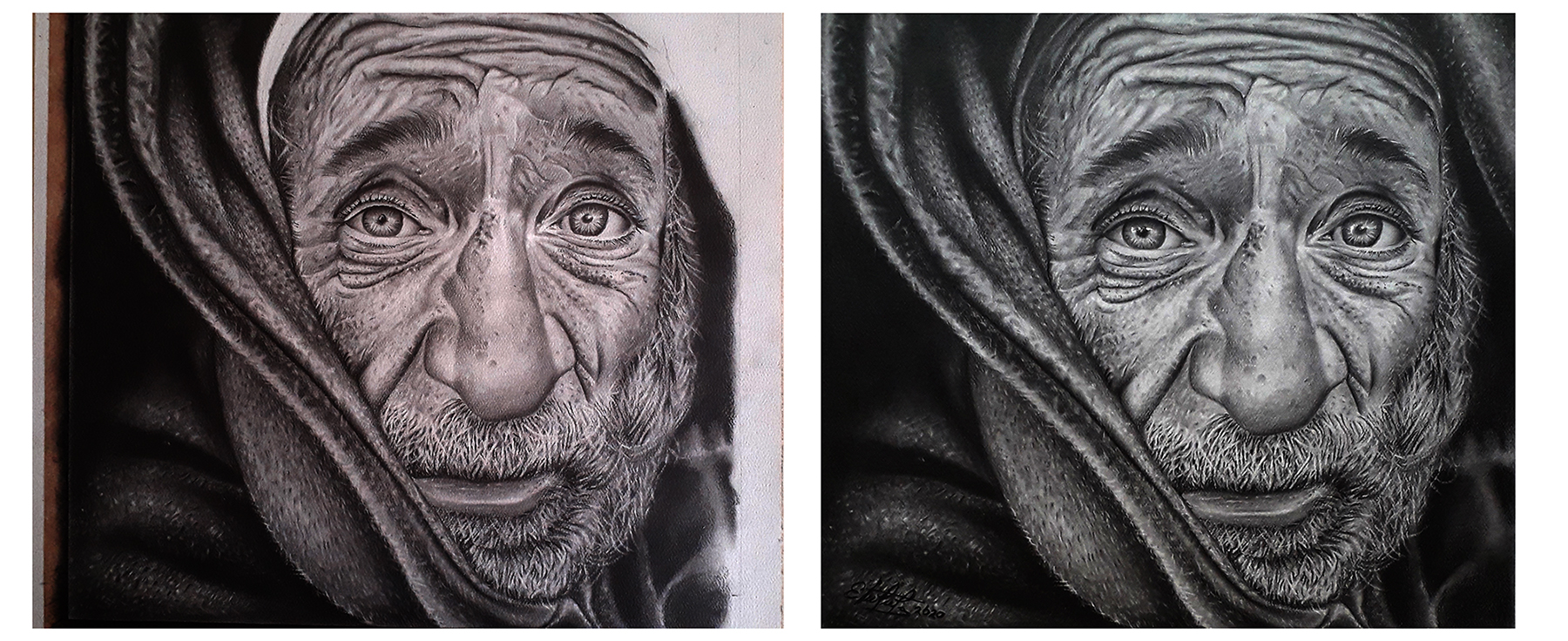 With the Gif we observe the evolution of the drawing also showing that it is a handmade and signed work where your signature is below and to your left.
Con el Gif observamos la evolución del dibujo también dando a demostrar que es un trabajo hecho a mano y firmado donde su firma se encuentra abajo y a su izquierda.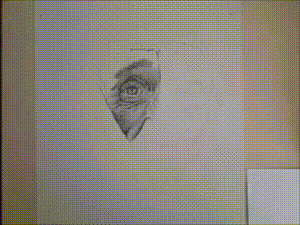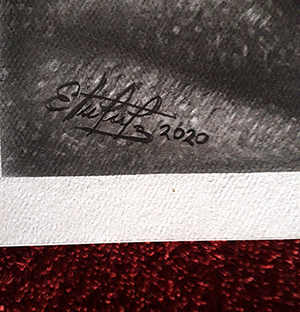 "Materials used for this work"
"Materiales que se usaron para este trabajo"
Prism cardboard of size 36 x 38 centimeters. Graphite pencils of hardness 6B and 2B. Mechanical pencil. Soft cell brushes. Blurs. Hyssop. Moldable Eraser. Sharpener. Brush to clean the surface.
Cartulina Prisma de tamaño 36 x 38 centímetros. Lápices de grafito de dureza 6B y 2B. Portaminas. Pinceles de celda suave. Difuminos. Hisopo. Borrador Moldeable. Sacapuntas. Brocha para limpiar la superficie.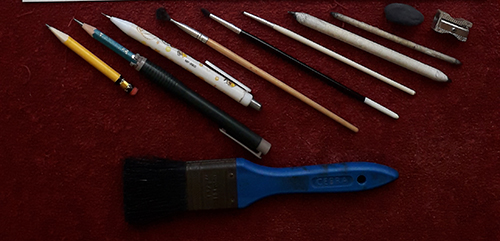 The images were taken with a Samsung J4 smartphone. For the creation of GIFs and image sequences, programs such as .. Adobe Photoshop CS6 were used. Windows Movie Maker. Bloggif.
Las imágenes fueron tomadas con un teléfono inteligente Samsung J4. Para las creaciones de los GIF y secuencia de imágenes se usaron los programas como.. Adobe Photoshop CS6. Windows Movie Maker. Bloggif.

Thank you very much for your visit and I hope you have enjoyed this work in realistic drawing and waiting for your comments. Thankful to the community for the great support they have given to my work in drawings and as always I say many blessings and successes in each of their projects. I am at your service and you can find me here or on my social networks. We will see each other again in the next project. See you soon.
Muchas gracias por su visita y espero que hayan disfrutado de este trabajo en dibujo realista y en la espera de sus comentarios. Agradecido a la comunidad por el gran apoyo que le ha dado a mis trabajos en dibujos y como siempre les digo muchas bendiciones y éxitos en cada uno de sus proyectos. Estoy a la orden y me podrán ubicar por aquí o en mis redes sociales. Nos volveremos a ver en el próximo proyecto. Hasta pronto.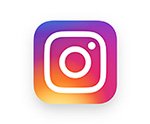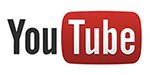 ---
---