Follow Friday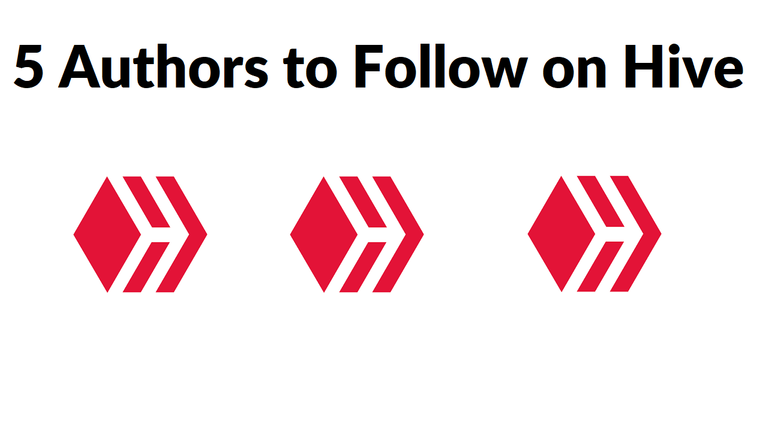 List of Great Hive Authors
Back in 2017 during the first crypto boom, crypto twitter used to always have follow Friday. I don't see this on Hive so figured I'd give it a go.
Here is a list of some recent authors I've come across recently now that I'm back and active on Hive again. I've been kind of away due to some health reasons, but lately I've been feeling much better! I've been trying to help other people out lately so we'll see if this works!
The authors I'll be promoting are all accounts that don't post trash and take advantage of any popularity to which they've earned, which I often see plague many users once they earn their share of auto-votes! Which is one of the top things I admire about them all and why I'd like to give them some additional support!

Source: @enforcer48
Enforcer and I have a lot in common with each other, we're both single fathers just trying to do what's best for our son, trying to make it in this cruel world! Being a single dad is difficult and he's been a great online friend to vent with about some of our common struggles. He's an all around great dude, likes to help people, active in the bro community, holds a massive dcity position - so if you're looking to be president one day you may want to network with this guy!

Source: @mipiano
I recently engaged with Mipiano from comments she made on my posts and learned we have a lot in common. I can tell she is a very genuine and sweet person who is also a very talented piano player/musician. She's also a very active woman who lives a healthy lifestyle. All things that a very similar to me and can be inspiring, especially if I ever start falling off the wagon again

Source: @r1s2g3
Rajat is another dude that's constantly posting interesting things, like me he was on the Leo train long before many of you all. He's also a true Hiver that engages well with the community. It's pretty common that I receive a nice comment from him which I appreciate and glad to have him as a Hive friend!

Source: @r1s2g3
Raamesa is also a dad who I follow. This guy has a lot of grit and was a late comer to Hive, but that didn't stop him from putting out nothing but good content. Many people on Hive will make a solid post, get no rewards and oftentimes give up and either resort to posting crap or go inactive, but not this guy! This is the type of mentality that leads to success! He's also a big Leo / Crypto fan, sharing updates about what's new and his posts are worth the read.

Source: @lilchillgirl
Lilchillgirl is a place to stop by if you want some positivity in your life. Her blog is pretty eclectic and always filled with tons of photos that make you feel you need to step your photo game up! Sometimes it's important to be inspired by other authors to tweak and improve your own Hive posts.
Following on Hive
I think following on Hive is completely underrated, which I discussed in an old post from before and what my strategy is when it comes to accounts I follow. I've been a bit inactive and haven't been following this rule because of that but today I had some energy so trying to make up for it a little bit with this post. I'm going to shoot to identify 5 authors and make this a weekly habit, we'll see if I follow through with that... time will tell! ;)
P.s. if I left anyone out, it wasn't intentional and you will probably be on another follow Friday I do!
That's all folks, hope you enjoyed my curated list of accounts to follow!
---
Sources
---