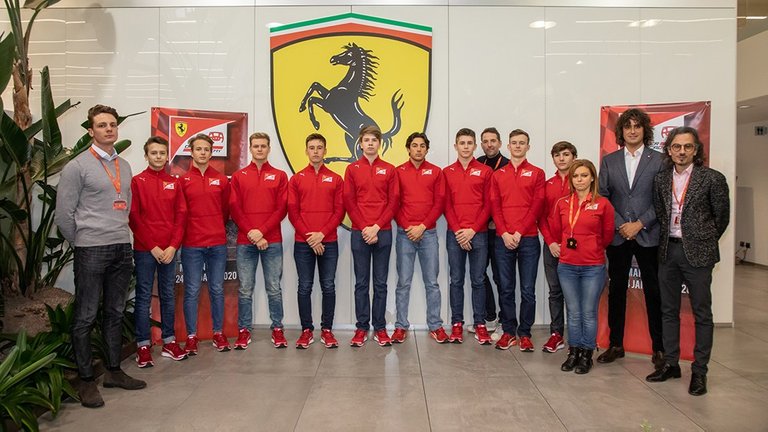 source
Class of 2020 for the Ferrari Academy.
The Ferrari Driver Academy has 9 students this year and all have been hand selected. These are the drivers that have shown enough promise to Ferrari to enroll them as possible future stars. I think it is great that these types of schools are around as the expense to break into motor sport is very expensive. I am sure the families of these kids has already laid out a small fortune to get them to this point.
The Academy has had some big names go through their hands in the past and is similar to Red Bull's Academy. It makes perfect sense for Ferrari to train the best as it gives them first options keeping the drivers they want.
This is similar to Footballing clubs and their academies having a constant flow of talent coming through their doors. The whole idea came about when Ferrari had Felipe Massa and they believed he wasn't quite ready so they loaned him out to Sauber to gain experience. This created the idea to form an academy and hold onto the talent in house.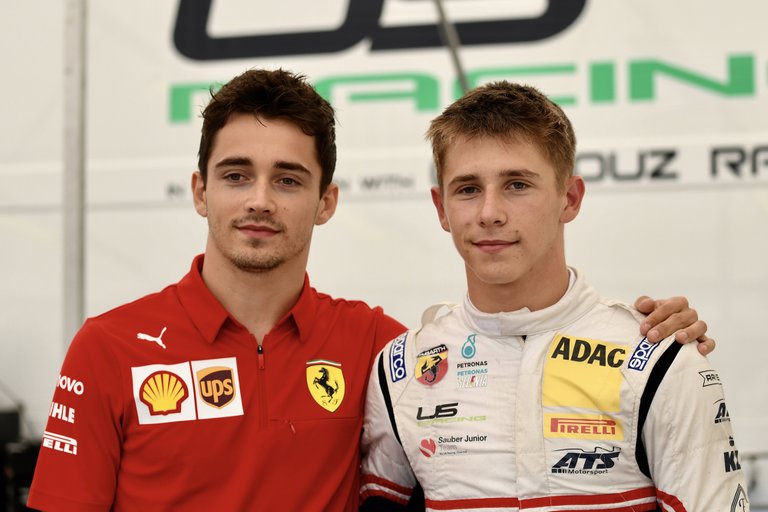 Charles with younger brother Arthur who has joined the Ferrari Academy.
If you look at the names of who is in the photograph it is a who is who of previous well known names. This is the Formula One off spring academy as Jean Alesi's son is here Giuliano Alesi, Mick Schumacher,Enzo Fittipaldi and an Arthur Leclerc. Obviously a very talented bunch otherwise they wouldn't be here. The name must obviously help, but you still need talent.
Most of them are competing in the FIA Formula 2 and Formula 3 Championship. Fittipaldi won the Italian Formula 4 Championship so they are entering in various races using it as a learning curve to possibly move onto bigger and better things.
I was curious to see if there were any females this year as they did announce that they were going to head in that direction. Obviously not yet and maybe then it is too soon for such dramatic changes.
Drivers that are now in Formula One that have been through the Academy include Lance Stroll, Sergio Perez and Charles Leclerc. Lance being included wouldn't have surprised me as his dad owns Ferrari dealerships and owns race tracks.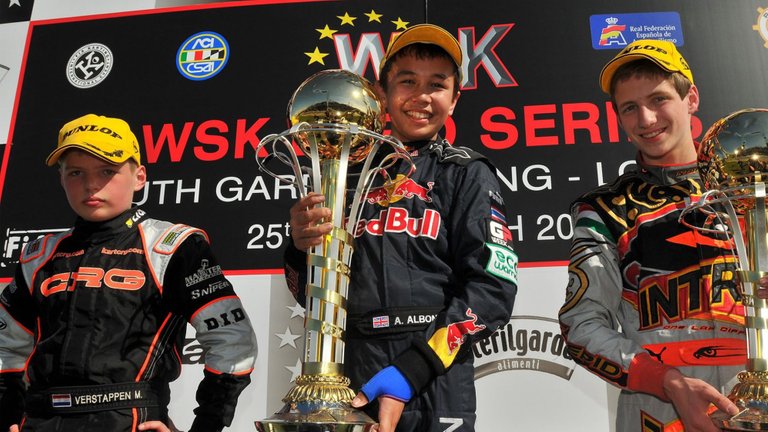 source
Alex Albon holding the trophy with a not so happy Max Verstappen on his side lol.
Red Bull seems to have had bigger names through it's doors though as Vettel,Verstappen,Gasly,Albon and Riccardo are household names already and well set in Formula One. These were not names beforehand though so there is a risk of using former drivers kids.
I do believe Ferrari has fallen into the trap of possibly not selecting the best talent which is obviously what Red Bull have been doing. Personally if I had to choose I would most likely lean towards Red Bull before Ferrari on physical evidence of what drivers have actually made it through to the big stage. Vettel drives for Ferrari now, but was a Red Bull Junior which tells it's own story.