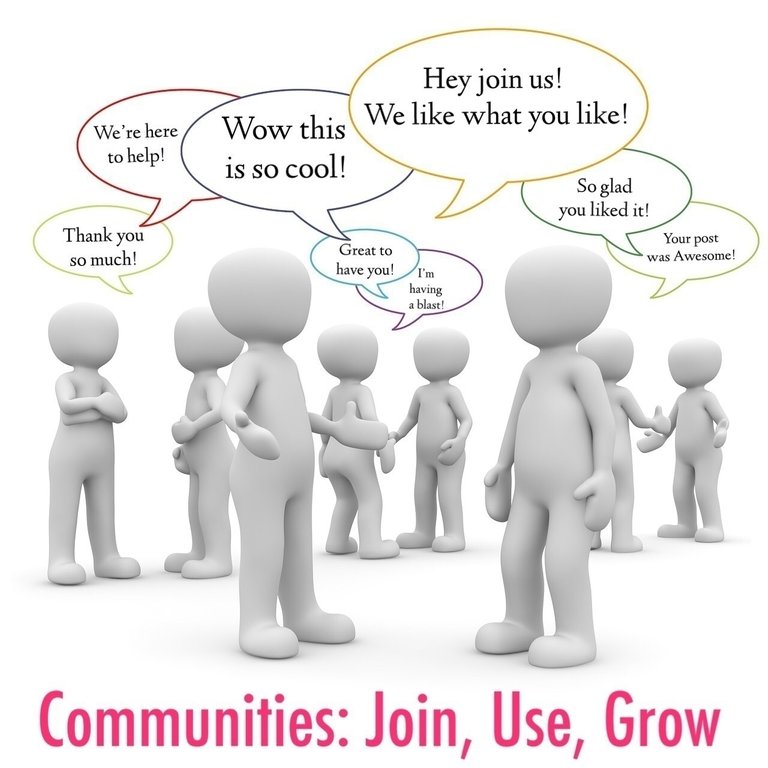 Scenario:
Jim joined Hive so he could share his love for photography. His interests lies in nature. For the first three weeks he posted from his own blog and used the tags: photography, photos, nature, hobby and business. He noticed a little traction, received a few comments here and there and picked up a couple of followers. However, he couldn't understand why he wasn't getting more interaction with how professional and eye catching his photos were.
During the fourth week he came across a post that was written directly from a Community called Nature Photography. After reading, upvoting and commenting on the post he immediately clicks the link to the Community. To his amazement every post in that Community had photos of nature. He observed how the members there interacted with one another. They were encouraging, gave tips and advice, reblogged each other's posts, and just simply had a good olé time. These photographers were like-minded and had the same interests which made the fun come naturally.
By the fifth week Jim had gained over 20 more followers, had more fun because he found people to share his work with that truly enjoyed it, gained more support of his work and couldn't keep up with all the comments he was now receiving. He didn't have to search for people that would appreciate his work because he was surrounded by them in his newly found Community. He got involved with contests and initiatives that helped his HP grow at a decent pace.
In the following weeks 10 of his new followers had also joined the Nature Photography Community after reading his posts and seeing he was a member. Before long more and more Hivers became aware of this Community because it's members posted their content directly from it. It became one of the fastest growing Communities because the engagement and activity level was off the blockchain!
Communities are such a great asset here on Hive. Take it from those of us who have been around for some time now. We didn't have these systems set in place to help us find a home for our niche. We had to go digging, searching, seeking and reaching out hoping to find others who had similar interests. Now the work is done for you.
There are teams behind these Communities that have been working hard creating guidelines, fun engagement activities, unique ways to grow, community flyers and cover photos, outreach events and ways to enrich the lives of everyone who joins. They put effort in staying organized, giving clear instructions and making sure everyone feels welcome.
So why not be apart of an established faction? Why not post to a group that already likes what you like? Why not post amongst a circle that would enjoy your conversation? Why not be apart of something that will only benefit you more?
Basically the gist of it is if you are sharing about a particular topic and there is a community for it you should post there. If there is a community set up for your specialty join them ;)
Let's go over the top 3 reasons why you may not be posting directly in your niche community and help you change that:
1 . Your niche community is small and just now getting established and you feel there is not enough interaction there.
It starts with YOU! One by one a community will grow. If each member continues to post from there eventually word will get out and those interested will be joining soon. If you do your part interaction and participation will follow.
2 . Your niche community doesn't have the voting power that other communities do and you are looking for more support.
Let's keep it real, some like to stick to posting in "richer" communities to receive better upvotes. However, there are initiatives being put in place to help smaller communities better support their members. For instance the OCD Communities Incubation Program enables the leaders of communities to submit links of great posts from there members to receive an OCD upvote. You can still post your work in the right place with a good chance of getting some really nice support as long as you are keeping with the guidelines of that community.
3 . You are still fairly new to Hive and are unsure how to properly post into a Community.
You're not alone. I was even nervous the first time I did it because I didn't want to make any mistakes. Here's a quick guide below to help you get started...
If you are posting from PeakD you will see a WRITE A POST button right there on the Community page.

After you click that button you will land on the page to start your post. You can see at the top which community you are posting in to double check. If you also want the post to show up on your personal blog click the toggle button to yes. You can also check the settings to see if there are additional options you'd like to add.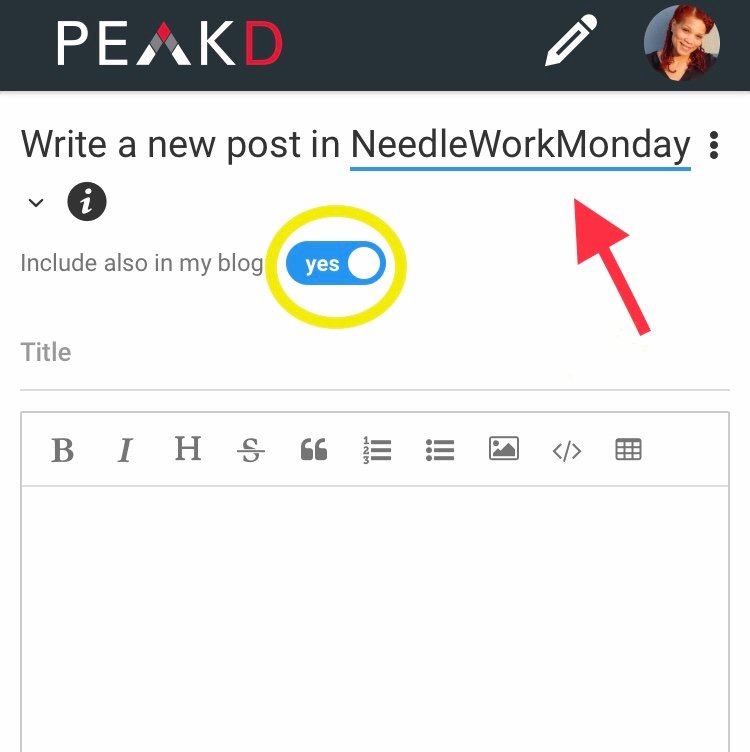 When posting from the Hive front end
you will click the POST button on the Community page.
You will then land on the page to begin your post. Once again you'll see which Community you're posting in to double check and there is also an option to post to your blog instead.
Note: this option doesn't add the post to your blog but changes it so that you'll be writing only on your blog and not directly to the Community. So don't choose that option if you want your post to show up in the Community feed.
If you want your post also posted to your personal blog, you will simply reblog your post after it's been published.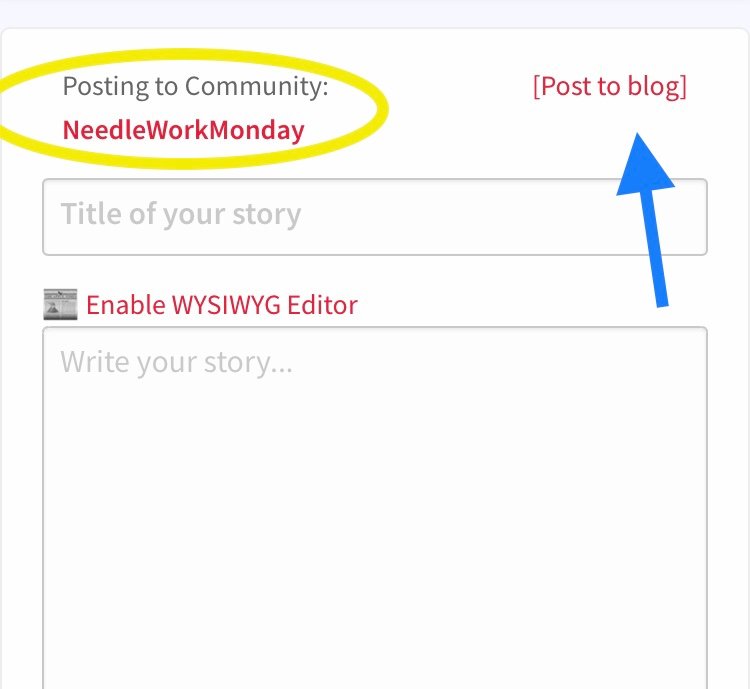 I hope this post sheds some light on why your goal should be to post in your niche communities. @ocd has asked the curators and leaders of communities to help them guide others to post directly to these communities that fit their topic. If you are writing general topic posts that's a different story but if there is a community that fits your subject category please post directly from there.


Communities will only grow if you join them and use them.
Please help us help you by participating and being involved in the Communities that fit your niche. We can all grow to become richer Communities in every way but we need a combined effort :)


If you love the needle-arts and want to post anything needlework related we would love for you to join the NeedleWorkMonday Community! On Monday's we use the #needleworkmonday tag and on all other days the #needlework tag. Please check out our updated FAQs for more info!
You can join our discord server by clicking the logo below.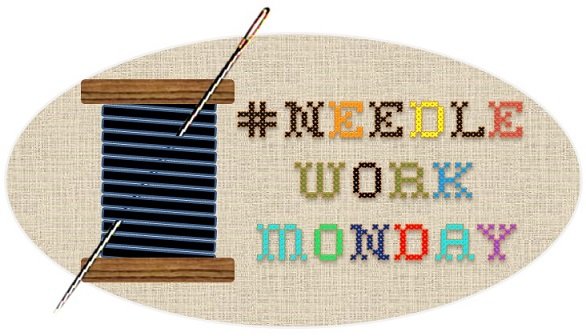 Thanks for reading! ♥️
cover image source
NeedleWorkMonday Founder: @crosheille
Administrators:
Our Motto: Support & Inspire!