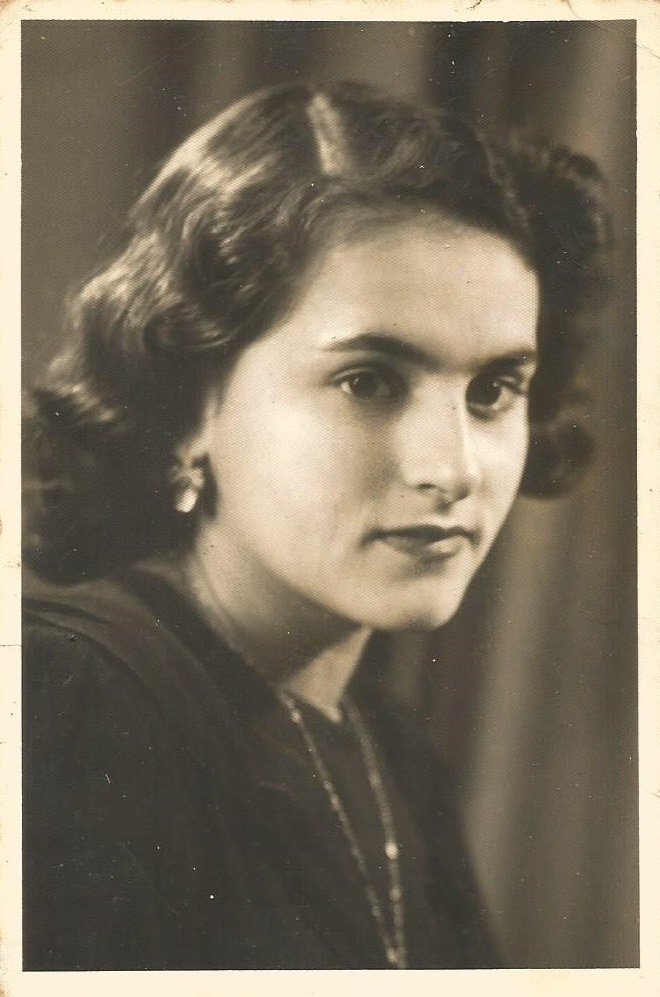 Mi abuela cuando era joven / My grandmother when she was young
Bienvenidos a un nuevo post, un placer estar de nuevo con la comunidad de Hive💫
Welcome to a new post, a pleasure to be again with the community of Hive💫
Para muchos es una intriga aun saber de donde provenian nuestros ancestros, si eran extranjeros o eran foraneos a la ciudad donde residimos, a que edad se casaron nuestros abuelos, bisabuelos, tatarabuelos y hasta nuestros trastatarabuelos. Me ha parecido muy triste, que en muchos países no se le de importancia al desarrollo de la genealogia y a la digitalización de muchos registros. muchas personas pueden incluso ser reconocidas por ancestros que nacieron en sus paises de origen y que se mudaron a otros países, tal es el caso de la ciudadania italiana por descendencia que esta estipulada sin limite generacional.
For many it is intriguing to know where our ancestors came from, if they were foreigners or if they were outsiders to the city where we reside, at what age our grandparents, great-grandparents, great-great-grandparents and even our great-great-grandparents got married. I found it very sad, that in many countries no importance is given to the development of genealogy and the digitization of many records. Many people can even be recognized by ancestors who were born in their countries of origin and moved to other countries, such is the case of Italian citizenship by descent that is stipulated without generational limit.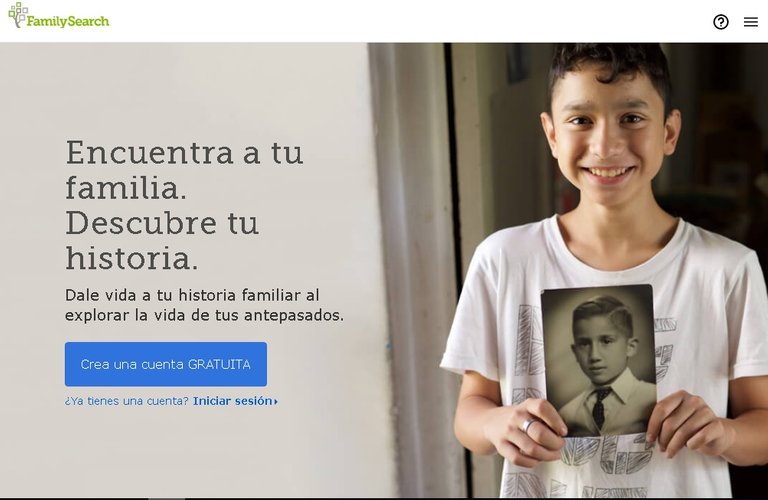 Una pagina que recomiendo la verdad y que es consecuencia de la recolección durante años por parte de la Sociedad Genealogica de Utah, que son conocidos como el instituto genealógico mas relevante del mundo. Posee una base de datos de todos los paises y posee fotocopias de registros de: actas de nacimiento, matrimonio, defuncion, sepelio, registros militares, arboles genealogicos hechos por terceros, bautismo, testamentos y más. Y lo que la diferencia de otras, es que es totalmente gratuita. Podemos hacer busquedas automaticas o manuales... les dare ejemplo de ambas. pero lo primero que debemos hacer es registrarnos e iniciar sesion.
A page that I recommend the truth and that is a consequence of the collection for years by the Genealogical Society of Utah, which are known as the most relevant genealogical institute in the world. It has a database of all countries and has photocopies of records of: birth certificates, marriage, death, burial, military records, family trees made by others, baptism, wills and more. And what makes it different from others, is that it is totally free. We can do automatic or manual searches... I will give you an example of both. But the first thing we must do is register and log in.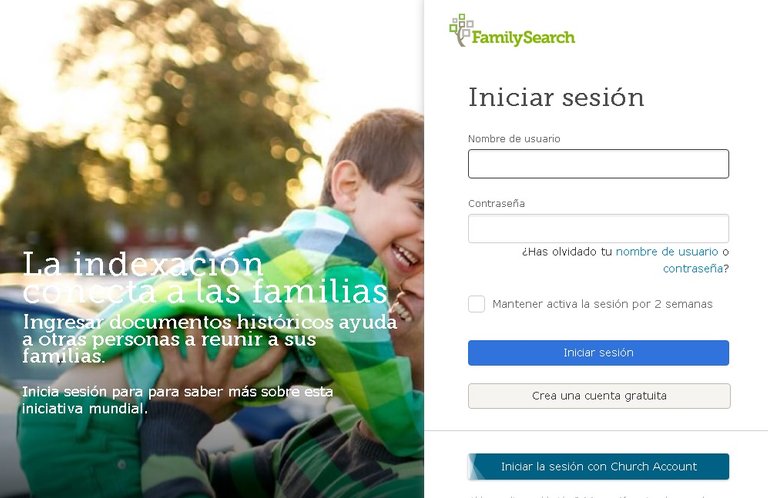 En primer lugar les hablare de como buscar registros de forma automatica, para esto debemos saber donde residio o nacio nuestro ancestro y claramente conocer su nombre y apellido, si es posible saber nombre de los padres pero si se desconoce, igualmente arrojara resultados. también debemos conocer en que parroquia, ciudad, estado, pais del mismo o donde se presuma que haya nacido. generalmente siempre habran personas en nuestra familia que tienen datos para aportar. en mi caso, he encontrado el acta de mi bisabuelo (que es hijo de italianos) por que hable con la descendencia de la hermana de mi bisabuelo y ellos sabian donde habia vivido y mi familia en si no. Una vez registrados e iniciada la sesion deben dirigirse a las tres rayas en la esquina superior derecha, luego cliquean, luego clic a donde dice buscar y luego a registro donde deberan colocar los datos que anteriormente mencione.
First of all I will talk to you about how to search for records automatically, for this we must know where our ancestor lived or was born and clearly know his first and last name, if it is possible to know the name of the parents but if it is not known, it will also give results. We must also know in which parish, city, state, country of the same or where it is presumed that he was born. generally there will always be people in our family who have data to provide. in my case, I found the record of my great-grandfather (who is the son of Italians) because I spoke with the descendants of my great-grandfather's sister and they knew where I had lived and my family itself. Once registered and logged in you should go to the three lines in the top right corner, then click, then click to where it says search and then to register where you should place the data I mentioned above.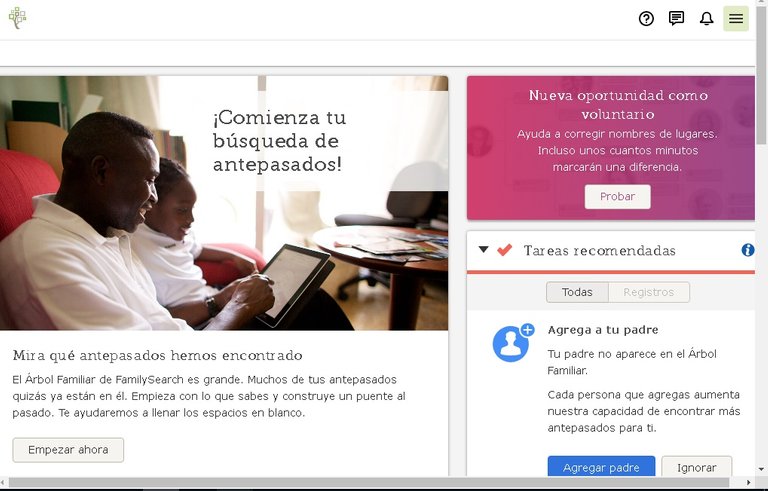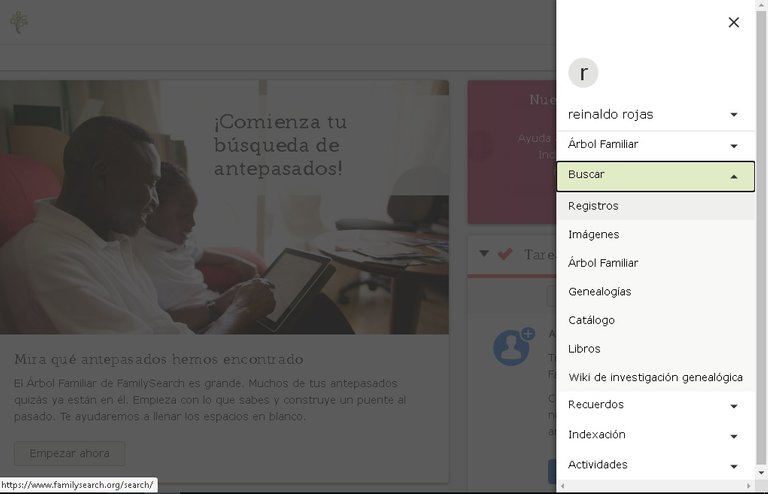 Coloque la opción de nacimiento pero pueden escoger entre; matrimonio, defuncion luego yo puse un nombre y apellido al azar, parroquia, ciudad, estado y pais. pueden incluso elegir colocar nombre de padres o conyugue por que seguramente los nombren en otro documentos de hijos.
Place the option of birth but they can choose between; marriage, death then I put a name and surname at random, parish, city, state and country. They can even choose to place names of parents or spouse because they will surely be named in other children's documents.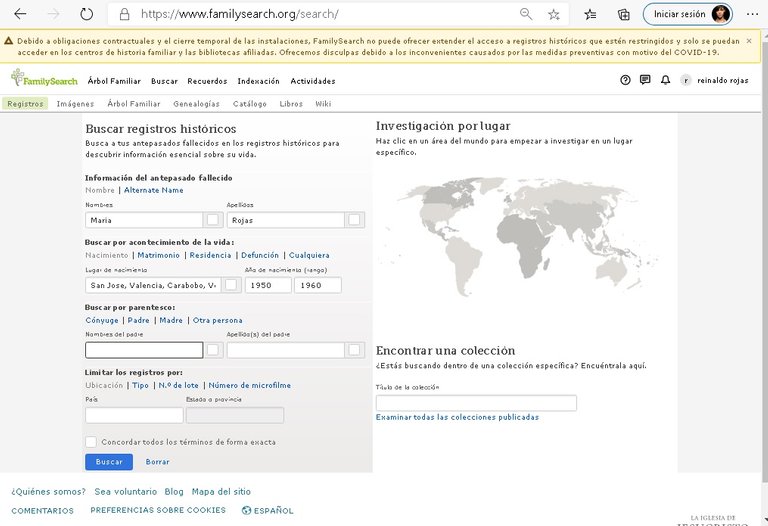 Arrojara una serie de resultados el cual, uds deben verlo como les indica la imagen a continuacion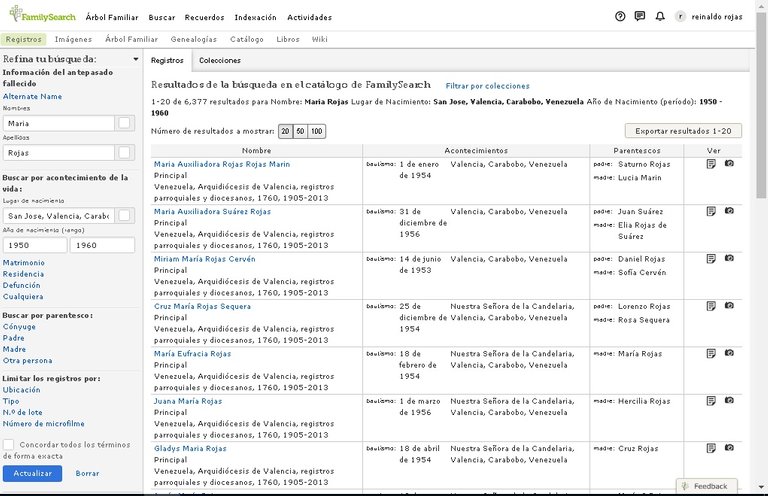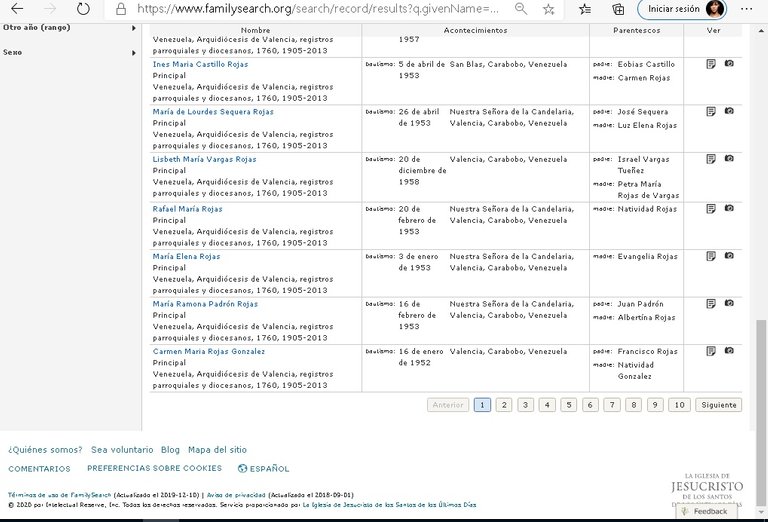 Al cliquear sobre uno de los links de los resultados nos aparecera un recuadro de previsualizacion el cual nosotros debemos darle clic a la imagen del acta. despues nos aparecera el acta en si, tenemos todo un panel para acercar, para descargar la imagen.. en este caso es un acta de bautismo pero como les dije pueden encontrar otras actas. de verdad vale mucho la pena.
When clicking on one of the links of the results a preview box will appear to us which we must give click to the image of the act. later the act in if will appear to us, we have all a panel to approach, to unload the image. in this case it is a baptismal act but as I said to them they can find other acts. really it is worth much the trouble.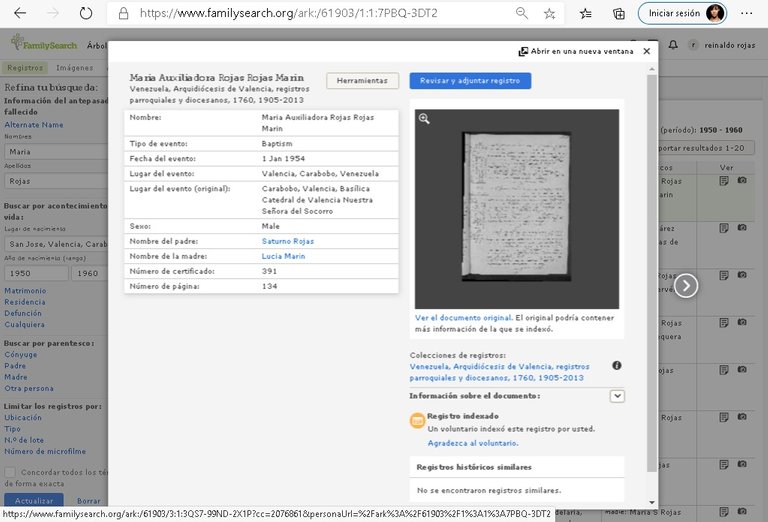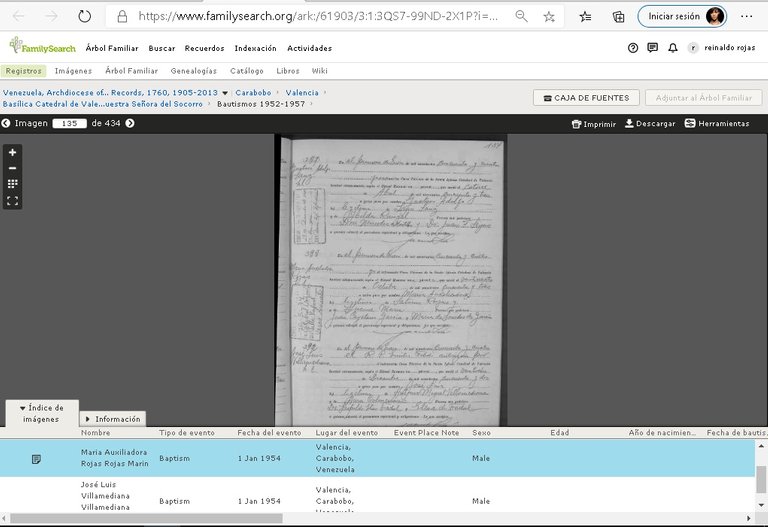 Para la búsqueda manual uds deben hacer exactamente el paso 1 de la anterior explicación, luego dar clic donde dice buscar, luego en imágenes. es recomendable buscar mediante imágenes por que muchas veces en los registros le colocaban el nombre o apellido mal a nuestro ancestro, habían muchos errores. por ejemplo a mi bisabuelo que era hijo de italianos le colocaron los apellidos mal. también resulta que hay registros donde una persona por ejemplo se llamaba "Juana" en vez de "Ana" y muchas veces nos enfocamos en buscar un registro con un nombre que en realidad si es, según su acta de nacimiento y no como se lo colocaron después en los registros de cedulacion. sabiendo la fecha de nacimiento se nos hace mas fácil. tal como la anterior búsqueda una vez que le damos clic a imágenes debemos colocar; parroquia, estado, ciudad, país pero con tan solo colocar parroquia y estado nos aparece por sugerencia la búsqueda y luego clic a la recomendacion que deseemos y luego clic donde dice buscar grupo de imágenes.
For the manual search you must do exactly step 1 of the previous explanation, then click where it says search, then images. it is advisable to search using images because many times in the records were placed the name or surname wrong to our ancestor, there were many errors. for example my great-grandfather who was the son of Italians placed the surname wrong. It also turns out that there are records where a person was called "Juana" instead of "Ana" and many times we focus on looking for a record with a name that in reality is, according to his birth certificate and not as it was placed later in the records of identification. knowing the date of birth makes it easier for us. As the previous search once we click on images we must place; parish, state, city, country but with only place parish and state appears by suggestion the search and then click on the recommendation that we want and then click where it says search group of images.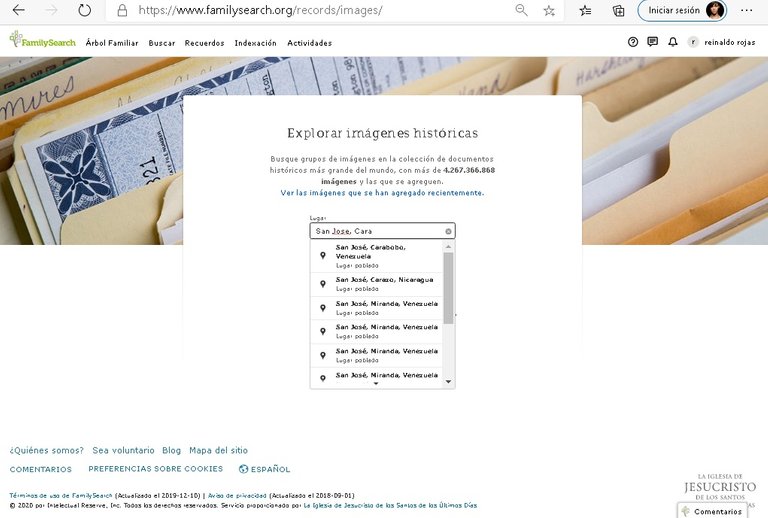 Como podemos observar nos aparecerá varios registros, esto dependerá de que actas se hayan escaneado segun el país. nos aparecerá un listado largo, podemos ver grupos de años de emision de dichos documentos (nacimiento, matrimonio, defunción, sepelio, registros militares entre otros).
As we can see, several records will appear, depending on which records have been scanned according to the country. We will see a long list, we can see groups of years of issuance of such documents (birth, marriage, death, burial, military records among others).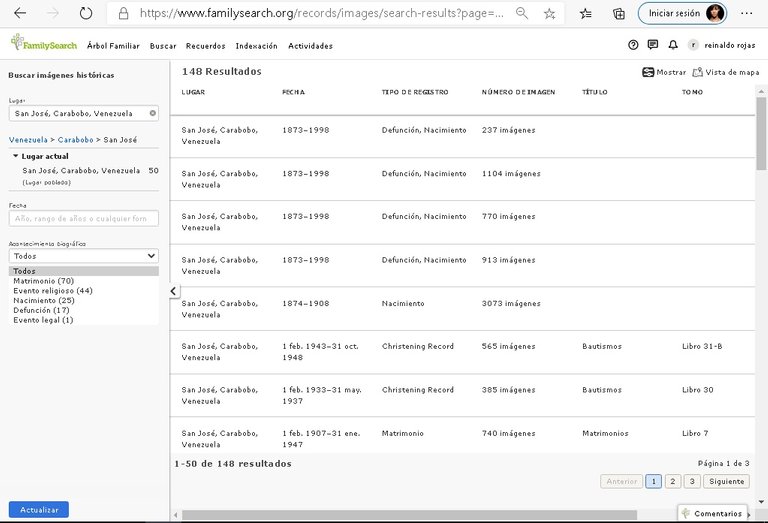 Luego al darle clic a uno de esos registros nos saldra un grupo de imagenes que podemos pasar imagen por imagen, y tenemos opciones cerca para agrandar y descargar el acta en si. lo ideal es que uds vayan probando las opciones para que se vayan familiarizando con la pagina.
Then when you click on one of these records we will leave a group of images that we can pass image by image, and we have options nearby to enlarge and download the record itself.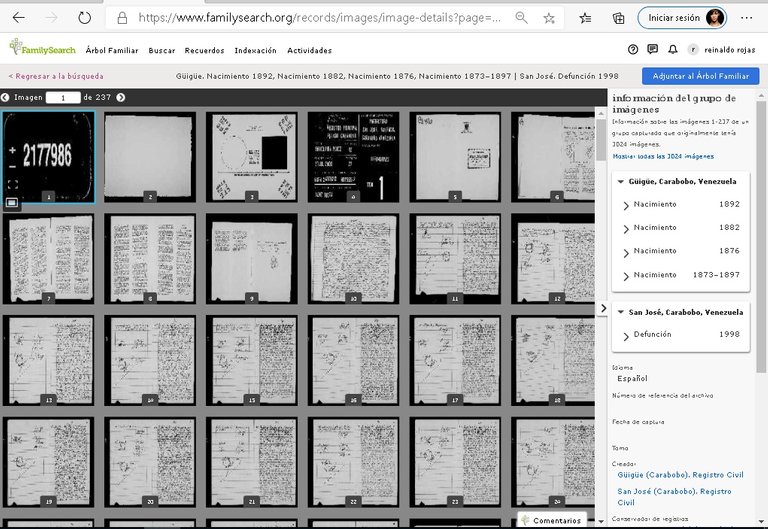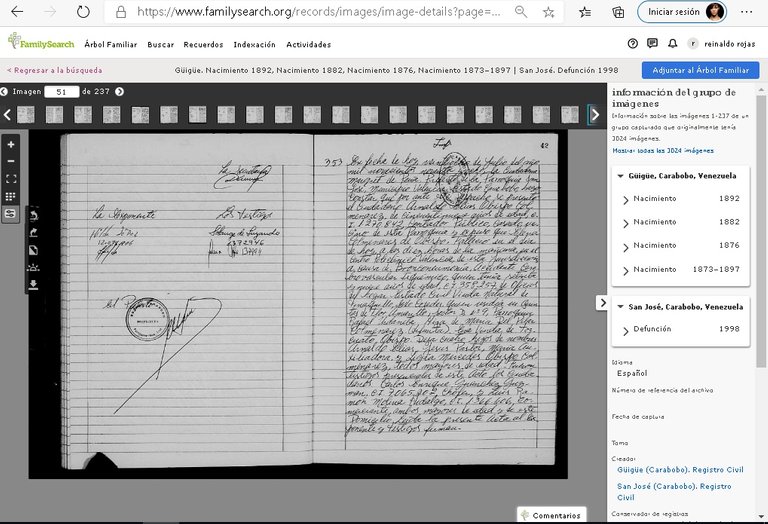 Muchas veces podemos encontrar registros muy facilmente pero en ocasiones se hace mas dificil, por eso tambien existe la revision de actas de forma manual. si uds quieren encontrar un ancestro extranjero en su ascendencia también puedes consultarlo en los archivos historicos del estado, registro principal, parroquial, archivos historicos de la nacion mediante los censos.. por ejemplo en mi pais el censo poblacional inicio en 1873 y hay personas que conozco que encontraron a sus tatarabuelos registrados en dichos censos, aunque los estados también solian hacer censos por cuenta propia. por ahora y al menos los censos de mi pais no son posibles de encontrar via digital pero si he visto los censos de Argentina disponibles.
Todo es cuestion de esfuerzo y dedicacion, yo encontre actas despues de dos meses de ver mas de 4000 imagenes desde la mañana hasta la noche. asi que si quieren averiguar la vida de tu ancestro te recomiendo esa pagina hermosa 👑. muchas gracias por prestar atencion y cualquier duda dejala en los comentarios!.
Many times we can find records very easily but sometimes it becomes more difficult, that's why there is also the manual review of records. If you want to find a foreign ancestor in your ancestry you can also consult the state historical archives, main registry, parish, historical archives of the nation through the census. . for example in my country the population census started in 1873 and there are people I know who found their great-great-grandparents registered in those censuses, although the states also used to do censuses on their own. for now and at least the censuses of my country are not possible to find via digital but I have seen the censuses of Argentina available.
Everything is a matter of effort and dedication, I found records after two months of seeing more than 4000 images from morning to night. So if you want to find out the life of your ancestor I recommend that beautiful page 👑. Thank you very much for your attention and any doubt leave it in the comments!.
Todas las imagenes son tomadas por mi de la pagina oficial de FamilySearch
All images are taken by me from the official FamilySearch