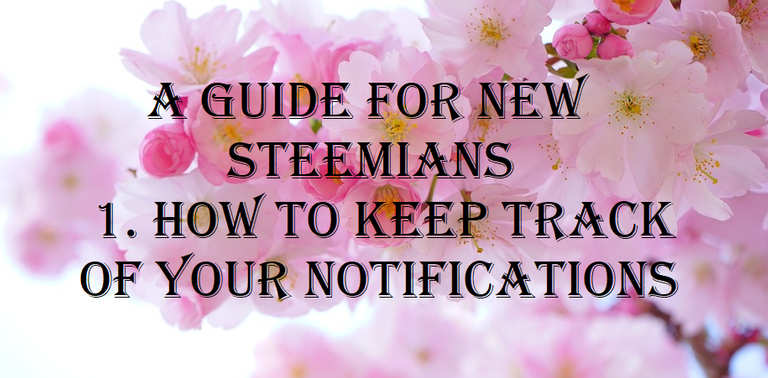 Source

I've been planning on writing some guides for new Steemit members for a while
But honestly, it was mostly pushed back on my to-do list for the future. I wasn't actively onboarding people to the platform on a regular basis yet at the time, so it was something that didn't have a high priority for long. That has changed drastically though, as I'm now onboarding new authors actively for @ocd and @build-it. I know there are quite a few guidelines posts on the platform but some may be outdated and maybe not how I would introduce some things to people I onboard, therefore I decided to finally start writing some helpful guidelines for newbies.

The reason for me to start writing this first guide
Someone that I didn't join Steemit because of me directly, but I met on another platform that closed down, was the reason to write this one today. He left me a message to let me know he came to Steemit from the other platform to which I replied. It took some days to get a response because he didn't know about the notifications options we have on the platform. To active users, these bots and tools have become part of our routine and normal by now, but to new users, this is something they may not find out for a while if nobody mentions them.

Every new Steemian should check out these three tools to keep track of your blog's activity
Today I will show three tools you can use to keep track of the activity on your blog. Today, I only use two of them myself, but the reason I point out one more is because of the fact when I just became active on Steemit, I found it quite overwhelming and was actually very pleased with the Steemnow tool. Let's start with this basic, but so convenient tool created by @penguinpablo.

Steemnow
First, click on this link: Steemnow and then you will see the tool with the dev's (@penguinpablo) information filled in. First, go to the right top corner:

Remove the name behind @ and replace it with your account name. The node is usually just fine, leave it as is. If you prefer a light or dark theme, you can change it there as well. Click save and now you will see all information belonging to your own account.
You can also visit your account directly by going to https://www.steemnow.com/@anouk.nox and replacing my account name with yours.

On the left top of the screen, you see your reputation score, your balance in STEEM and Steem Backed Dollars (SBD), and your Steem Power balance (SP). You can also see what your vote is worth at this time when using a slider to vote.
The block in the middle is showing today and yesterday's earnings from posts and curation.

The screenshot above is showing you three things:
Voting power, which you should keep above 80% average as it will then be restored within the next day. You can also see how long it will take before your VP is restored to 100%.
Downvote power, which honestly, I should not even use as a new Steemian, learn about the platform first is my advice. And last:
RC's (Resource Credits), This one is important, you need a certain amount of SP to be able to vote/comment etc, so whenever you can't comment, vote or post, check this status. You may have to wait a bit before this is restored before you can do these things again. If you want to avoid these issues, buy some Steem (20 to 50 SP) and stake it (Steem Power).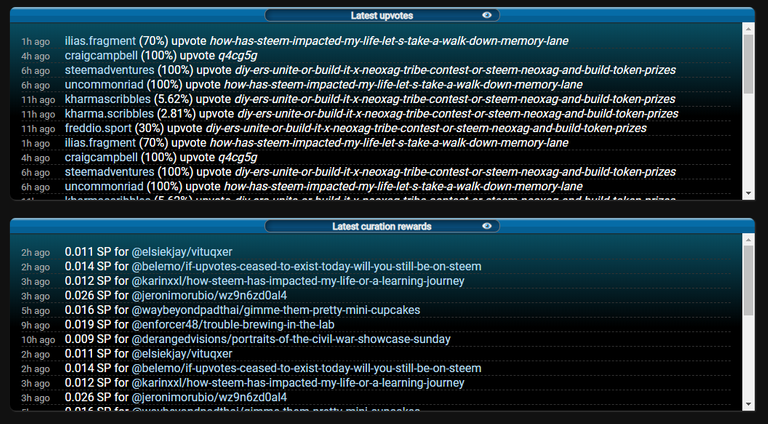 Below the power information, you will find voting information, so you can keep track of who recently voted your content. Then there's a block showing curation earnings, those are the earning for when you vote and comment on another author's post.

The bottom block on the site shows you your current posts that are still within the 7-day payout window, and also your total pending rewards on these posts. Don't worry if you see this amount fluctuate, it's normal. The final reward amount depends on several things, so your rewards are not certain until the payout window is reached.

Steemworld
There's another tool called Steemworld that is created by @steemchiller. I personally depend on Steemworld when it comes to my Steem behavior. A warning on forehand though, don't be intimidated by all the information you can find on your Steemworld page, most of it you can just forget about for now. When you are starting to feel comfortable on the platform and start understanding more about how things work, you will start recognizing things on the page and that's the time that you can learn to understand all the options and information on there. For now, just focus on the basics.
First, you need to go to the Steemworld website and replace the name behind the @ by your own account name to open your page.

This is the top of the page, showing some basic info, all explained in the paragraph about Steemnow.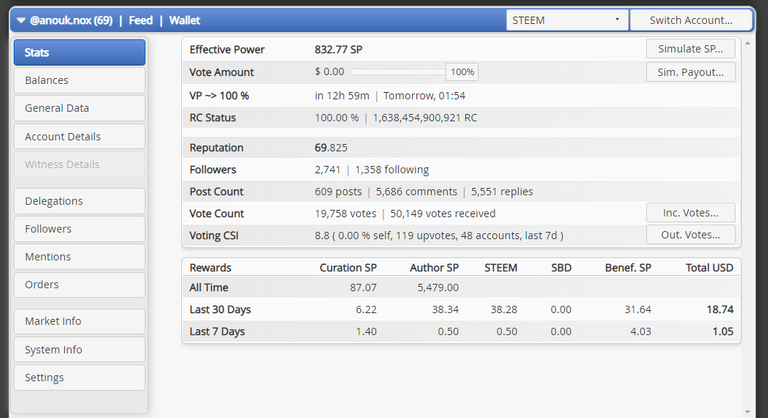 In the middle, some basic information is shown about your account. Some of it has been explained in the other paragraph, but as you can see Steemworld is showing some more information compared to Steemnow. I'm only focussing on using Steemworld without login at this point because this post is aimed at new members.
You can click on the balance tab to see your balance and in the future, you can use this to make transfers, the same goes for the delegation tab, let's leave this for another time.

The mentions tab is super convenient for a newbie because you can see who mentioned you with a tag recently. You can see if you were tagged/mentioned in a post or comment and also directly visit that post/comment by clicking on the link provided. This is one of the tabs I used often when I still needed to understand how Steemit worked.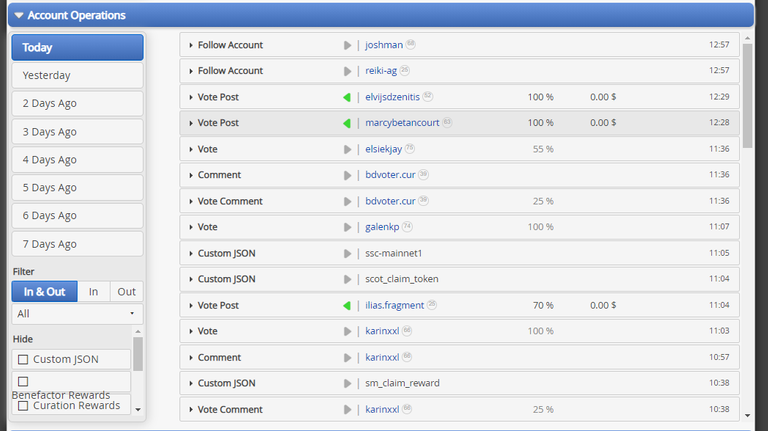 The next part I would like to show you is account operations where you can see who (down)voted your post/comment, who's post/comment you (down)voted, comments that you received or wrote yourself, but there will also be a notification about when you claimed your earned STEEM/Steem Power or another token.

Now let's scroll down to have a look at the posts block. Here you can find your active posts and their current reward on the right. If you wish to look at the posts after they have been paid out, click on finished instead.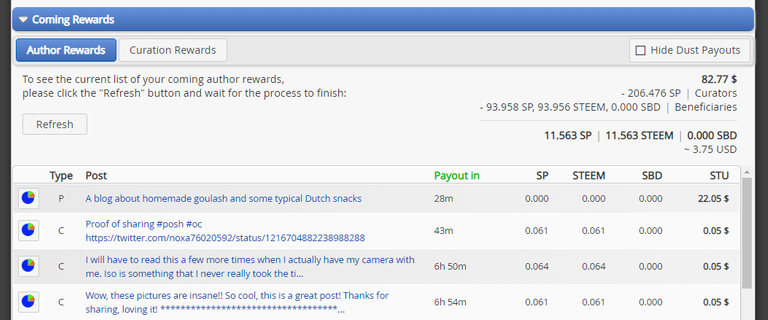 As I mentioned before, the information you can retrieve from Steemworld is a little more advanced than the information you can find on Steemnow.
Looking at the coming rewards block, you can not only see your rewards in dollar value, but also the split between the author, curators and (if used) beneficiaries). The only thing that's important to mention at this point is that you get about 50% of the post rewards since Steemit had its last hard fork. This may seem unfair for someone new on the platform, but trust me when I say that the curation initiatives are spreading much higher votes since this happened, and overall it seems to have a great impact on the community as a whole.
You can also click on curation rewards to see your total pending rewards for curation on the platform. Don't worry if this is about 0 in the beginning. First focus on growing your stake and then worry about curation earnings.

Gina (Discord) notification bot
The last tool I want to show to you today is Gina bot created by @buildteam, which probably most Steemit users are familiar with by now. Important to know is that you need to have Discord installed (on mobile or desktop, both is fine) to use the bot.
If you aren't familiar yet with Discord, look for some posts or google it, as I don't want to discuss that in this post, but save it for another one. Keep an eye out for future posts to make sure you won't miss it. And don't worry if you have never heard about Discord until now, I faced the same problem when I joined Steemit. Trust me when I say that you should at least explore discord to get the most out of your Steem-experience.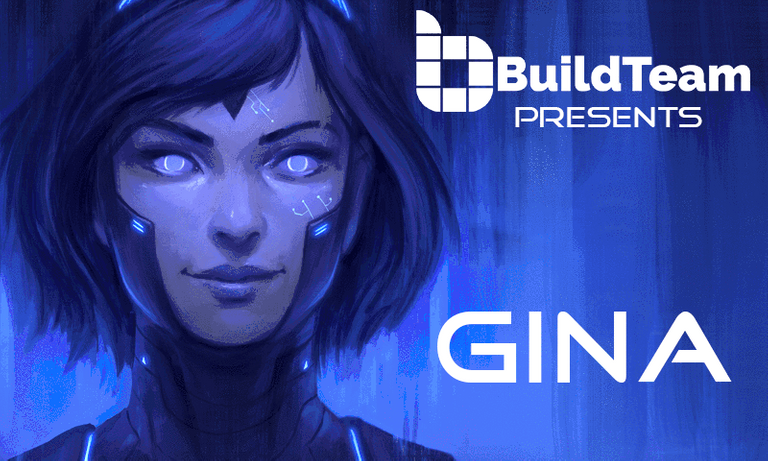 Source
If you don't want to visit websites constantly to keep track of your notifications, Gina bot is the answer for you. You can get instant (or daily) messages about comments and votes on your posts (or if you chose to of your own published posts) but also you will get a notification about rewards coming in, which you can set as an instant notification or daily, whatever you prefer. What I love about Gina bot is that I can also get a notification of my favorite authors when they publish a new post. This way I can easily follow up on their posts without overseeing them in the feed on the website.
You can register with Gina bot if you follow the steps in the last post about how to sign up. I'm not going to bore you with any more screenshots when there's a recent post from @ginabot showing these steps. In this post you can also find more information about the possibilities of the bot, so you can set everything to your own preferences.

If you found this post valuable, leave a comment and keep an eye out for future posts with guidelines for new Steemians. I have quite a few topics on my list. I think they all will be helpful for new members.
Thanks for reading!
~Anouk