I'm sure you all know that Steemit is not Steem. However, did you know that even if you are an ardent supporter of this fact you may still be reliant on Steemit? Well, today, I want to help you change that.
The first place to start is SteemWorld make sure it says https://steeemworld.org/@YourAccountName.
There are a few things we will do here including Change Recovery Account, Change Witness Proxy (optional), change Steem Site (on SteemWorld and Discord), and change Steem Node.
The goal is to remove anything controlled or operated by Steemit from Steem.
Why?
Why not, unless you are living under a rock (continue), you probably know Steemit is now Tron. We need to Show Tron that Steemit is not Steem and that we can and will react to anything we don't like in a hurry.
To be clear, this isn't a call for drastic action. I'm hopeful Justin Sun will listen to and respect the community and protect his investment. We should work together when it seems like a good thing to do.
Rather, this is a defensive strategy similar to having a lock on your door or a password on your account. We can say we don't need to trust him, but we should also make it clear by action that we don't need to. Being a blockchain guy, he should respect this sort of decentralization.
Moving on to what we can do.
Note: Some of this stuff requires high-level permissions (including owner Key!)
I want to minimize the sources used so I am only using SteemWorld.org, I trust @steemchiller. He was one of the first developers around here to get funding from @steem.dao and his code has been out there for everyone to see and scrutinize. In any case, you can always change your password as soon as you are done.
Changing Your Recovery Account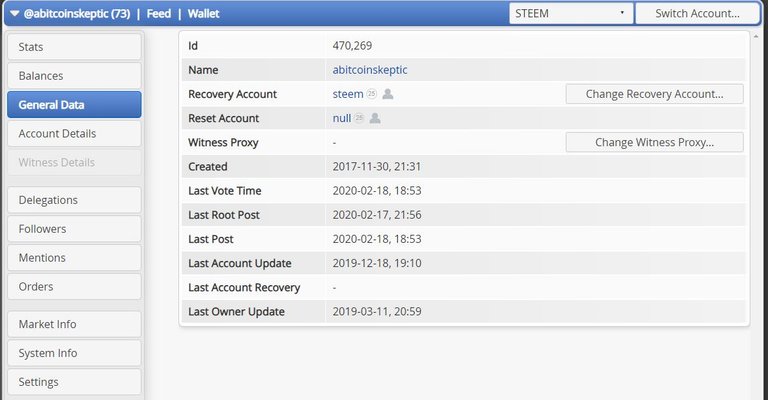 This is the most difficult task we will cover, it's also the most important. Your recovery account is the account you will have to contact if you lose access to your Steem account. Make sure it is someone you trust. It is best if you know each other personally because ID verification will be simple.
Quick Note on Account Recovery
...maybe someone stole it, maybe you were 'hacked', or maybe you changed your password and forget your new one. In any case, after this happens you have 30 days to change it back if you remember your last private owner/master key.
Although you should never use your owner key unless you absolutely have to, this procedure is safe. The person you set as recovery CANNOT steal your Steem account. They can only change the password if they have access to a password used in the last 30 days. Although I want to skip the details, if you do it right (generate a new password and give them the PUBLIC owner key), they will never have access to your new or recent password. Also, this operation can only be done once every 30 days.
If you are like me, you signed up for Steem on Steemit.com one of several Steem based front-end websites. You may notice that your recovery account says @steem. This is an account owned by @steemit. Basically, you gave them your email and phone number or something for a free account. They are your recovery person. I don't know anyone at Steemit and they don't know me. We don't have to trust each other, but let's change this to someone I trust.
How to Change
In the first panel with your account name, Navigate to the 'General Data' Tab, click 'Change Recovery Account'
Enter the New recovery account (make sure it is correct, ideally, it should be someone you know personally for verification purposes and trust)
Enter your private owner key (never share this anywhere, this is basically the only thing you should use it for, I only have mine written offline and I'm still tempted to change my password)
When done you should see a message that says 'Recovery Account Changed', in my case, it didn't change right away, but I noticed the action below in the 'Account Operation' tab. Job well done.
If you don't have any real-life Steem friends (why not make some?), but need a recommendation on who to change your account to, I cannot help you. Maybe you should ask someone you trust on Steem like a witness. Remember if anyone steals your account, their reputation will be done overnight, so pick someone with too much to lose. Also, I would recommend choosing someone who is active, because if they disappear for over 30 days, you could be doomed in an emergency situation.
Change Witness Proxy
Voting for witnesses is extremely important. You should do it or let someone else do it for you.
You can do this on the same tab as the account recovery. I'm not going to do it myself (I enjoy choosing my own 30 witnesses), however, if you find it to be bothersome, set a proxy. This will mean you just vote for whoever your proxy votes for. It's great for secondary accounts, too!

I recommend to set it to some witness you like such as @blockbrothers. I respect the people running that server as there are a few of them doing it and they are involved in the community. Most of all about once a month, they release a proxy report where they explain who they are voting for and why. Even if you don't want to set them as your proxy, it's worth taking a look at their research and opinion. Trust me when I say these people have too much to lose by voting for idiots or something.
Setting Steem Site and Steem Node

Here we can see Steemit appears twice ;(
The Steem Site is just the site that opens when you click a link on Steem World, since we are here to de-Steemit Steem, even trivial nonsense like this is necessary.
The Steem Node is the full node you trust to grab data from when using Steem World.
I set my site to Steem Peak (best site to access Steem) and my node to @anyx (I also tossed him a witness vote). Actually, I'm not sure why I'm using his node, it was first alphabetically.
Go the extra mile:
Actually, most Steem sites have these options (check settings or ask) and you should set it on all of the ones you use a lot.
Let's All Use SteemPeak!
From now on I will not share Steemit links on any social media (Twitter/Facebook/Discord) or whatever. I won't click them either and I will remove Steemit's authorization (I already did this).
However, I need to use something popular, why not SteemPeak? They are better in almost every way.
Today I saw this: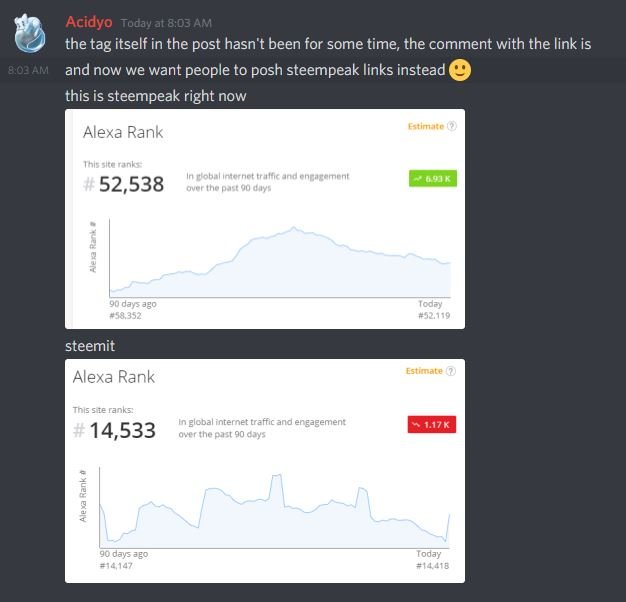 As mentioned, Steemit isn't nearly as good as SteemPeak, but for some odd reason, it is more popular. Together we can reverse those numbers.
Also, please consider supporting the @steempeak proposal here: https://steempeak.com/steempeak/@steempeak/the-always-up-to-date-steempeak-proposal
Steempeak can use that money to make Steem even better. I trust they will develop their front end to be better. They didn't just 'ninja mine' 70 million or so Steem to raise funds for their website, they made it on their own. Why not vote their witness while you are at it?
---
Thank you for reading and I hope I helped you De-Steemit Steem a little.
If you have any suggestions to #De-Steemit-Steem, please share below. Also, please ask for help if you don't understand.
Steem is the community and the blockchain, not Steemit.
PS don't tag Steemit, if you must tag a front end, I suggest #SteemPeak