It has been just over a month now since the ENGAGE token became distributable again by those holding 1000 ENGAGE - time for a few stats and reflection on how this is going.
All stats and charts relate to the previous 31 days.
---
Over the past month, approximately 35,000 ENGAGE tokens have been issued by Steem accounts holding at least 1000 ENGAGE.
760 accounts hold at least 1 ENGAGE token, and 80 accounts hold at least 1000 ENGAGE and are able to send (in one go) a maximum of 50 ENGAGE by writing the command '!ENGAGE 25' in a reply to a 'good' comment (or post but comment is preferred) made by a different account.
In the ideal scenario, a thought-provoking post would lead to an engaging comment. It is likely that since HF 22, this comment is unlikely to receive a vote and could be mixed up amongst other, less interesting comments. You, as the original poster or visitor to the post, can nudge this comment up the list (@misterengagement holds some Steem Power) and reward the author with some tokens for their engagement.
---
Using steem-engine.rocks for the numbers, the following chart shows how ENGAGE is currently distributed.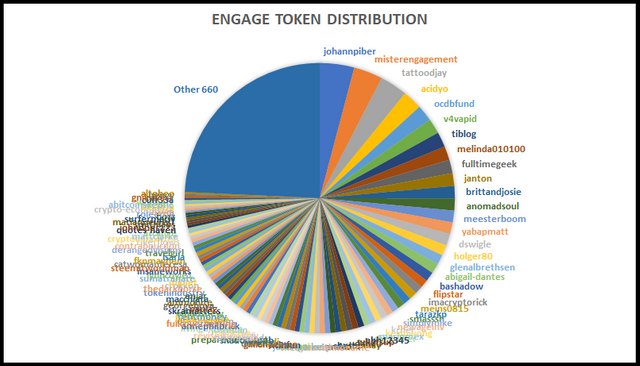 I'm fairly happy with that, and the vote chart below seems to suggest that holders are distributing the token, under little guidance and rule, pretty well.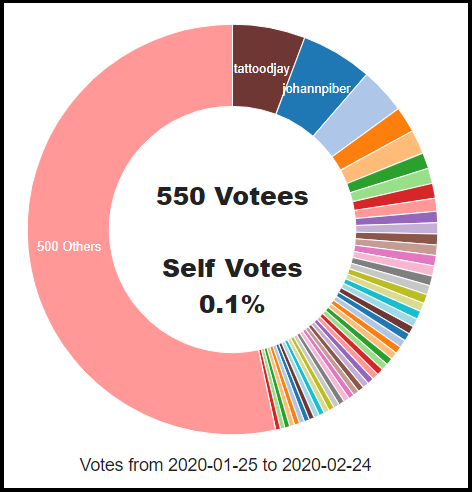 ---
With @ocd's involvement, it's nice to see that comments made on posts within the @ocd community (https://steemit.com/trending/hive-174578) have received the the most visits by @misterengagement.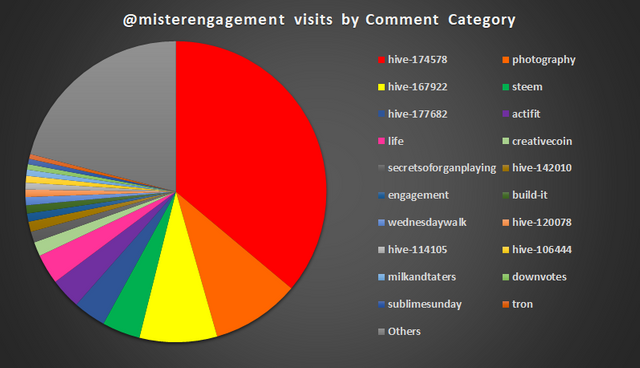 Three of the top 5 categories (first tag) are communities. ocd (red), steemleo (yellow), city of neoxian (blue).
---
As I stated in the previous post on the subject,
The drivers for the revival of the token are @acidyo's @ocd and witness @untersatz bot. Without the bot distribution would be difficult, and without @ocd, random purchasing of the token and plans for gamification would not exist.
Ideas for gamification and additional rewards are still being planned, but it could well be that those holding and distributing most widely could metrics to be used. I'm making no promises on that, and would like people to just issue the token when they read or see something they like.
---
In the past 31 days, the command has been written over 1300 times in a comment. Thank you to the following for calling summoning ENGAGE at least 10 times in the past month.
tarazkp, galenkp, abh12345, johannpiber, acidyo, tattoodjay, contrabourdon, meesterboom, joshman, futuremind, derangedvisions, purepinay, hiddenblade, rentmoney, fullcoverbetting, melinda010100, revisesociology, macchiata, insaneworks, bashadow, simplymike, georgeboya.
The above is ordered by frequency, but what we really want to see is the number of unique accounts the distributor has sent ENGAGE to: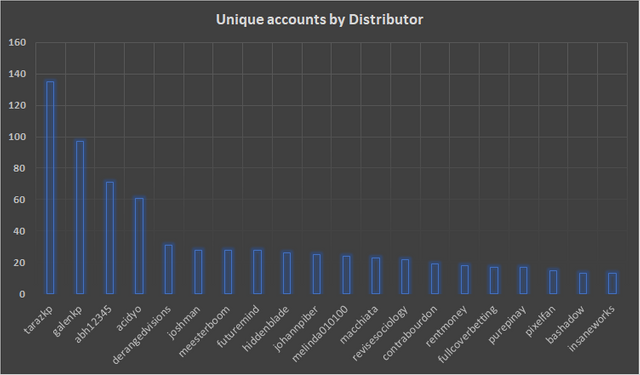 Thanks to everyone in the chart above, and well done brothers KP :)
And one more chart, just because I know someone will likely ask for it.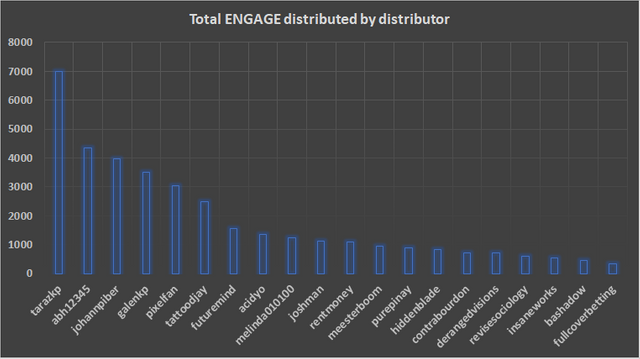 ---
I think, so far so good. It would be awesome to work out some ways to reward holders and distributors (with fat votes?), but for now I'd just like as many accounts as possible to own some of this 'vanity' token with a small twist.
A reminder that:
@misterengagement is mostly at 97% VP or higher - I've yet to find the sweet spot on vote percentage but it's only a small nudge at present anyway (delegators / comment vote trailers welcome!)
Thanks again to witnesses @ocd and @undersatz, and thanks to everyone who's playing along!
Cheers
Asher