Story continues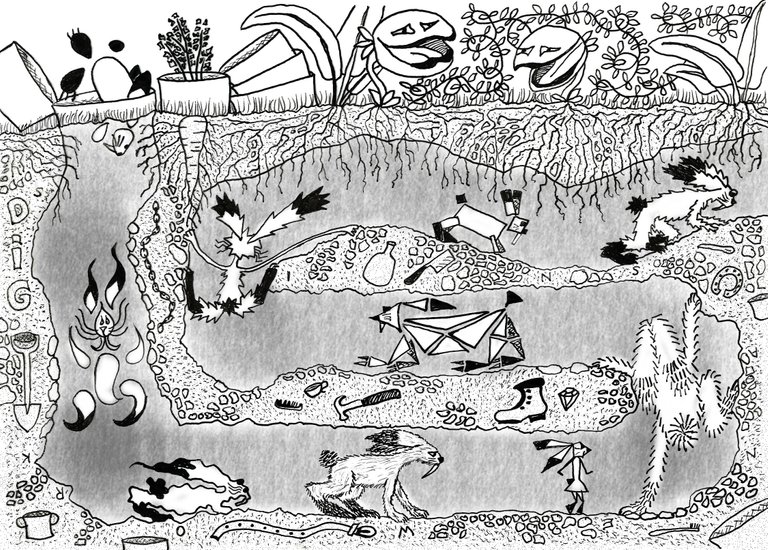 The rift was pulling her harder as it started to close so Rachel fought more. She vigorously swam trough the air and grabbed something, anything and hoped that this time that something would be attached to something else that could keep her put. Even though this cookery show world wasn't ideal, it was better than any unknown world that looked like it wasn't meant for rabbits like Rachel.
She held on to the edge of a big pot and to her surprise it was firmly attached to the floor. Or to the ground now that she took a second look. There was grass growing from the pot and Rachel thought that there still would be enough space for her to tuck herself in and wait for the rift to disappear. But as she stepped in to the pot, her paws went through the soft soil and she fell in to a deep hole. The hole continued as a small and tight tunnel and after a short pondering she decided to take her chances with the new unknown and do what Rabbits do second best. Or third best in Rachels case. She begun to dig and widen the tunnel. She dug and dug and dug and dug and dug and dug and dug and dug and dug and dug and dug and dug.
To be continued...
Where did it all start?
2019
1-4, 5, 6, 7-8, 9, 10, 11-12, 13-14, 15, 16-18, 19-21, 22-23, 24-27, 28-29, 30-31
Extras
12
2020
0, 1, 2-4, 5-7, 8-10, 11-15, 16-20, 21-22, 23
That looks like the scribbles on my school book margins from my high school years. This also reminds me of all the 50 ways to draw the sun and a spruce. Ten ways to draw a rabbit. Should invent 40 more. There's the game rabbit, flame rabbit, wobbly rabbit, fairly normal rabbit, walks like an Egyptian rabbit, hairy rabbit, triangle rabbit, sharp rabbit, cube rabbit and Rachel Rabbit.
Added some shading and dust and speckle in photoshop.