Just like a little kid during Christmas... I am excited for new toys too!! Big Kid toys that is. Unfortunately I had to return my 10 inch table saw with stand that my Awesome Wife and incredible kids got me. Hey, it didn't have the wheels on the stand and the one with the wheels is the same price. Can you blame me?? You can fold it up and wheel it along, instead of packing it around. Anyway, when I was returning that table saw and ordering the other one, I decided to take my stack of gift cards and do a little shopping for myself. Now I am a huge fan of what Milwaukee tools has been doing lately. They have really been stepping up their game in the past 5 or so years. I have been blown away with their cordless tools and just couldn't help but add one to my tool box. I was really considering giving my Dad the okee-doke and running out the door with his new 10 tool Milwaukee set buuuutt I'm sure that wouldn't turn out good. Trust me that old man still had it even at 70. 😉. So instead I used that stack of gift cards and picked up the...
Milwaukee M18 Compact Router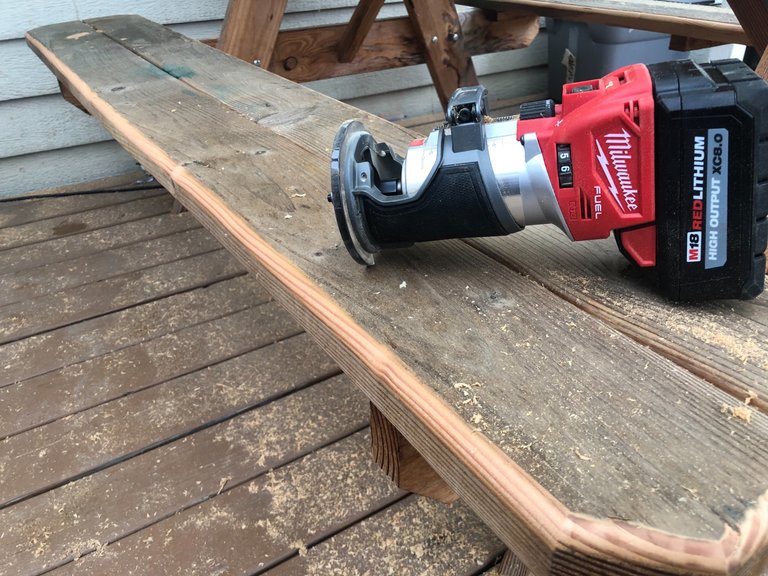 The tool itself weighs nothing! So at a price tag of $200 you really don't feel like you are getting much. Especially since this price is for the tool only. No battery or charger. Them dang batteries are $150 a piece!!! Got Dang!!! Thank goodness I have a charger and 8 amp hour battery from the weed eater I purchased last year. I could use at least one more battery though... Anyway...
The majority of the tool weight is in the battery that mounts on the top. At full speed this tool is amazingly quiet. I remember the big routers I used to use when I was framing houses, you needed ear plugs for Christ's sake. Then babies were loud. Then again that was back in the early 2000's
I purchased a 1/2 diameter bit used for rounding the edges of a woodworking project. I have a picnic table on the deck which would work for perfect testing ground for this tool. So let's give this baby a try on one of the seats.
Before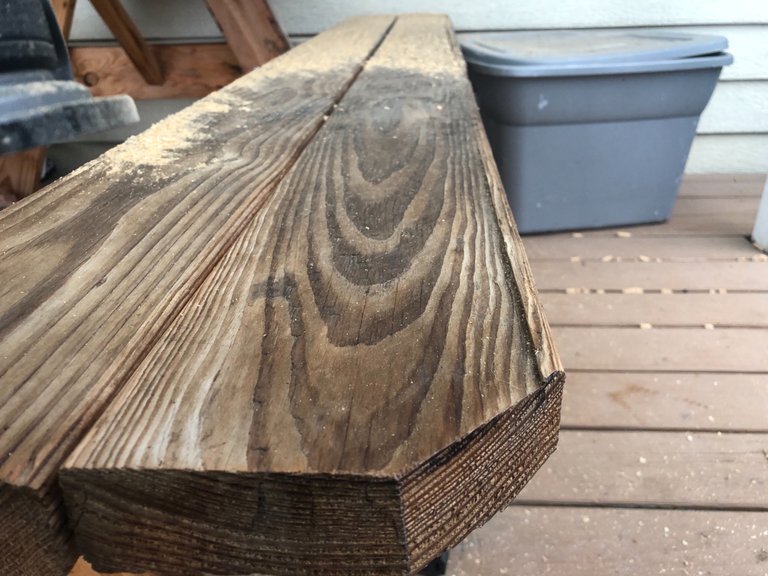 After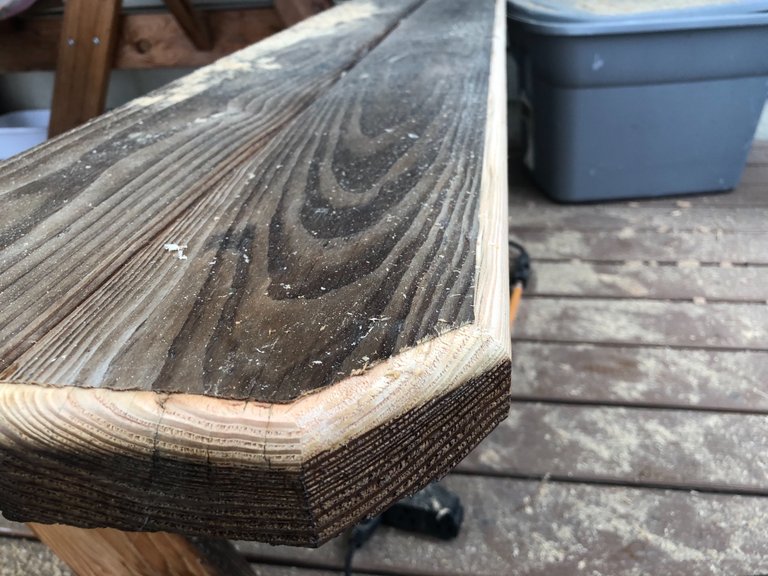 Talk about effortless!! Just gently push the router along and keep the deck flat on the work piece. Easy Peasy... One thing that happened is as I went along I noticed a ridge developing where the router bit had been extended past the deck.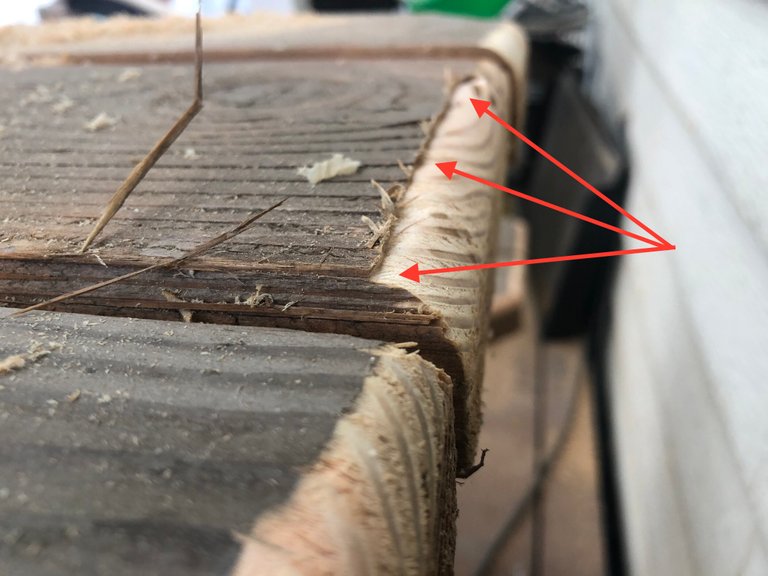 The end of the cutting blade needs to stay flush with the deck of the router to prevent that edge or lip from being cut in. Now if you want that edge then extend the bit further.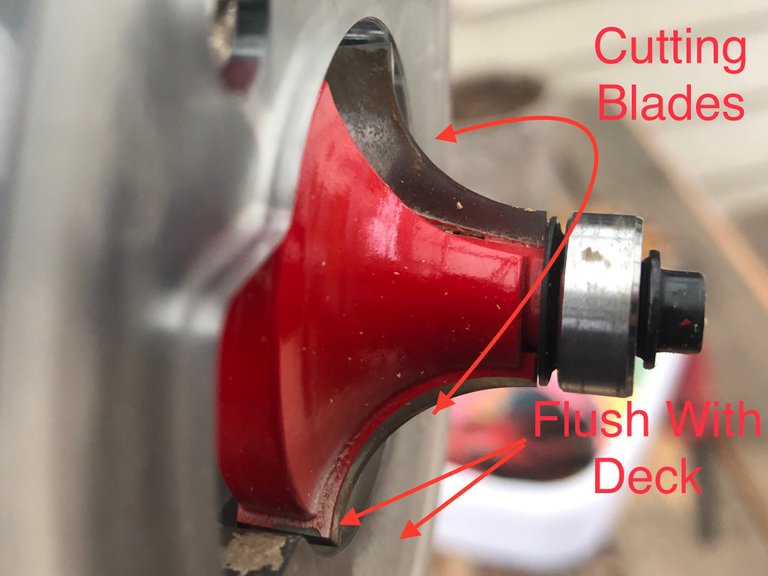 What happened was the the cam-over lock for the adjustment of the deck wasn't tight enough. The gentle vibration of the tool along with a little down pressure caused the deck to retract. The deck has a wheel that can be turned by your thumb for a very fine tuning the adjustment, but if I put any weight on the battery it would push the cutting bit deeper into the wood piece. The clamp just wasn't tight enough. So a minor adjustment with an Allen wrench and this shouldn't happen anymore.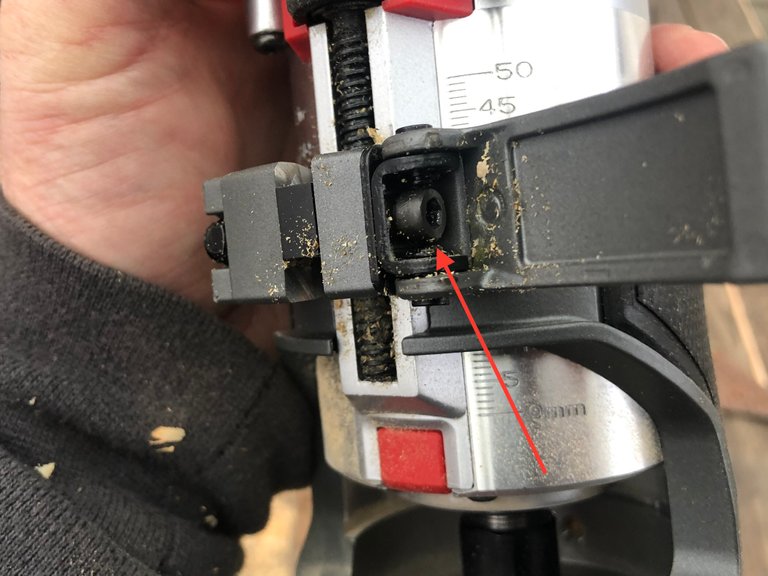 After righting that down a bit I went ahead and did the whole table because... Now that I started I can't stop...
Before
After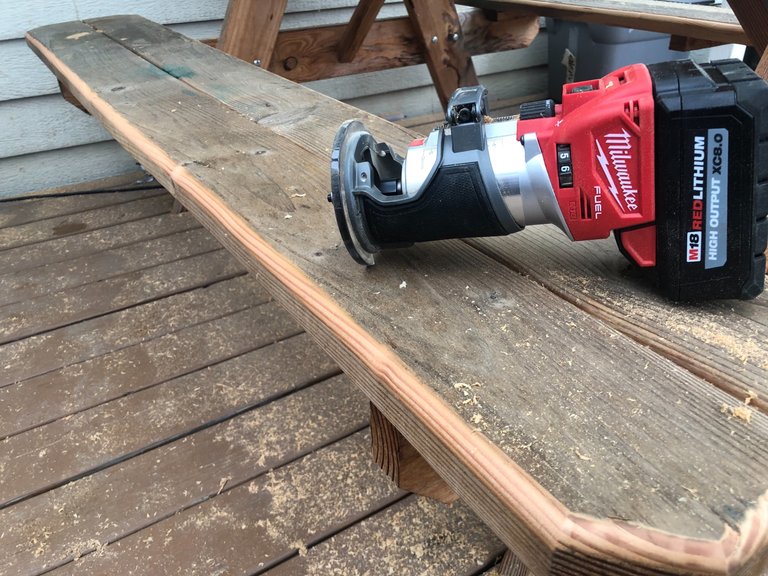 Granted this table would have turned out a lot better if the pieces were done before making it into the table. You can really tell at the ends of the boards. If one is slightly higher than the other is makes that nice rounded edge all jacked up. Hence the reason this is a test piece.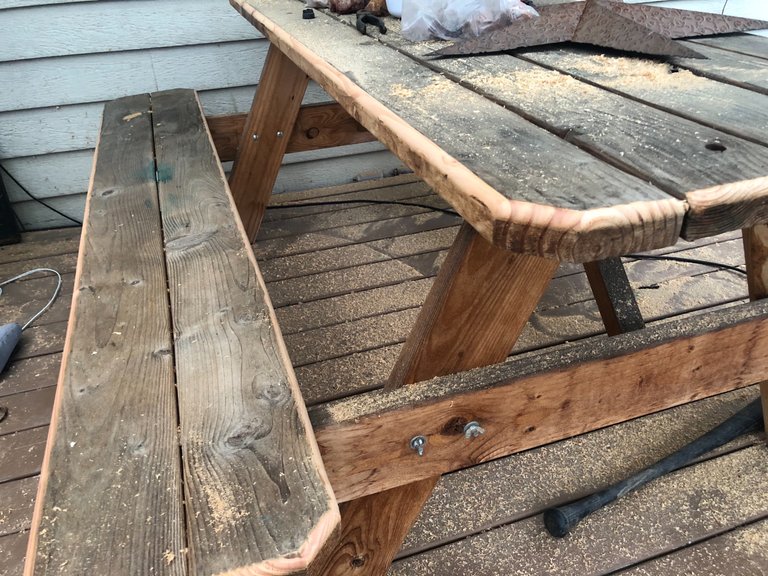 It only took about 10 minutes to do the whole table... if that. Eventually I will sand it down and give it a good stain to make it look nice.... eventually...
I am really excited to start accumulating more router bits and I really want to make a router table for this little guy. I have seen people make them with the larger routers, so why not one for the little guy?? The little guy always gets left out... The bits are a little spendy, especially for the good ones but it is well worth it to me. Having this tool in my tool box, along with that table saw, should make woodworking projects that much nicer and that much easier. Stay tuned because I have some ideas in mind for this router...

Your Random
Dose of...