Have you ever spent any real time getting "up close and personal" with a plant? And giving even the slightest thought to what story it would have to tell you about its life, if possible?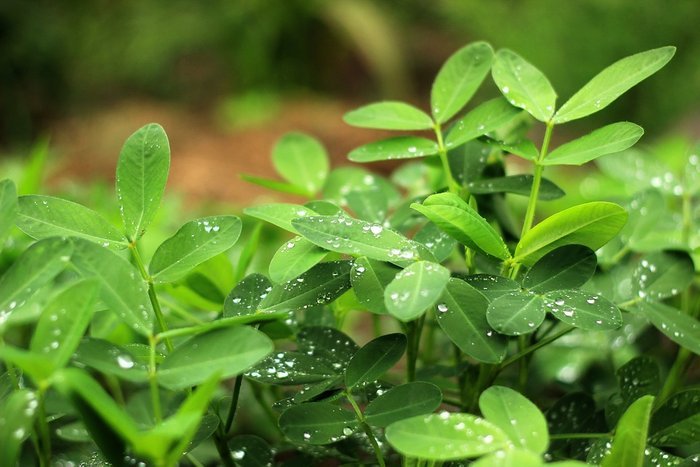 Source: Creator hgsarc on Pixabay
Even if you never have, please consider reading through this post, dear reader. It is really an amazing story of the power of life and the will to live. I think you will enjoy it.
It is the story of a plant. And not just any plant. But a peanut plant in the Rocky Mountains - a long, long way from "home" ...

Beginning of a Mystery!
This story begins with what men have been doing since the beginning of time. "Working the land," in preparation for Spring planting, to begin a new growing season. Well, dear reader, here is our small portion of "the good earth:"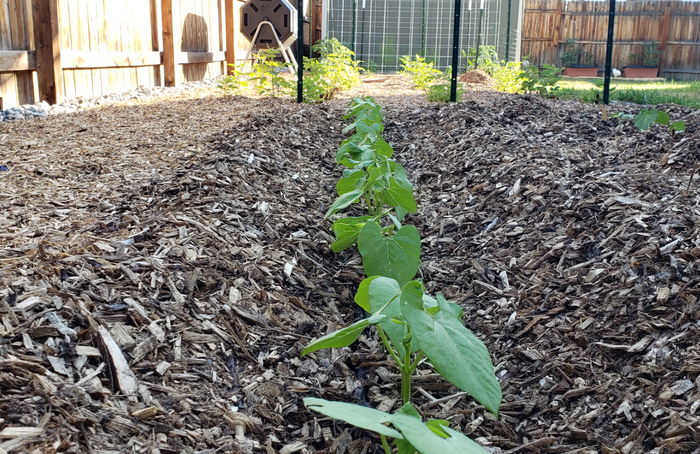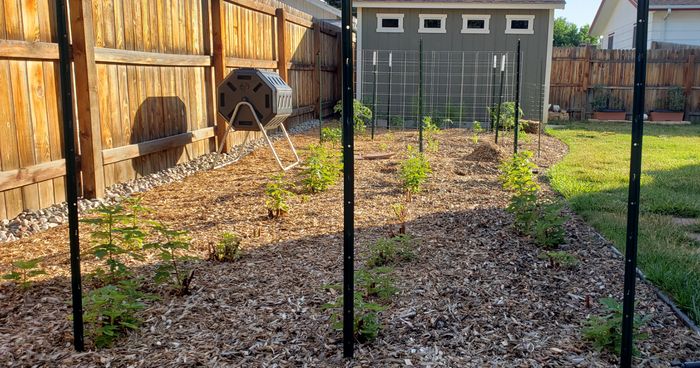 Photos: Applying "Back to Eden" gardening principles, side yard covered in wood chips
Only last year, we learned about all the wonderful concepts surrounding the word "permaculture" in general. And the vision behind "Back to Eden" gardening, in particular (see links below for more on this).
So, heading in to Spring, the first lesson for us was the discovery that weeds do still manage to "power up" ... 😉 ... through these wood chips. Ohhh, joy ... 😕
At least that aren't nearly so thick and plentiful, so the weeding work wasn't too bad. I have no pictures of that specifically, so you'll just have to use your imagination looking at the pictures above. Yes, there were some weeds in there!
But ... Were they really "weeds?" Yes, some were, but there were a surprising number of shoots of small trees just beginning to come up. From the germination of nuts our local squirrel population had buried!
________________________
While there was nothing particularly unusual about this, we were amazed at what we discovered in digging up what appeared to just by another plant, i.e. a weed, as it was pretty easy at that point to distinguish a more "wiry" tree sprout from a plant that was a weed.
This plant also had a nut at the end of the roots we dug up with it. And not just any nut either, as we had already uncovered quite a number of them. It was a peanut, still partially in its shell!? 😲
Wow! How did that get here, we wondered?

Answer to Who Dunnit Mystery!
When we first moved into our home, we found out pretty quickly there is a thriving population of squirrels living in our neighborhood. Likely due to the nice, mature trees in the park just across the street from us. As well as in the neighborhood around us.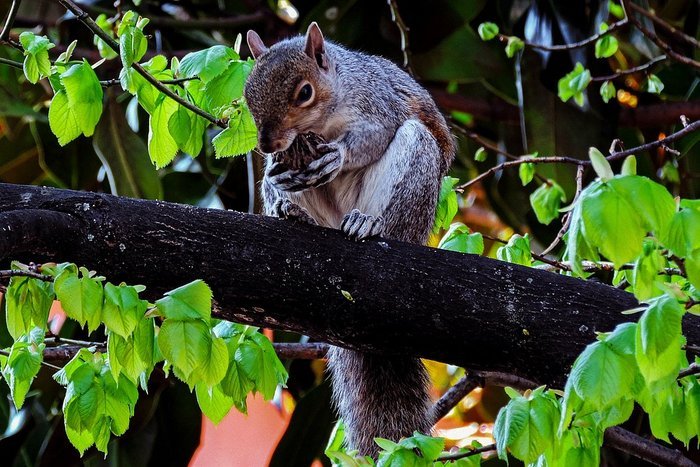 Source: Creator loveombra on Pixabay
For a while we really enjoyed having them around, as it was a new experience for us. They use the fences bordering our yards as "highways" they run up and down. Their effortless leaps into and out of trees, etc. is really impressive to watch. They leap many times their body length, so they definitely have some serious "springs" (for my "Man Cave" brothers, written by a man passionate about basketball in his youth)!
They are also remarkably agile little critters. We have watched them appear to catch the tippy end of a branch "by their fingernail" and still manage to pull themselves up along it just fine. They caught also "fly through the air," in running out to the end of the branch of one tree and flinging themselves, in spite of the spring in the branch, just far enough to catch the end of a branch of a nearby tree. How do they judge this distance correctly? How do the parents teach "junior," without suffering some serious injury? 🤷‍♂
________________________
Over time, our "enthusiasm" for them dimmed, however, in light of how much damage they can do to your plants to which they take a fancy. For example, running off with all of our strawberries! 😒 Or stripping our beautiful grapevines "to the bone," before they are fully ripened and we can harvest them ... 😠
For the purposes of this story, however, we'll focus on them "doing what they do best." Which is how much energy and effort they put into burying an adequate supply of "goodies," to get them through the winter. They do not hibernate. We see them running around in the snow all winter long!
What "goodies" you might ask? Nuts of every shape and size! Until the discovery of this post, we assumed they were all from the trees and bushes around here. We have even gotten to watch them, on a few occasions, digging down through our wood chips in a very vigorous exercise (their claws are very sharp!), "planting" their nut at the bottom of their newly dug holes. And then pulling the dirt and chips back in over the top of it and ever so "lovingly" patting it all down. Why are they so delicate in patting it all back down? We have no idea, but it is sure fun to watch!
My beloved lifemate and I have had a lot of fun talking about how these squirrels were ever going to find their nuts again. Do they have smartphones, where they can store GPS coordinates to their own personal "nut cache?" Hahaha ... 😂
Even better, since they do obviously manage to find enough of them to get them through the winter, is how they decide it is "their" nut? Instead of oh say Joe's nut? ... 😂 And ... Have some of them figured out, rather than go to all of that hard work to bury their own nut, why not just follow "Joe" around and make note of where his nuts are and just beat him to them! Hahaha ... 😂😂
Moving right along ... 🙃
________________________
From here, you'll read my imaginative attempt to recreate the story of one of these little nuts. Which generated the little peanut plant I described above. Even though they are most definitely not native to anywhere within a thousand miles of here!
How on earth did one of our local squirrel end up with this peanut? Please continue reading the "rest of the story!"

Marvel of Life!
Now that you have been introduced to "our" peanut plant, dear reader, I would like you to meet it! 😊 Here you see it in its new "home!"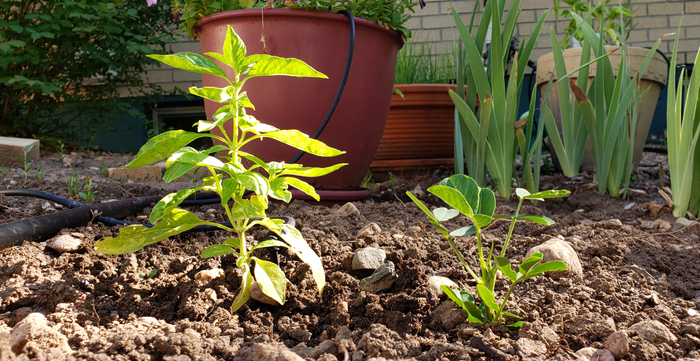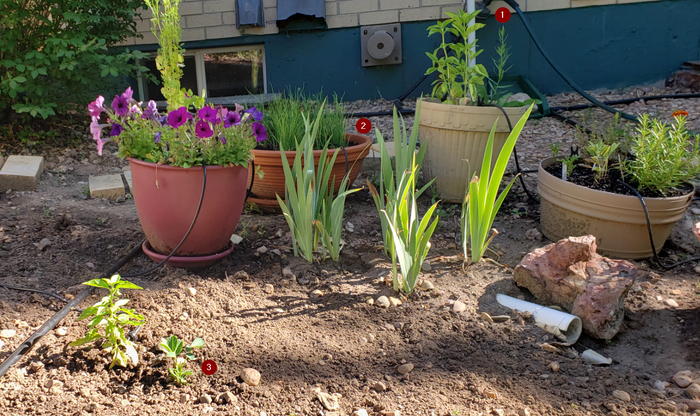 Photos: "Our" Peanut Plant! (in lower right of top image)
Which sadly is a long way from where peanuts are successfully grown! In the second image, you see a little of the details associated with its new home:
Attached to our domestic water supply is a DIG digital timer for automating the delivery of water to this area of our yard.


These pots contain our herb garden, for this season, including chives, basil, etc.


"Our" peanut plant, in a spare space around these herbs, is living "next door" to another basil plant!


While we have done what we can to nurture it, we can do nothing about the temperatures, without the aid of some sort of enclosed space, like a greenhouse. While on our "someday wish list," if it is ever to be, a greenhouse is far off in the future.
For now, even the night time temperatures here at this elevation are likely not particularly "friendly" to this plant. But ... At least it is alive!
________________________
So ... We now arrive at the "heart" ❤ of this post. Using your imagination, dear reader, if this little peanut plant could tell us its life's story, what would we hear about its journey through this world?
Our peanut reached maturity in the soil of the SouthEast, e.g. Georgia, where 42% of the nation's peanuts are grown. When? Last year? The year before? Given harvest time is September and October and that it had to have been available to one of our local squirrel last Fall, it seems it has to have been in 2018! Or earlier?


It was harvested and delivered to some processing plant where it survived whatever mechanical and chemical processes it went through.


"Prepped and packaged," it likely got transported first to a local distribution center, before then heading out West to the Rocky Mountains.


For who knows how long, it sat on the shelf in a store somewhere here in the Rocky Mountains, patiently waiting for someone to buy the package containing it.


Finally someone bought the package and took it home. Its fate is sealed, destined to be a tasty snack, like many of its "cousins." Or is it? 🤔


For who knows how long, it sat there before this person decides (had it grown stale from how long it had been sitting?) to feed it to the squirrels instead of eating it themselves. Did this person ever consider peanuts are not a native source of food to these squirrels?! Probably not!?


Somewhere around here, this person pitched the peanuts outside somewhere, so that the squirrels could find it. Does the "lucky" squirrel eat it? No! It decides instead to bury this peanut in our yard. (Inquiring minds might ask how far away from us is the home where this peanut was purchased and taken to "meet its maker" as a snack for someone? 🤷‍♂)


All winter long, this peanut lay buried under frozen soil and snow. Did the silly squirrel remember it was buried there? And come get it at some point to survive? 😳 Nope ... 🙄


Somehow way outside its "comfort zone" in the warmer soils of the SouthEast, its survives the cold winter. Then, in the Spring, determined to "do what it does best," it begins to sprout and send up a plant. Just think, dear reader, after all of the above ... Amazing! 🙌


In Spring "weeding," @roleerob digs up it, like any other weed. But, being detail-oriented ... 😉 ... he notices it has a peanut shell down in the ground under it!? And decides it must be a peanut plant!? 😲


Marveling at the "will to live" of this little plant, @roleerob transplants it back into the ground in his flowerbed, where it will have some company with a basil plant and plenty of good Rocky Mountain spring water.


After all of this, our poor peanut plant story is still highly unlikely to have a happy ending, since our growing season is nowhere near long enough. Frosts can begin as early as the middle of September. The growing time for a peanut? A ridiculous (at least for the Rocky Mountains) four to five months!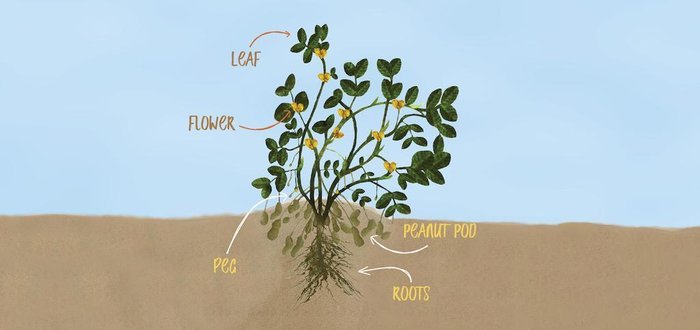 Source: National Peanut Board website on "How Peanuts Grow"
For animals, there are many people willing to foster or adopt abandoned pets. What about a poor, misunderstood, misplaced peanut? If you know of any shelters greenhouses, etc., please feel free to let me know in the comments below ... 😉
________________________
There you have it, my Hive blogging friends and Man Cave brothers! A fun story of the marvel of life we can find all around us. If only we are paying attention to the simple things ...

Closing
Only discovering The Man Cave community yesterday, I found a #farm-and-garden channel on their Discord server. I liked the "Show Us Your Farm and Garden" contest featured there by one of the community's passionate moderators, @ecoinstant!
Loving the simple life and "playing in the dirt," like what men have been doing since the beginning of time, I thought I would enter it. Here is my entry!
While hoping you enjoyed this bit of a fun and lighthearted story, it is linked to a much more serious topic - growing our own food! Please note below the links to earlier posts I have created associated with permaculture and what I have learned about "Back to Eden" gardening concepts. You might enjoy them, for finding some inspiration about what can still be, even in this crazy world of ours today!
I'd love to hear any feedback you may be inspired to provide.
Until "next time," all the best to you for a better tomorrow, as we all work together to build up our Hive Communities and add increasing value to our Hive blockchain! 👍 😊
Respectfully,
Hive Blogger @roleerob
🐝 🍯 🐝

________________________
P.S. While not wanting to appear presumptious @ecoinstant, if you are so inclined, I just want to say there is no need to provide me any of the Hive SBI units offered in your contest. I already have a number of them myself and would prefer they go to "newbies" for their encouragement. Thank you for all you're doing!
________________________
Posted using PeakD and "immutably enshrined" in the Hive blockchain on Sunday, 12 July 2020!

Interested in reading more of my related posts?
Lead Image
Title, Link, & Summary
R2R Reflections: For Such a Time as This ...



What I probably thought about more than anything else was our time. While these reflections were focused on my own personal history, I also thought a lot about the time in human history into which I was born.


● Relentless March of Time

R2R Reflections: "Golden Years" and our Legacy ...



A primary focus of my reflections was on the "next chapter" of our lives - our legacy and the "footprints in the sands of time" we would leave behind.


● "Footprints on the sands of time"

Reflections: Permaculture, Food Forests, and "Back to Eden!"



The response to this question - "What is a "food forest?" And the story behind the life-changing inspiration it has provided to me and my beloved.


● Journey of Discovery ● Life in the Soil ● Nutrition and Abundance
● Philosophy: "Intelligent Design" vs. Evolution ● Let's Do It!

"Back to Eden" Gardening: Journey Begins with Step One ..."



The adventure begins with the first step - making initial decisions and clearing the inevitable first hurdles.


● Initial Decisions and the Inevitable First Hurdles ...
● First Step: Source of Wood Chips ● "Trap" of Time and Consequences ...

"Back to Eden" Gardening: Adventures in Wood Chipping with a Sun Joe!"



The work begins in earnest, as we begin learning to use wood chips to reach our "Back to Eden" objectives, before the "snow flies!"


● Mulching with Wood Chips ● Move, Observe, Analyze, Adjust, Repeat ...
● Supplemental Sources of Wood Chips ● Lessons Learned

"Back to Eden" Gardening: Adventures in Composting - Hot & Cold!



Deciding we were "all in," on our new venture in life, we next tackled the challenge of learning about composting - both hot and cold!


● "Hot" Composting with a YIMBY! ● "Cold" Composting
● Harnessing Power! ● Lessons Learned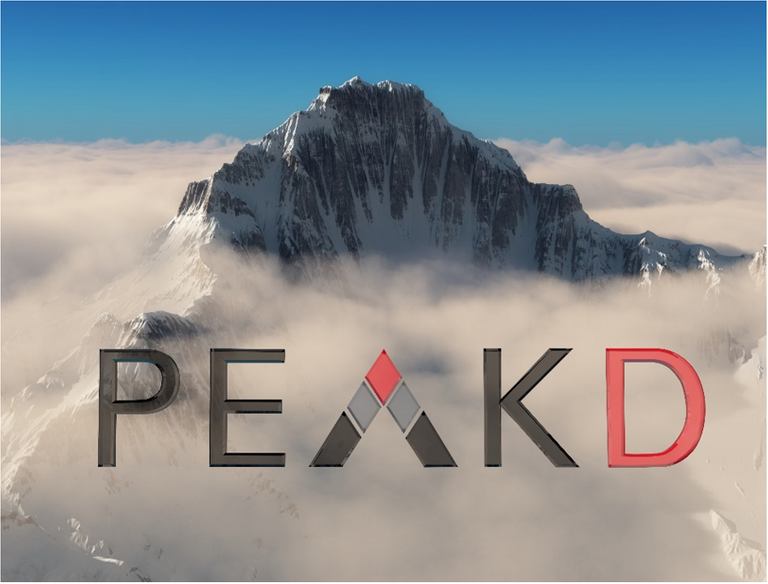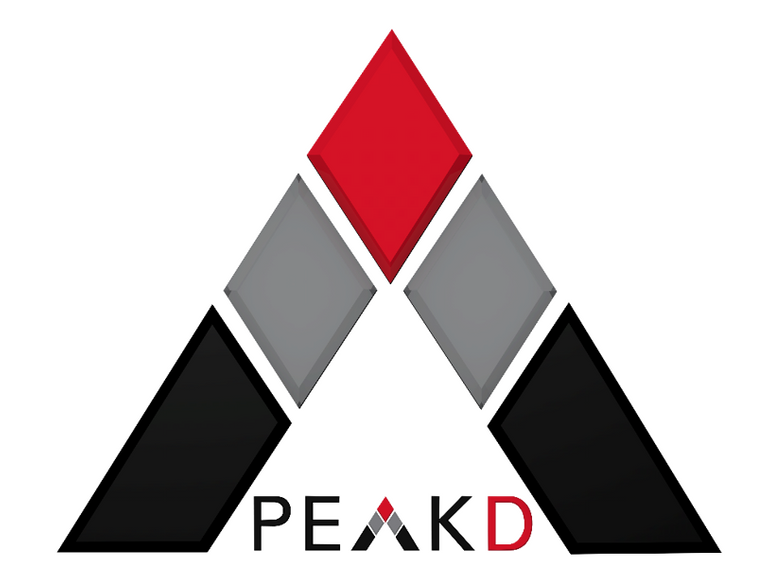 ---
PeakD: An awesome interface for our Hive blockchain.
Hive signature GIF created by @zord189. Ask him to create one for you!
This account is protected by @dustsweeper