Responsibility. How we respond to our responsibilities in this life comes to define our lives. To me this is the essence of masculinity - if you face these responsibilities square and respond with courage - 'You are the Man'.
Other people may have other definitions. But this is what I am going with. Together with my wife, we will be doing our masculine duties by responding to our Responsibilities on this Planet. And I am going to do my very best to document it daily here on this blog.

So I have entered the MANCAVE. Here we can document and promote positive examples of masculinity in a world that desperately needs such examples. I have been following the @brofund project for awhile, and now with this official launch, its time to take this mainstream.
The MANCAVE project (Warning facebook link!) will be using HIVE as a tool. But this project is not being built on HIVE. It is being built in the heart of a community of real men. #menofcrypto.
What sorts of content will be allowed in the ManCave?
This is one of the beautiful parts. Each niche can develop as the community sees fit. Legendary Bro @raymondspeaks has invited me to build out my own 'section of manliness'.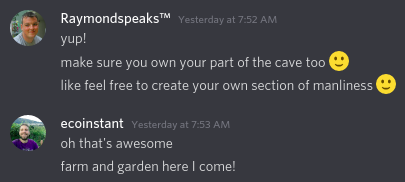 This is also why, as reported yesterday, I have taken the time to securely install PeakLock on mobile, to be able to offer photographic updates in a timely fashion.
Farm and Garden Here I come!
Yes plants, yes tools, yes building and yes selfies. These things will be here as we document our progress trying to build a better world starting from the most local of points.
As was offered in this important update, I also am needing to publish documentation for our Permaculture Diploma course. To me, governance is also a big part of masculinity, maybe no surprise we can imagine 'old white greeks' standing around the Agora arguing about politics.
But a positive masculine energy in governance (or any other part of life) does not preclude women at all. We need all energies of the spectrum aligned to create harmonic systems. I am joining a group to talk about healing and empowering our masculine energies in a positive way, but in no way do I want this to limit the response or participation with my posts.
I will continue to use #UpFundMe, #NeoXian and #Permaculture, as well as other tags where appropriate, and all the members of those communities are invited and encouraged to participate and provide feedback on my posts.
Important Social Scientific work on Community Development I will also be documenting here on this blog. The design and development, plus implementation, documentation and retroalimentation, are the essential steps to strengthening our local community structures, many of which are terribly damaged from years of abuse.
Farm, Garden, Governance.
Its not quite Gold, Goats and Guns, but it is also just one corner of the ManCave project, which you can get involved with in their discord. I hope to continue to design and develop sustainable systems with as many of you as possible, for as long as our Creator permits.
So you can expect me to be resteeming posts from other people engaged in these areas of life onto my blog as well. If you wish not to see these, the 'All posts' tab of the peakd.com/@ecoinstant interface should show you what you want.
Let's Man up to our Responsibilities, no matter who we are!