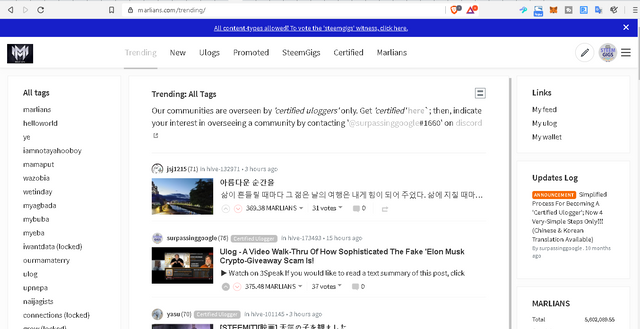 'https://www.marlians.com' will be moving to Hive. This means that marlians.com will post to the Hive blockchain and the MARLIANS token will become a hive-based token. This move will happen ASAP. 
Incase you have some set trades on the MARLIANS market currently on 'https://steem-engine.com/?p=market&t=MARLIANS', kindly remove your trades and reset them on hive-engine after a day or two, when MARLIANS begin to appear on the market there.
The Hive blockchain is becoming more stable and it is looking likelier that it will effect Smart Media Tokens and this is a feature that the 'MARLIANS' token will need. Marlians.com is a side-project under the TEARDROPS ecosystem and its token called 'MARLIANS' share the same paradigms as 'TEARDROPS', the token that will primarily power our ecosystem.
Marlians.com (and its token MARLIANS) is a very important part of our ecosystem. It may not appear so currently, looking at its market-price but note that from that the outset, we are building a token that should succeed, whether bulls or bears, because humans are involved. So stay tuned. MARLIANS will blossom.
Another important paradigm of our token(s) (including MARLIANS) is this; 'it will look to reward even past deeds'. 
In eventuality, your possessing of MARLIANS is not in vain. Each MARLIANS token holder will have a starting stake in TEARDROPS at least, when that ecosystem sets sail.
As a project, Marlians.com will continue to run but i really really really need to recover in my health to be able to effectively undertake these projects and that recovery-process is in motion in that 'my only near-term aim is to setup a hub in the Philippines', whereupon i can gather people physically, that we can build a solid network of 'true fans' (made up of brother-programmers, brother-enterpreneurs, brother-graphic-designers etc) that will back our projects and help build it further. While the Macrohard hub will start in the Philippines, it will have annexes across the globe.
Let me quickly summarize the role of 'marlians.com' in our ecosystem...
Being that we are implementing 'down-to-earth paradigms' with each innovation stemming from the Teardrops ecosystem (e.g ulogs.org, steemgigs.org and macrohard.pro), paradigms which can be said to be 'foreign, fresh or unpopular'; we will need to an easy-to-understand general-purpose social media platform 'i.e marlians.com' (built around a solid-base of 'certified uloggers') that invites the masses in 'e.g bloggers, vloggers, experts, non-experts, programmers, non-programmers etc', inculcates in them our 'down-to-earth paradigms', then introduces them to our primary projects 'i.e ulogs.org (for uloggers), steemgigs.org (freelancing for experts and non-experts), macrohard.pro (a social platform for 'brother programmers')', leading to solid growth and movement.
It is simple.... 
Altogether, we are creating platforms (and underlyingly 'a new internet') where the base-content is 'ulogs' but 'ulogs' is still a fresh concept. 
Not to impose the 'art of ulogging' on people, we created marlians.com, a standalone more traditional platform modeled to gradually introduce people to our core-est activity 'ulogging', even while they blog or vlog. 
We approach is 'beautiful disruption'; not 'disruption.
To understand better the giant role of 'marlians.com' in our ecosystem, see this list:
We want to have uloggers emanate from across the globe. 
We want to have a blockchain, where the base-content is 'ulogs'. 
We want to have a game, filled with uloggers etc
We want to have a new internet where 'content is queen', filled with ulogs, uloggers, humans. 
We want the word 'ulog' and its related words (e.g ulogging, ulogger, ulogs, ulogacy) inserted into the dictionaries.
In the nearest term, i am working on setting up that hub and i am positive that it will be setup in a month's time. Therein, as i begin to gather people, we can become more effective in building Marlians.com and all our projects and heal health-wise in the process. 
Not to worry, as we begin to build a solid network of 'brother-programmers' within the Macrohard hub, each of our platforms including 'marlians.com' will turn out very beautiful and begin to be filled with humans and you know what, 'we will move together'. 
Read more about the Macrohard hub here.
Your Boy Terry, whether bulls or bears.
Don't forget to subscribe to the Ulogs community and post in your Ulogs. I curate Ulogs with a small trail and resteem some Ulogs to some 16k followers.
UloggersTV intends to render assistance to any human with regards to their 'hassle, aspiration, needs etc' as early as today.
Do well to subscribe to UloggersTV and turn on notifications and whenever you are ready, say 'you have ordeal' or say 'you are seeking the ever-missing piece of your puzzle on any subject or industry' including 'Blockchain etc', kindly contact me on 'comsilbronze4@gmail.com' and we will work together within the course of one live-stream (dedicated to you), whereupon i will share my insight as a 'legitimate illiterate', share my screen to help you with tangible online resources that can help you further and share the resources that i have, whatever is available. We will find solutions today!
Kindly Vote On My 'steemgigs' Witness If You Are On Hive Too!!! 
Contact Me:
Email: comsilbronze4@gmail.com
Discord: surpassinggoogle#1660
---