Seguimos creando cerveza
Desde la última vez que redacté un post acá han pasado algunas importantes e interesantes, desde luego que es algo que se espera sobre todo por el estado de desarrollo en el que se encuentra el juego, creo que el equipo va por buen camino.
Una de las noticias más significativas o importantes fue la reducción en el costo de ventas de las cervezas, el tiempo en la preparación de los ingredientes necesarios para elaborar la deliciosa cerveza, también se ha reducido el tiempo la espera para producir una cerveza.
Algunas personas veo que se han molestado por la reducción del costo de venta en la cerveza, no obstante los creadores del juego ya han explicado las razones del porque tomaron, esta medida y considero que tomaron una buena decisión.
Algo que me llenó de mucha emoción fue que por primera vez preparé una cerveza de gran costo, la vendí por poco menos de 100 CBM, que el Token dentro del juego, eso fue un gran impulso para mí, ya que por primera vez pude llegar a los 1000 CBM, cantidad necesaria para poder realizar el retiro del juego.
Aquí quisiera detenerme y explicar un poco pues no sabía cómo era el proceso de retiro de los tokens, y no es que fuese algo difícil sino que no tenía muy claro hacia a donde iban a parar los tokens y por un tiempo creí que los había perdido, era algo que de un modo me inquietaba porque tenía más de un mes esperando poder llegar al monto de retiro.
Una vez que pedí un poco más de información, se me dijo que los tokens iban hacia Hive-Engine y que ahí estaban a salvo. Fue un gran alivio para mí. Una vez me registré en la plataforma hice el retiro de los tokens hacia Hive y llegaron de manera correcta.
Todos aquellos que desean iniciar a hacer cerveza pueden unirse a través del siguiente enlace.
https://www.cryptobrewmaster.io/game/invite?ref=4bfa2c531d2b4f41913197a98c146ca4&code=AlphaBonus
El juego es relativamente fácil y no requiere demasiado tiempo en el día lo que lo hace demasiado bueno. Aparte de la diversión y el compartir un gusto en común, como es la cerveza, con muchas personas, puedes hacerte de un valioso token.
We continue to create beer
Since the last time I wrote a post here some important and interesting things have happened, of course this is something that is expected above all because of the state of development in which the game is, I think the team is on the right track.
One of the most significant or important news was the reduction in the cost of sales of the beers, the time in the preparation of the necessary ingredients to elaborate the delicious beer, also the time the wait to produce a beer has been reduced.
Some people I see have been bothered by the reduction in the cost of sale in the beer, nevertheless the creators of the game have already explained the reasons why they took this measure and I consider that they made a good decision.
Something that filled me with a lot of emotion was that for the first time I prepared a beer of great cost, I sold it for a little less than 100 CBM, than the Token inside the game, that was a great impulse for me, since for the first time I could reach the 1000 CBM, quantity necessary to be able to make the withdrawal of the game.
Here I would like to stop and explain a little bit because I did not know how was the process of withdrawal of the tokens, and it is not that it was something difficult but that I did not have very clear towards where the tokens were going to stop and for a time I thought that I had lost them, it was something that in a way worried me because I had more than a month waiting to be able to arrive at the amount of withdrawal.
Once I asked for more information, I was told that the tokens were going to Hive-Engine and that they were safe there. It was a great relief for me. Once I registered on the platform I made the withdrawal of the tokens to Hive and they arrived correctly.
All those who wish to start making beer can join through the following link.
https://www.cryptobrewmaster.io/game/invite?ref=4bfa2c531d2b4f41913197a98c146ca4&code=AlphaBonus
The game is relatively easy and does not require too much time in the day which makes it too good. Apart from the fun and sharing a common taste, like beer, with many people, you can make a valuable token.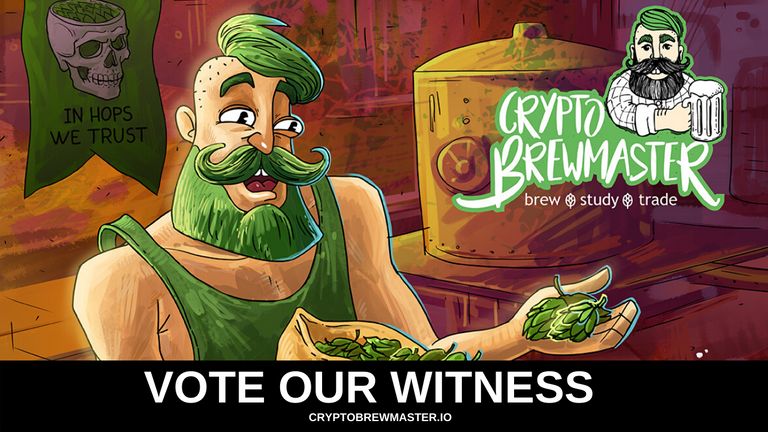 image from @cryptobrewmaster