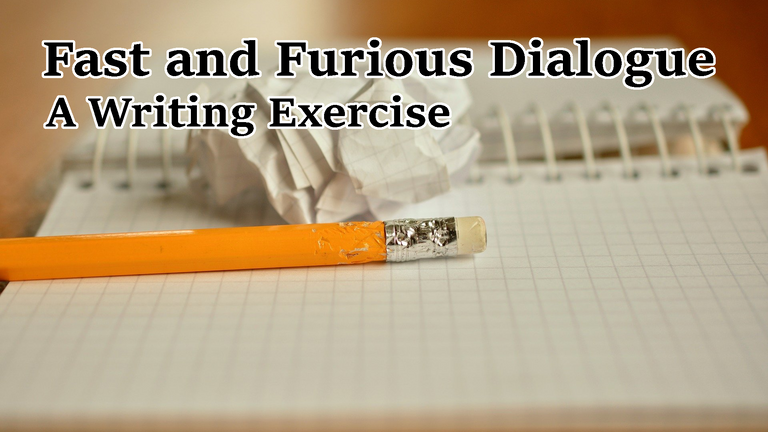 Image by congerdesign from Pixabay
This is my response to theinkwell's fast and furious festival day one task. The festival challenges writers to spend 25 minutes/day (or more if you'd like) writing a post based on a creative prompt.
Todays prompt and challenge revolves around dialogue and is split into two tasks.
---
Task 1:
In your post, take what you learn about each of the three characters from the dialogue in the extract below and then develop them until you have a paragraph describing the character more fully.

A woman in a restaurant whispers to her friend:
"You know who that is over there, don't you?"
The other woman surreptiously glances at the other table:
"No, who?"
"That's just it, she's had so much work done you don't recognise her. That's Betty Grainger."
"No!"
"Yes, she's had her nose done, cheeks lifted, even a hair transplant."
"Whatever for?"
"She's going into politics."
"Seriously, that's really her?"

What do you learn about each of the three characters? How old do you think they are? What kind of life-style do they lead? Have they got a job? Where do they live? Do they have a family or friends? What do they wear? Have they got a secret in their past? Do you like them? Tell us all about them in your post - a paragraph for each character.

Quote from The Ink Well Fast and Furious Festival - Day One
My response:
Lady 1 is called Isabel Priory and considers herself to be an authority on most subjects. She is a gossip, and finds deep pleasure in pointing out other peoples foibles, or being the first to know their secrets. She spends her days either at expensive Los Angeles coffee shops or at the country club. She is forty two and married to the CEO of a large company who spends most of his time travelling or at the office. She doesn't work and instead spends her days engaged in small intrigues and hobbies. Her father is an after dinner speaker and a retired politician from a wealthy family.
Lady 2 is called Tilly Bridgeham and she is more retiring than Isabel but just as voracious for gossip. She loves to live vicariously through others but kids herself that she is an unwilling accomplice in the theatre of scandal. Tilly works as a writer for an online lifestyle magazine covering all things 'celebrity culture'. She is in her late thirties and is single. Although seemingly more introverted in character, she moonlights as a secret diner for her magazine and is one of the most scathing food critics in Hollywood. Secretly she takes pleasure in the power she wields from the shadows and takes pride that her reviews can make or break a new restaurant.
Betty Grainger is a fifty-something ex tennis star from the 1970s. She worked as a TV journalist commentating at the Olympics after a knee injury forced her into early retirement from tennis. Betty went to school with Isabel at Harvard-Westlake but they didn't know each other and were several years apart. After her TV career fizzled out in her late fifties she settled down and got married to a state senator but was unsatisfied with playing the wife on his arm. It was at this time that she had extensive plastic surgery and also founded a charity organization for victims of gang violence. She finally decided to run for office after witnessing a shooting in downtown LA.
---
Task 2
Write a short dialogue, like the one above, no more than 70-100 words, where two characters are talking about a third one. What can you reveal about your characters in your dialogue?

Quote from The Ink Well Fast and Furious Festival - Day One
My response:
"What do you think he means by I'm still on the fence?" Mary's eyebrow twitched as she bit her lip.
Don flashed her his paper cut smile "I don't know dear maybe he just wants to get to know them first."
"What is there to know? They're willing to invest in my idea and he's still unsure."
"It is his money dear, and it is a lot to be giving to us in his retirement. I guess he just wants to be sure who he'll be dealing with if the product is picked up."
"What do you mean if?"
---
As you can see in my response to task one, a lot of the character development in dialogue comes from the reader filling in the gaps using their imagination. I might have gone a little overboard in the back story I created, but this is honestly the picture that built in my mind as I read and re-read the dialogue from theinkwell post.
Something I was always taught with dialogue was to allow room for the reader to fill out some of the character's traits in their own mind. Brief descriptions of body language during dialogue hint at the relationship between characters, their moods and motivations. This becomes a satisfying moment of revelation for the reader when the picture they have built up in their mind is confirmed by later actions in the story. It is a great literary technique, and very satisfyingly for the reader, when they later find out that what they had deducted from a character's dialogue and actions turns out to be true.
In my response to task two I tried to use the techniques I mentioned above. I used Mary's body language to show her irritation and don's smile to show that they were involved in the banter of two people in a relationship. The subject of the dialogue may or may not have achieved that revelatory effect I mentioned above.
The only way to find out is for you to let me know in the comments who you think the three characters are; their dreams, ambitions and personal histories. Go wild with your imagination.
Thanks for reading 🙂
All images used in this post are modified from creative commons license sources, credited beneath the image. If you have enjoyed this creative exercise and want to get involved check out the festival announcement post The Ink Well Fast and Furious Festival Launch, and you can check out my homepage @raj808 for similar creative content. Thank you.


Click banner to visit the community page

Find us on twitter by clicking the banner above.