2 and a half pints of black - Chapter 1 - Family

2 and a half pints of black. --2 pintas y media de negro.
This is the second in the series, please read The introduction post first.
Este es el segundo de la serie, lea La publicación de la primera publicación.
---
Family. -- Familia.--
| English | Spanish |
| --- | --- |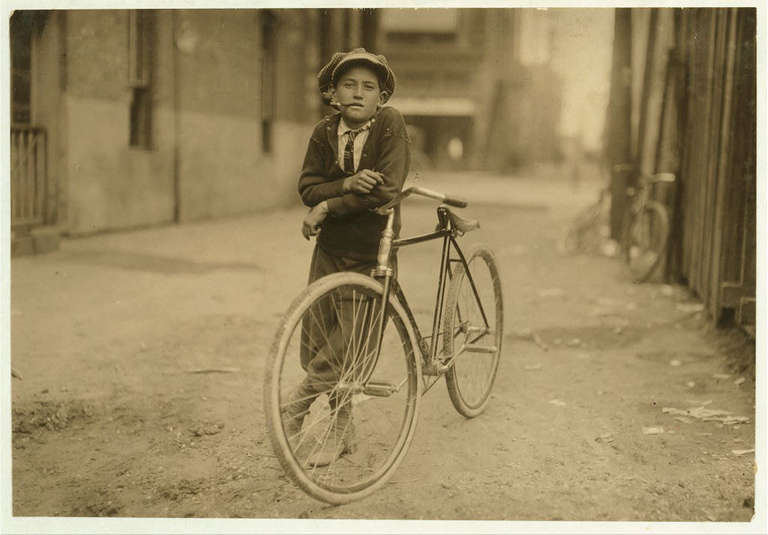 Bobby thought he looked like this, strong, confident and bold. The reality was something completely different.
Bobby pensó que se veía así, fuerte, confiado y audaz. La realidad era algo completamente diferente.
Grace was the apple of her fathers eye, a contented child, always smiling and singing as she brushed the last remaining hairs on dollys head. She had been given dolly from an uncle, her godfather Micheal. Micheal had not been since the goods freighter he served on went down mid Atlantic in an un-godly storm. To this day no survivor has been found, all 469 souls lost. Only one soul was what the Ryans wished for, Micheal another beautiful man, although himself and James were not twins most could not tell them apart. Mrs Ryan still mourned Micheal, it had been 3 years since the news of the sinking reached them. Although he hid it well, a part of James died that day. His giant heart carried the first scars of its attack, this loss could never be replaced. Grace at the age of 3 was still too young to attend the girls school located just across the canal, The sisters of Charity. Mairead, who had attended this school for her entire school life was yet to find a single act of charity there.The story's that Mairead told would haunt Graces dreams, vicious nun's wielding "the strap". Not one single girl in Maireads class had been spared the strap, as it cracked across their legs the buttons would rip and tear the skin under its slender face. "No sitting for a week" Sister Ignatius would bellow as she doled out the punishment for something as simple as a snigger in a corridor.
---
The boys all attended CBS or the Christian brothers school in the liberties, this was a closer walk than that of Mairead. The boys would all gladly trade the walk to school with her for that would mean they got more time to chat with their friends on the road to knowledge. Bobby was now in third class, the middle class. His report card typically read the same, year in, year out. Must try harder, wasted talent. Bobby too was no stranger to the strap, none of them where. The Brothers would aim for your shin, their goal? to hobble you, there is less skin there to soften the blow. As the well oiled leather lashed out "ten of the best" the sadistic smile of Brother Clarke would rear its insipid self. Bobby was returning to the school after an absence, his lungs, they too were middle of the road. Always coughing and spluttering. The black mold that resided in No.4 ushers island was probably the main cause of his respiratory issues and as bobby was at the wall side he was its closest neighbour. Finally another day had passed, Monday, the worst day of the week for the children. It had been 3 days since they had eaten a slice of Mrs Ryans gur cake but that wait was almost over. As they neared the quays the boys would meet Mairead, from Caple street bridge it was only a 3 minute walk to their crumbling home. While strolling to home the family noticed their father, he looked shook, he had a bloody nose. This was a most disturbing sight, their father was not a fighter, he could fight, he had boxed for 5 years while in military service. He was not the type of man to pick a fight choosing instead to talk it out. A pacifist. The children all ran to him, Mairead and Jimmy already in floods of tears. Joseph was the first to string enough words together, "what happened Da?" he spluttered "What the hell happened?". "Don't talk like that Joe!" was James's initial reaction, he wanted his children to be better than the street urchins that inhabited the area near their home. "It's not your worry kids" he said, now run along home and tell your mother I'll be in shortly for my tea. James made his way down the steps of the Liffey to get to the waters edge. Here he washed the blood from his face, donned a smile, climbed back to the quay wall and sang his way to number 4 where a worried looking Mrs Ryan stood panting with worry.
Grace era la niña de los ojos de su padre, una niña contenta, siempre sonriendo y cantando mientras cepillaba los últimos pelos restantes en la cabeza de Dollys. Le habían dado una muñeca de un tío, su padrino Micheal. Micheal no había estado desde que el carguero de mercancías en el que servía se hundió en medio del Atlántico en una tormenta impía. Hasta el día de hoy no se ha encontrado ningún sobreviviente, todas las 469 almas perdidas. Solo un alma era lo que los Ryans deseaban, Micheal, otro hombre hermoso, aunque él y James no eran gemelos, la mayoría no podía distinguirlos. La Sra. Ryan todavía lloraba a Micheal, habían pasado 3 años desde que les llegó la noticia del hundimiento. Aunque lo escondió bien, una parte de James murió ese día. Su corazón gigante llevaba las primeras cicatrices de su ataque, esta pérdida nunca podría ser reemplazada. Grace a la edad de 3 años todavía era demasiado joven para asistir a la escuela de niñas ubicada al otro lado del canal, Las hermanas de la Caridad. Mairead, que había asistido a esta escuela durante toda su vida escolar, aún tenía que encontrar un solo acto de caridad allí. La historia que contó Mairead perseguiría los sueños de Graces, la viciosa monja que maneja "la correa". Ninguna de las chicas de la clase Maireads se había librado de la correa, ya que, al romperse las piernas, los botones rasgaron y rasgaron la piel de su cara delgada. "No estarás sentado por una semana", gritaba la hermana Ignatius mientras repartía el castigo por algo tan simple como una risita en un pasillo.
---
Todos los niños asistieron a la escuela CBS o la de los hermanos cristianos en las libertades, esto fue una caminata más cercana que la de Mairead. Los muchachos con mucho gusto intercambiarían el paseo a la escuela con ella porque eso significaría que tendrían más tiempo para conversar con sus amigos en el camino hacia el conocimiento. Bobby estaba ahora en tercera clase, la clase media. Su boleta de calificaciones por lo general lee lo mismo, año tras año. Hay que esforzarse más, desperdiciar el talento. Bobby tampoco era ajeno a la correa, ninguno de ellos a dónde. ¿Los Hermanos apuntarían por tu espinilla, su objetivo? Para acosarte, hay menos piel allí para suavizar el golpe. Cuando el cuero bien engrasado arremetió contra "diez de los mejores", la sonrisa sádica del hermano Clarke se volvió insípida. Bobby estaba regresando a la escuela después de una ausencia, sus pulmones, ellos también estaban en la mitad del camino. Siempre tosiendo y balbuceando. El moho negro que residía en la isla número 4 de los ujieres fue probablemente la causa principal de sus problemas respiratorios y como Bobby estaba en el lado de la pared, era su vecino más cercano. Finalmente, otro día había pasado, el lunes, el peor día de la semana para los niños. Habían pasado 3 días desde que habían comido un trozo de pastel de la Sra. Ryans gur, pero esa espera casi había terminado. Cuando se acercaban a los muelles, los chicos se encontraban con Mairead, desde el puente de la calle Caple, que estaba a solo 3 minutos a pie de su casa en ruinas. Mientras se dirigía a casa, la familia notó que su padre se veía estremecido, tenía la nariz sangrienta. Este fue un espectáculo muy perturbador, su padre no era un luchador, podía pelear, había boxeado durante 5 años mientras estaba en el servicio militar. Él no era el tipo de hombre para elegir una pelea, y en lugar de eso, hablar. Un pacifista Todos los niños corrieron hacia él, Mairead y Jimmy ya inundados de lágrimas. José fue el primero en juntar suficientes palabras, "¿qué pasó, Da?" balbuceó "¿Qué diablos pasó?". "¡No hables así, Joe!" fue la reacción inicial de James, quería que sus hijos fueran mejores que los erizos de la calle que habitaban el área cerca de su hogar. "No te preocupes, niños", dijo, ahora corre a casa y dile a tu madre que pronto me tomaré el té. James bajó los escalones del Liffey para llegar al borde de las aguas. Aquí se lavó la sangre de la cara, sonrió, subió a la pared del muelle y cantó hasta llegar al número 4, donde una preocupada señora Ryan estaba jadeando de preocupación.
Image 1 Source
Image 2 Source


Please be aware that I wrote this piece and it was posted to whaleshares some 2 years ago. There are 2 extra parts to this story but it is incomplete. I am hoping that I will find the inspiration to complete it here on hive. Do not feel obliged to vote on it. I just wanted to move it here too so the following chapters will have a base.
---
---