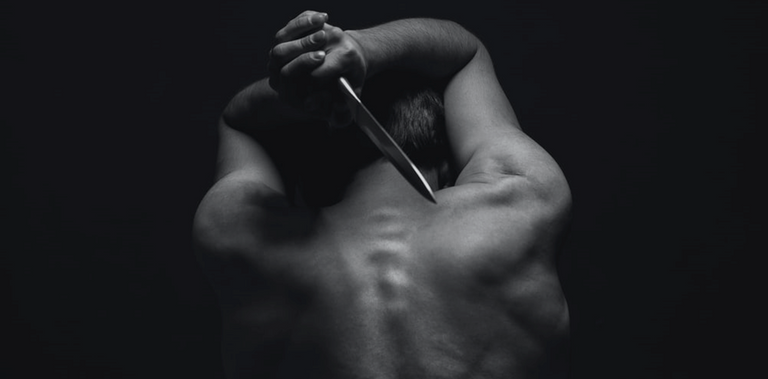 I'm going to tell you a secret, and I hope you tell everyone. There is a song in my mind, repeating itself over and over again, non-stop. I don't know when I started listening to it, I just know that when I noticed that it was in the background of all my thoughts it stopped being a song.
I thought that everybody listened to a song in their minds, when I was eight years old I asked a friend if he listened to it, he said no, he looked at me a little bit weird and we kept playing without giving it much importance. I tried to ask my parents, or my older siblings, but they never paid any attention to me, and when I did get some of their attention they looked at me very strangely and went on with their busy adult lives ignoring me.
I tried to become a friend of the song, but I didn't succeed. Every time I tried to pay attention to it, it became softer and softer to the point that I couldn't hear it and it frustrated me, but on the contrary, when I was focused on something else the song became louder and louder, it didn't let me concentrate on what I was doing, nor could I pay the necessary attention to it to know what it was saying.
As I write this I feel it getting louder and louder making it impossible for me to breathe, or even hear my own voice. Once I shouted at her to be quiet, I forgot I was in a park and I had to run away, when I was alone again I heard her laughing at me. I wanted to hate her, but I couldn't, she is the only company I have had since I can remember.
For a period of time I would sleepwalk at night. I would wake up tired and listen to the song. I ate while listening to the song. I would go to sleep listening to the song. I would wake up again tired listening to the song. Once a month someone in my family would tell me that I had been sleepwalking again. There was a slight concern on their faces, but nothing serious. They wanted to know if I needed help, I would tell them no, the time to be helped had passed.
Every Saturday for the next few months I woke up at the bedside of one of them holding a knife. The first time I dropped the knife out of fear and had to hide under the bed, trying not to make too much noise when crying, trying not to shout at the song in my head to shut up for once and leave me alone. It never did.
As much as I wanted to kill my family, I wasn't going to do it, and I wasn't going to let the song make me do it while I was unconscious, outside my body, with no control over my actions. I moved, it was a stressful but satisfying few months, I managed to stay stable for two years, but three months ago everything started to go wrong again. Every day when I woke up things weren't in place, I woke up wearing different clothes, or with clothes in the washing machine that I didn't remember putting in there. I lived alone, how bad could it be to put clothes in the washing machine while I was asleep?
One Sunday night, while I was watching the news, the song came on and got louder and louder, and without realizing it I turned the TV up full volume and when I noticed it I was paralyzed. The body of a person had been found in the middle of the street the day before. He had his head separated from his body and a musical note engraved with a knife in the palm of his right hand. It was the twentieth body they had found in the last two months with a musical note engraved somewhere on its body. At the end of the news report they placed a recording of the sequence of the musical notes in the order in which the bodies were found. I started to cry, it was my song, the song in my mind, my song.
It has been a month since that revealing Sunday. I began to wake up at any hour of the night in strange places in the city, in public places; I was less and less scared and I was looking forward to that moment. I woke up with the knife full of blood in my hands, the musical note was already engraved on the skin. I was beginning to laugh. I would wake up in someone's house while they were sleeping and I knew I had to kill and engrave the next note.
Today I woke up with two bodies next to me in a house that I do not recognize. I started writing this, the world must know why all the recent murders. There is a song in my mind that I have been hearing since I was a child, no one else was listening to it, so I must try to get everyone in the world to listen to it. I have to go, I have to engrave the next two musical notes, the song is not going to let me rest if I don't do it soon. See you later, and remember, soon you are going to start listening to the song too.

La canción | Escritos de una mente desequilibrada XLV
Les voy a contar un secreto, y espero que se lo cuenten a todo el mundo. Hay una canción en mi mente, repitiéndose una y otra vez, sin parar. No sé cuándo comencé a escucharla, solo sé que cuando noté que estaba en el fondo de todos mis pensamientos dejó de ser una canción.
Pensaba que todos escuchaban una canción en sus mentes, a los ocho años le pregunté a un amigo si la escuchaba, me dijo que no, me miró un poco raro y seguimos jugando sin darle mayor importancia al asunto. Intenté preguntarle a mis padres, o mis hermanos mayores, pero nunca me prestaban atención, y cuando logré tener un poco de su atención me miraron muy extraño y siguieron con sus vidas de adultos ocupados ignorándome.
Intenté hacerme amigo de la canción, pero no lo logré, cada vez que intentaba prestarle atención se iba haciendo más y más suave hasta el punto en que no lograba escucharla y me frustraba, pero al contrario, cuando estaba enfocado en cualquier otra cosa la canción se hacía más y más fuerte, no me dejaba concentrarme en lo que hacía, ni le podía prestar la atención necesaria para saber qué era lo que decía.
Mientras escribo esto siento como se vuelve cada vez más aguda haciéndome imposible respirar, o siquiera poder escuchar mi propia voz. Una vez le grité que se callara, olvidé que estaba en una plaza y tuve que salir corriendo, cuando estuve otra vez solo la escuché reírse de mí. Quise odiarla, pero no pude, es la única compañía que he tenido desde que tengo memoria.
Durante un periodo de tiempo caminaba dormido de noche. Despertaba cansado y escuchaba la canción. Comía escuchando la canción. Me iba a dormir escuchando la canción. Volvía a despertar cansando escuchando la canción. Una vez al mes alguien de mi familia me decía que había estado caminando dormido otra vez. Había una ligera preocupación en sus rostros, pero nada grave. Querían saber si necesitaba ayuda, les decía que no, el tiempo de ser ayudado ya había pasado.
Durante todos los sábados de los siguientes meses despertaba al pie de la cama de alguno de ellos sosteniendo un cuchillo. La primera vez solté el cuchillo del susto y tuve que esconderme debajo de la cama, tratando de no hacer mucho ruido al llorar, tratando de no gritarle a la canción en mi cabeza que se callara por una vez y me dejara en paz. No lo hizo.
Por más que quisiera matar a mi familia no iba a hacerlo, tampoco iba a dejar que la canción me hiciera hacerlo estando inconsciente, fuera de mi cuerpo, sin control alguno de mis acciones. Me mudé, fueron unos meses estresantes pero satisfactorios, logré estar estable por dos años, pero hace tres meses todo comenzó a estar mal otra vez. Todos los días cuando despertaba las cosas no estaban en su lugar, despertaba usando ropa diferente, o con ropa en la lavadora que no recordaba haber puesto ahí. Vivía solo, ¿qué tan mal podía ser poner a lavar ropa estando dormido?
Un domingo por la noche, mientras veía las noticias, la canción apareció y se volvió cada vez más y más fuerte, sin darme cuenta le subí todo el volumen al televisor y cuando lo noté quedé paralizado. Habían encontrado el cadáver de una persona a mitad de la calle el día anterior. Tenía la cabeza separada del cuerpo y una nota musical grabada con un cuchillo en la palma de la mano derecha. Era el cuerpo número veinte que encontraban en los últimos dos meses con una nota musical grabada en alguna parte de su cuerpo. Al finalizar el reporte de la noticia colocaron una grabación de la secuencia de las notas musicales en el orden en el que fueron encontrados los cuerpos. Comencé a llorar, era mi canción, la canción en mi mente, mi canción.
Hace un mes que tuvo lugar ese domingo revelador. Comencé a despertar a cualquier hora de la noche en lugares extraños de la ciudad, en sitios públicos; cada vez me asustaba menos y esperaba con ansias ese momento. Despertaba con el cuchillo lleno de sangre en mis manos, la nota musical ya estaba grabada en la piel. Comenzaba a reírme. Despertaba en la casa de alguien mientras dormía y sabía que tenía que matar y grabar la siguiente nota musical.
Hoy desperté con dos cuerpos a mis lados en una casa que no reconozco. Comencé a escribir esto, el mundo debe saber el porqué de todos los asesinatos recientes. Hay una canción en mi mente que escucho desde que era un niño, nadie más la escuchaba, por eso debo hacer que todas las personas en el mundo logren escucharla. Debo irme, tengo que grabar las dos notas musicales siguientes, la canción no me va a dejar descansar si no lo hago pronto. Hasta luego, y recuerden, pronto ustedes van a comenzar a escuchar la canción también.