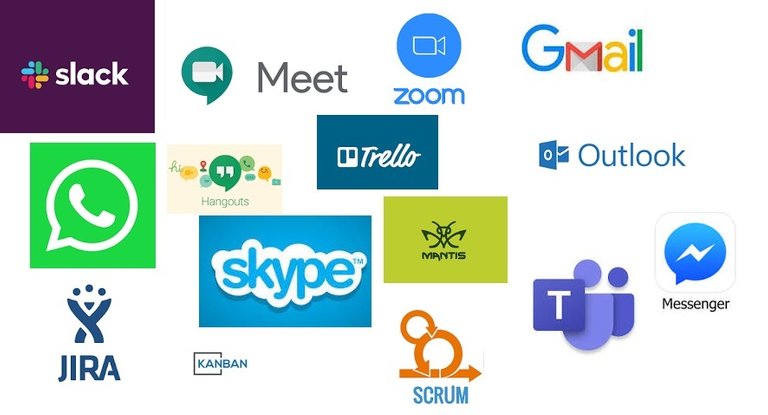 The increase in work from home (home office) motivated by the preventive isolation promoted by the Covid-19, the communication modalities have grown alarmingly, causing saturation of cross and redundant information that threatens good performance, not only of the employees but also the companies that use them.
Of course, the fact that each one of the members of the companies, both customers and suppliers, works from their own home makes the need for communication and coordination very important and in this way partially replicates the fluidity of relationships. face to face and in the same physical place.
That is why a large number of computer tools aimed at collaborating in that communication began to appear and be used, in the fluency and in the need to see, converse, discuss, share graphics and documents and many other similar characteristics.
But what seems like a good reason for research and development also became a saturation and behind it came the lack of control.
Similar tools in their conformation and objectives such as Slack, Teams, Meet, Hangouts, Skype, Zoom, Whatsapp and Telegram just to name some of the best known in terms of conferences and meetings, task boards are added and Trello, Kanban, Jira, Mantis type bug trackers and the less sophisticated but still highly used emails such as Outlook, Gmail, Hotmail. Last but not least are the proprietary tools of each company to control the tasks and workload of its staff.
All this deployment of similar tools leads to saturation and creates contrary effects to what is desired: disinformation, lack of control, lack of synchronization and redundancy, sometimes contradictory.
A few days ago I was waiting for a conference with a client and several developers from my company that was behind, suddenly I received by Skype a message that was waiting for me at a meeting, I was sure it would be done by hangouts like all the previous ones; We are all a little crazy about this confinement and these things work together to upset us a little more.
Meanwhile, in another place, the general manager of a major company sends a WhatsApp to his chief of operations asking him why he does not answer his urgent question, he replies that he did not see it, then the first one tells him:
- How could you not see it ?, If I sent it by text message to your home phone.
---
El aumento del trabajo desde casa (home office) motivado por el aislamiento preventivo impulsado por el Covid-19, las modalidades de comunicación han crecido en forma alarmante provocando una saturación de información cruzada y redundante que atenta contra el buen desempeño, no solo de los empleados sino también de las empresas que las utilizan.
Por supuesto, el hecho de que cada uno de los integrantes de las empresas, tanto clientes como proveedores trabaje desde su propia casa hace que la necesidad de comunicación y coordinación sea muy importante y se logre de esa manera replicar en parte la fluidez de las relaciones cara a cara y en un mismo lugar físico.
Es por eso que comenzaron a aparecer y utilizarse una gran cantidad de herramientas informáticas orientadas a colaborar en esa comunicación, en la fluidez y en la necesidad de ver, de conversar, discutir, compartir gráficos y documentos y otras muchas características similares. Pero lo que parece un buen motivo de investigación y desarrollo también se convirtió en una saturación y detrás de ello vino el descontrol.
Herramientas similares en su conformación y objetivos como por ejemplo Slack, Teams, Meet, Hangouts, Skype, Zoom, Whatsapp y Telegram solo para nombrar algunas de las más conocidas en lo que a conferencias y meetings se refiere, se le agregan los tableros de tareas y bugtrackers tipo Trello, Kanban, Jira, Mantis y los menos sofisticados pero aun altamente utilizados correos electrónicos como Outlook, Gmail, Hotmail. Por último y no menos importantes están las herramientas propietarias de cada empresa para el control de las tareas y carga horaria de su personal.
Todo este despliegue de herramientas similares lleva a la saturación y a crear efectos contrarios a lo deseado: desinformación, descontrol, falta de sincronización y redundancia, en ocasiones contradictoria.
Hace pocos días estaba esperando por una conferencia con un cliente y varios desarrolladores de mi empresa que estaba atrasada, de pronto recibo por Skype un mensaje que me estaban esperando en meet , yo estaba seguro que se haría por hangouts como todas las anteriores; todos estamos un poco locos con esto del encierro y estas cosas colaboran para trastornarnos un poco más.
Mientras tanto, en otro lugar, el gerente general de una importante empresa envía un whatsapp a su jefe de operaciones preguntándole porque no le responde a su urgente pregunta, éste le replica que no la vio, entonces el primero le dice:
- ¿cómo no la vio?, Si se la envié por mensaje de texto a su teléfono particular.
la imagen que ilustra este post fue creada por mi a partir de los logos de los diferentes productos.
The image that illustrates this post was created by me from the logos of the different products.
Héctor Gugliermo
@hosgug