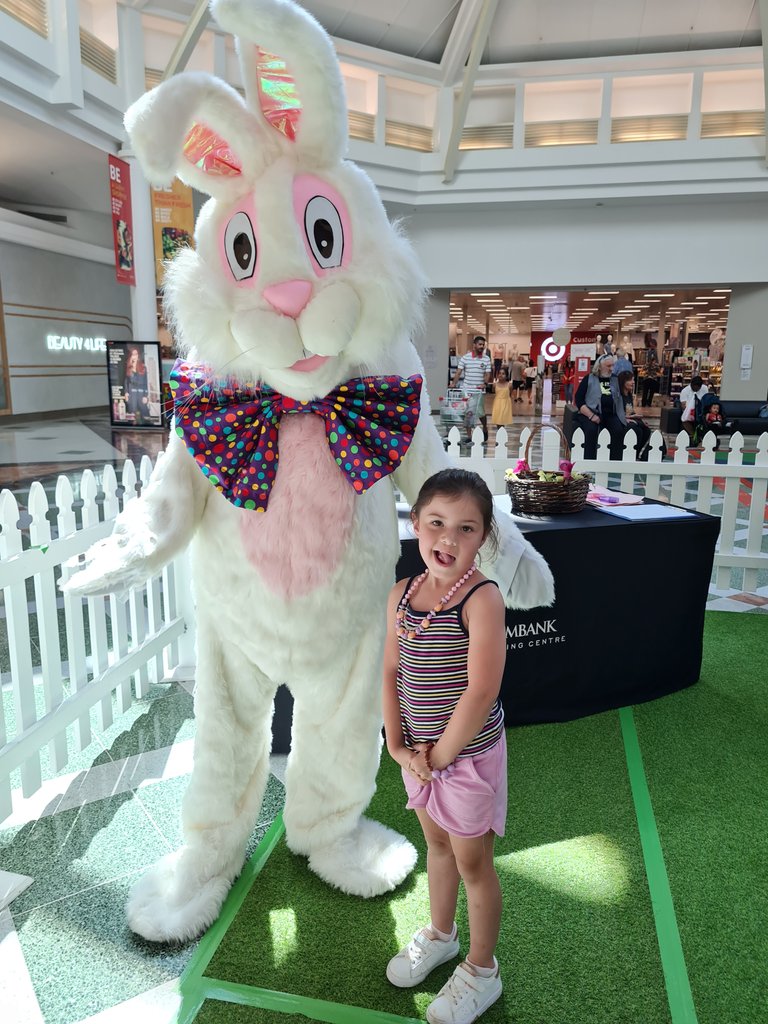 Easter was a few weekends ago and I've held onto these images, I take alot of pictures in life and don't always share them. I believe some moments are for holding dear. I wasn't sure if I would share these but I decided that I would.
We went last minute shopping like everyone else on Easter to buy food and drinks and all the stuff you need to have family over. We seemed to have arrived at the right time though as there was an eater egg hunt on. It was a pretty cool thing to do by the centre management of the super market and it made my kids day.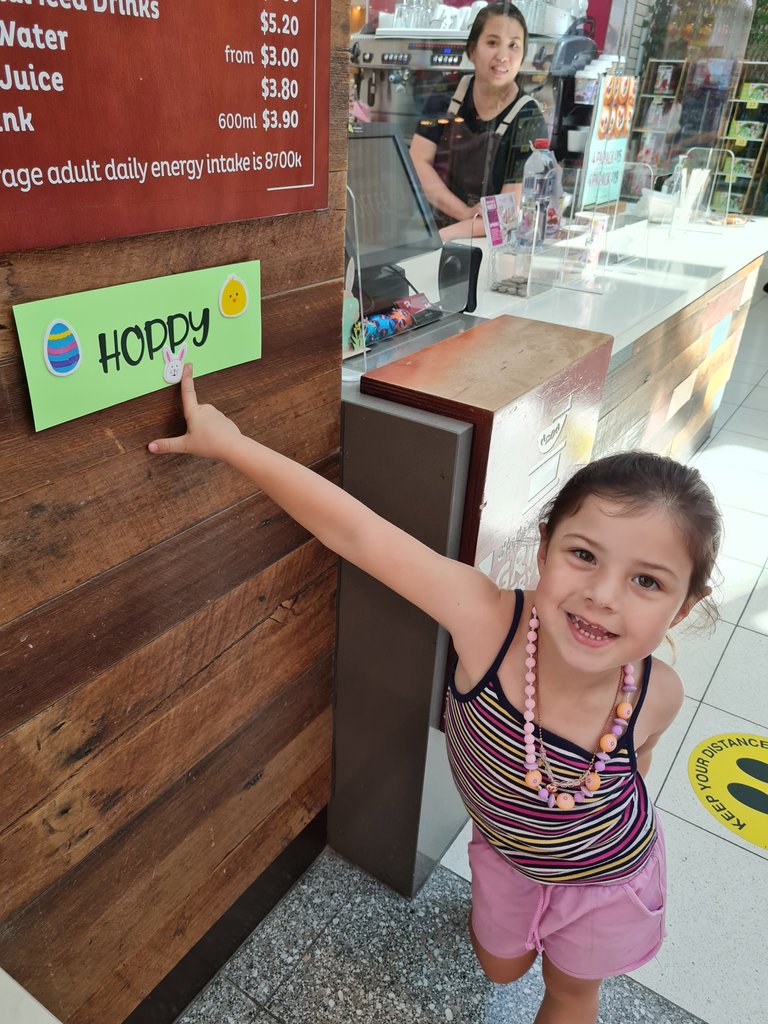 The Easter hunt was pretty well planned out by the supermarket and some of the stores got right into it. The task was pretty simple, find all the hidden words, fill in the sheet of paper to unlock the secret code, return to the Easter bunny and claim victory. You would be provided with your very own bag of chocolate Easter eggs as a reward.
I'm a pretty competitive person and I don't like to lose so we headed off charging out of the gates not intending to let lil miss down. It's a decent sized shopping centre and a few hundred shops. The paper provided hints on where some of the words were so following the clues made it easier.
I approached a few stores that the clues pointed to only to find out that a number of stores decided they no longer wanted to participate and removed the words! It was a shit move to be honest, why sign up and then exit leaving some pretty upset kids.
Other stores decided to remove the words and place them down the back of their stores near toy sections. This was a smart move as I entered one of those cheap bargain stores and there were a few dads in there stuck with their kids who didn't want to leave the toy section.
Lil Miss was hell bent on scoring her free chocolates and kept telling me to hurry up, for once she didn't get stuck in the toy section!
We were a few words short and lil miss asked me why the shops weren't playing or letting her have the words and I didn't know how to respond. She was devastated and thought we wouldn't be able to claim our free chocolate. Fortunately she has a super dad on hand and after getting two words we deciphered the code. It wasn't that hard and quite generic. Have a Save and Happy Easter from Brimbank Central
I filled in the paper and we headed back, you should have seen the look on her face. She was worried I got it wrong.
We went back to the Easter bunny to deliver the completed egg hunt form. We explained that a number of shops had removed their words and a few kids were stuck. The bunny just shrugged his shoulders.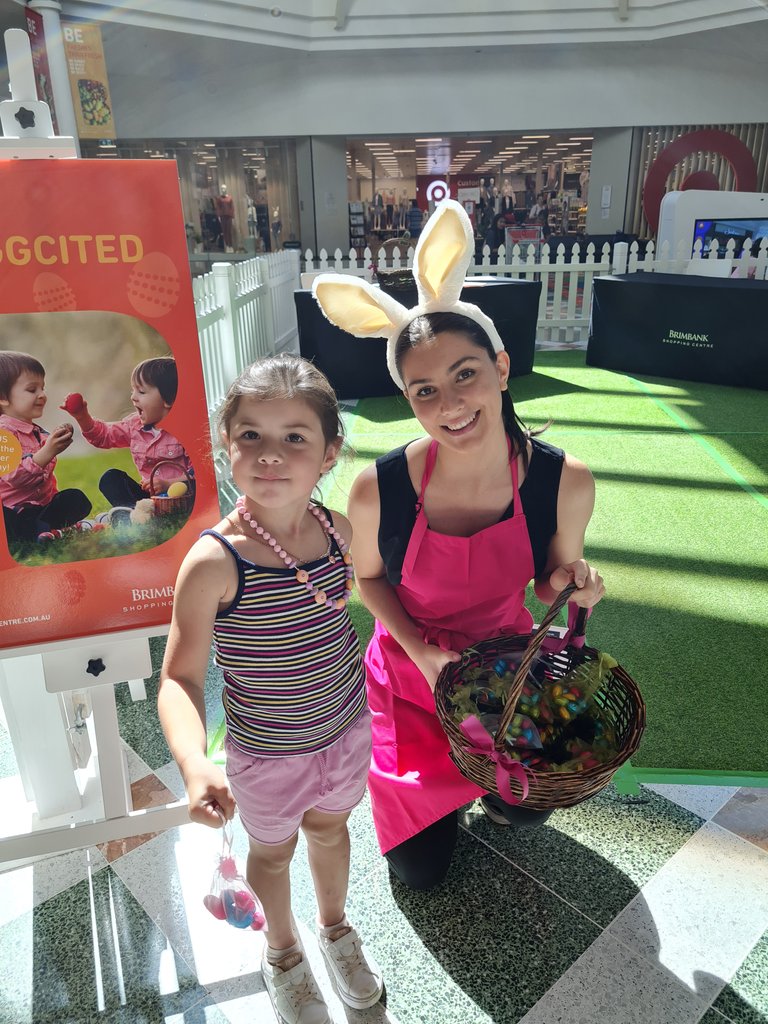 The Easter bunnies helper arrived and handed lil miss a bag of chocolate Easter eggs and she was over the moon with joy. A number of people arrived to claim eggs without undertaking the hunt and it was pretty funny hearing lil miss tell the other kids off. No! You need to do the egg hunt first!
It was a really great activity for the kids to do on Easter and I had an absolute ball running around the shops Like a chook with no head on trying to find words. I felt like I was losing the plot.
How was everyone else's Easter, did you get upto much?