Greetings, everyone. Hope you are having a good weekend.
If you think your weenend is crappy, think it twice and see what kind of weekends people in Yaguaraparo will be having for some time.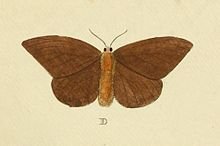 Source

The Invasion of the Yaguaraparo Yellowtail moth (Hylesia metabus) | La Invasión de las palometas peludas de Yaguaraparo.
Yesterday I got this video from a nephew whose wife and son are in the town
Just looking at this images sent me back in time and gave me the horrible sensation that I needed to scratch my neck really bad.
My childhood is marred by some horrible memories of these moths. The allergy produced by these creatures was so bad it would have sent us all into panic attacks, had we been familiar with the term back then.
I must have been 6 or 7 when I had my first encounter with Hylesia metabus. I remember I was playing with some girls who were visiting from Caracas. It was already dark and, as it was customary back then, the streets were full of children playing the night games of old; every group in their street, close enough to our houses to hear our mother's calls to come home for dinner or to sleep.
I remember looking up at the light post and seeing this unusual "butterfly" flying around the light bulb and then hovering over us. Some minutes later there were half a dozen of them, some flying low enough for us to touch them. One of the girls from the city wanted to hold one of these fat country butterflies, so I captured one for her. It was not difficult. These things were very slow and looked as if they were drunk. Their flight was erratic and, like all moths' suicidal. My new friend from the capital was very excited and I felt like a hero, but the excitement and the pride did not last much. You see, the Hylesia's urticating hairs, or so we learned too late, are very effective in giving anyone exposed a rapidly visible dermatitis that feels like you're getting tattoos all over your body.
We started to cry in desperation, scratching our arms and neck as the hairs from the one we had touched and the ones that were still flying over us invaded every part of our bodies. We ran to my house, which was closer than her relatives'. My mother was shocked. The city girl, who had been paper white some minutes ago, was now blood red all over and swollen like a balloon.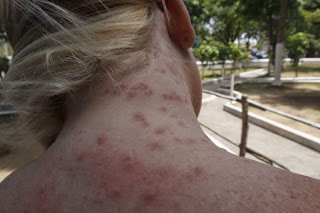 Source
"They are back; the palometas are back!", my mother sentenced. She told us it had been years since they last had seen these moths, a pest they traced back to a curse put on the whole town by a priest who was treated badly by the local folks.
I don't know about curses, but these devilish creatures have pestered my town and the neighboring region every single year ever since.
Sometimes they come once a year, sometimes more than once. For decades now, tons of papers have been written by biologists, entomologists, dermatologists, and many other scientists, but that region being rural and insignificant for the big players, little has been done to put an end to the palometas.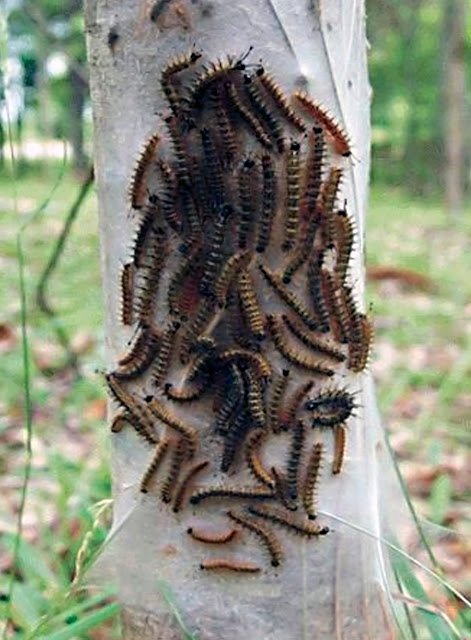 Source
The only thing they have done for decades is to fumigate the larvae in the mangrove, the moths once they come out, and turn off all street lights to avoid calling their attention. That does not help at all since, even dead, their hair equally affects people when the wind blows it from the tramps where they are caught and killed and unless people remain indoors at all times, a brief contact with that hair is enough to trigger the allergy.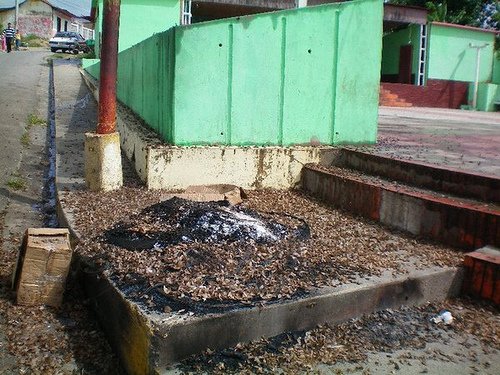 Source
We did not know back then that only the hair of the female moth causes the allergy. That might explain why some guys, including my father, were able to hold them and even rub them on their skin without experiencing any reaction. Not that they knew how to tell a female from a male, anyways. Daredevil's luck, I guess.
This moth was first described by Pieter Cramer in 1775 and the itching that it produces has been called "Caripito itch" after some British seamen experienced it at the port of Caripito, state of Monagas, south from my home state of Sucre.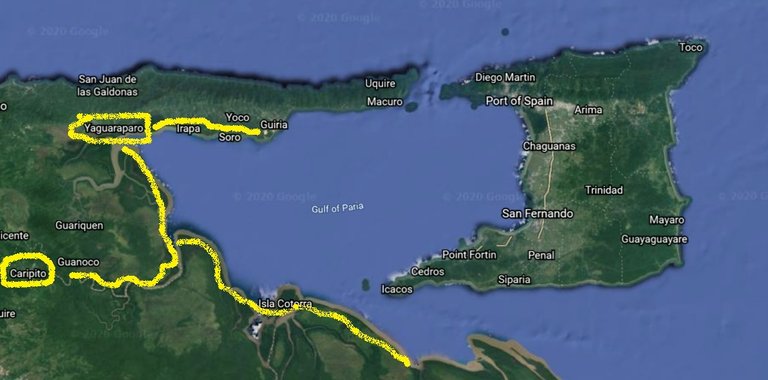 From Guyana, South East, to that yellow area in the map around the west coast of the Golf of Paria, the palometas' territory. Image from Google Map
Not every person is allergic to the palometas peludas, but I'd say a very high percentage is. I was so allergic that the very mention of the damn thing sent me rushing and scratching to our red cross cabinet looking for alcohol and baby powder. Butterflies were never the same for me after my encounter with these palometas. Even if they had lots of colors it would take me a while to put aside the idea that these fuckers had mutated somehow to fly during the day in colors other that itchy brown.
The town in under red code emergency now. Not that that means anything at all for local or national authorities. I feel for my relatives and friends who have to undergo that natural disaster too, as if the man-made economic disaster were not enough.
In this video the coordinator of the program that is supposed to control the reproduction of the moth is making an urgent call to authorities asking for all the support and declaring a red alert.


Thanks for stopping by and have an itch-free rest-of-the-weekend!