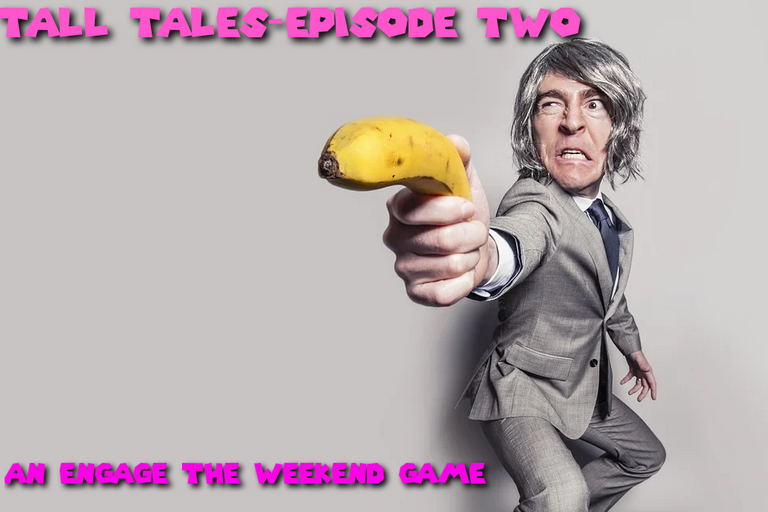 Well its the weekend again and time for another round of Tall Tales! The game where I share three stories. Two of which are real and one which is a complete fabrication. Your part is to guess which story of mine im pulling your leg on.
To continue on the fun, in the comments section leave three short stories or facts of your own and make sure one is completely made up. Have fun watching us debate which story of yours is totally fake.
On the 28th this sunday at 8pm EST I'll reveal the answers to the game and which story is the tall tale. Feel free at that time to tell us if anyone got your own fictional tale right. And reveal your answer.
On to the Tall Tales!


A few years ago my best friend and I had just finished an evening of night fishing. Tired and frustrated from catching nothing we began the long 45 minute hike back to our truck.
It was about 1am with a bright full moon and we're absent mindedly walking around a sharp bend in the road when we come face to face with a massive male mountain lion. We're about ten miles from the nearest hunan being and the cat knows it. Fifteen feet in front of us the cat freezes blocking the road and just sizes us up for several moments. About six foot long and 200 pounds, you can tell he's calculating his odds.
Next thing we know in a single leap it hops up a embankment and crouches down in the grass watching us. The entire walk back to the truck we walked backwards never taking our eye off the cougar who stalked us all the way hoping to find an opportunity where our guard was down to pounce and eat us.


I was driving one day on a very curvy section of a famous Hollywood road called Mulholland drive. A dog suddenly runs out in front of my car and I swerve to avoid it. In the process I lose control of the car and go over a cliff or very steep embankment.
My car is teetering and on the verge of tumbling down the hillside and onto the roof of a very expensive home. Panicked, I scramble up the side of the cliff and run out onto the road looking for help.
The first person who comes along is Jack Nicholson in a red mercedes convertible. I try and flag him down yelling I need help and pointing towards the cliff. The movie star either confused or just irritated salutes me, stomps on the gas and careens down the road past me not wanting anything to do with me.
It took another twenty minutes before I could stop somebody and get help.


I was hiking one time with just one other friend in a wooded canyon just north of los angeles. It was a nice sunny peaceful day and we decided to go a little off trail. We push through a set of thick bushes and come across a hidden marijuana grow operation.
At first we were stunned. It's not something we expected to suddenly come across. Then, just as we were leaving, two hillbillies for lack of a better word come out of the bushes with rifles aimed at us. They held us captive for almost an hour deciding what to do with us until we were able to convince them that we wouldn't rat them out to the police or give away their operation.
To this day I still get anxiety hiking in the woods afraid I'll come across another illegal grow opp or moonshine still.
---


Here is a picture of a seemingly ordinary stick in my possession. It has been completely striped of bark.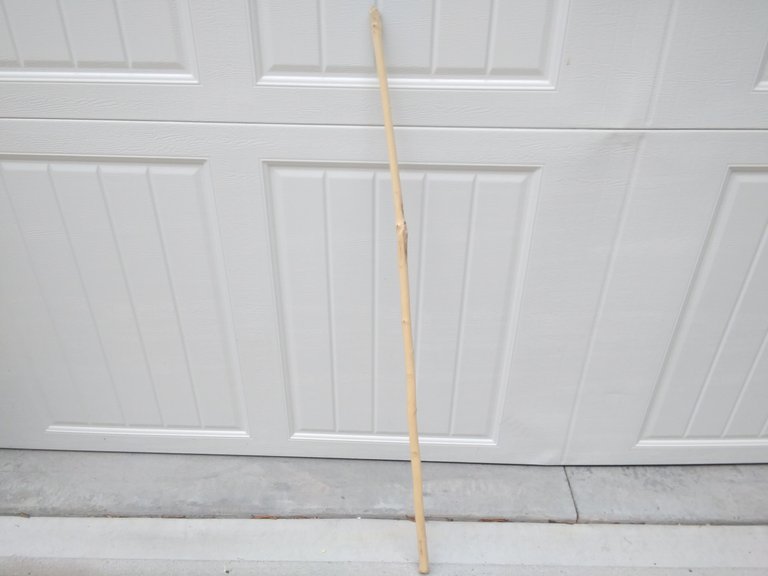 Which explanation of how I came into possession of the stick is the truth.
---
1. I was hiking in the woods north of Greenville south Carolina earlier this year. The woods were particularly thick here and as I paused on the trail to look at my surroundings. Somebody or something threw a perfectly straight stick purposely striped of all its bark through the trees at me. It was thrown like a javelin and landed right by my feet.
---
2. I found the stick down by a creek near my house and I like to secretly imagine im a pirate and swashbuckle with the stick often pretending its a sword.
---
3. My neighbors kid brought me the stick one day as a gift. I accepted it thinking it was a neat stick only to later find out he had spent the entire morning spearing dog poop with it.

---
Ok. So in the comments below tell me which story above is the lie, and for the picture tell me which story is the truth.
Don't forget to join in on the fun and leave three stories of your own in the comments and make sure one is completely fake. Lets see if we can guess which story of yours is the lie.
If you guys enjoy fun posts with lots of engagement then make sure to check out the Weekend Engagement Community @galenkp has put together.
https://peakd.com/c/hive-168869/created
So see last weeks capers and the Tall Tale within click on the link below.
https://peakd.com/hive-168869/@hidave/tall-tales-an-engage-the-weekend-game
And answers to last weeks game
https://peakd.com/weeken-engagement/@hidave/game-winners-and-the-truth-to-tall-tales

---
Picture by pixabay.com
Picture of mysterious stick by hidave