Oh, man, It's been a while since we had a bit of a run in Hive's price. It's nothing that amazing considering what happened to other cryptos lately but it's still nice to get out of the 0.11$-0.12$ range for a while.
At the moment of writing this, Hive is trading at almost 0.14$ according to @coingecko, having a +5.5% price increase in the last 24 hours and an +18% price increase in the last 2 weeks.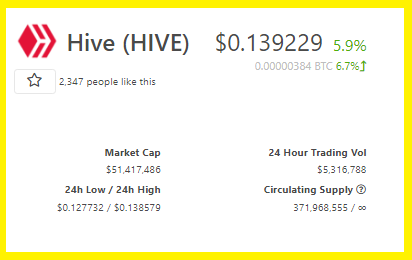 I hope we get to see it at 0.15$ soon since it's been a while since we have been on that level and it feels really bad to see a lot of others coins crushing it while Hive keeps on remaining at the same level.
Leo also had a +5% day and is trading at 0.48$ at the moment which is also nice. Maybe it won't take long and we will get to witness another ATH for Leo. That would be sweet as hell.
Anyway, thanks for reading and I wish everyone an amazing start of the week.
Cheers!
Posted Using LeoFinance Beta