The number of Hispanics living in Hive is increasing and a considerable percentage of them are Venezuelans. The 2020 with its saying "stay at home" was one of the main causes for these numbers to be significant.
El número de hispanos que hace vida en Hive cada vez es más alto y entre ellos un porcentaje considerable son venezolanos. El 2020 con su dicho "quedate en casa" fue una de las causas principales para que esos números fuesen importantes.
Among other things, I am a curator at Hive with my project @hispapro and I have noticed that a large group of users receive good authoring rewards as content creators. These rewards are a vital element of most homes in these hivers I'm in!
Entre otras cosas, soy curador en Hive con mi proyecto @hispapro y he notado que un gran grupo de usuarios recibe buenas recompensas de autor como creadores de contenido. Estas recompensas son elemento vital de la mayoría de los hogares de estos hivers ¡Estoy dentro!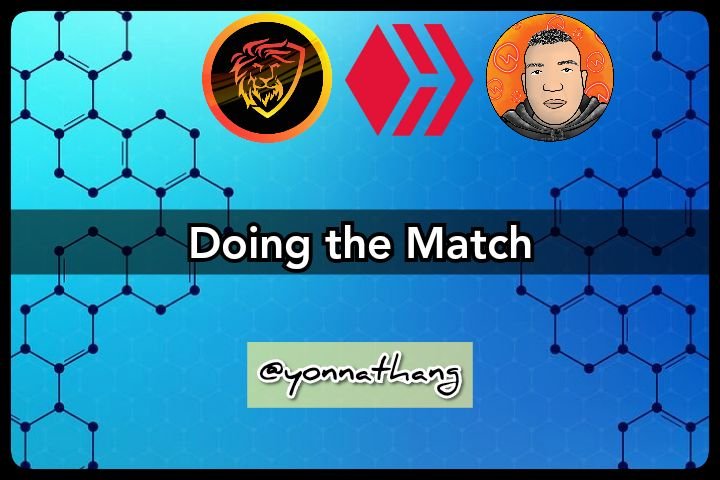 Therefore, there is a high pressure to sell the obtained HBDs and in many cases the powerdown is the option to get out of unexpected economic commitments.
Por tanto, existe una alta presión para vender los HBD obtenidos y en muchos casos el powerdown es la opción para salir de compromisos económicos inesperados.
The best way to change HBD\VES // La mejor forma de cambiar HBD\VES
Fortunately for those of us living in Venezuela, there are several options to exchange the HBD/Hive crypts for the local currency (VES). However, comrade @fermionico in one of his publications warned about a mistake that is a common denominator in the Hispanic community. We changed the HBD token which generates an extra expense to the exchanges and with this it follows that it is more profitable to change Hive.
Afortunadamente para aquellos de nosotros que vivimos en Venezuela, existen varias opciones para cambiar los criptos HBD/Hive por la moneda local (VES). Sin embargo, el compañero @fermionico en una de sus publicaciones advirtió sobre un error que es un denominador común en la comunidad hispana. Cambiamos el token HBD lo que genera un gasto extra a los intercambios y con esto se deduce que es más rentable cambiar Hive.
He also pointed out that the best way to do this is to sell the HBDs on the internal market to obtain Hive and then immediately exchange them for the VES. He also explained that it is a healthy practice to stimulate the internal market and as a consequence obtain a difference in favour of the swap.
También señaló que la mejor manera de hacerlo es vender los HBD en el mercado interno para obtener Hive y luego realizar el canje de inmediato por el VES. También explicó que es una práctica sana estimular el mercado interno y como consecuencia obtener una diferencia a favor del canje.
After listening to the information, I made the decision to verify for myself the profitability of this process.
Luego de escuchar la información, tomé la decisión de verificar por mí cuenta la rentabilidad de este proceso.

For this exercise I took the Orinoco exchange with its Orinoco.io platform as an example.
Para este ejercicio tomé como ejemplo el intercambio Orinoco con su plataforma Orinoco.io.
The value of the Hive for the date and time of capture is: // El valor del Hive para la fecha y hora de la captura es de:
1 HBD = 1279913.62 VES
---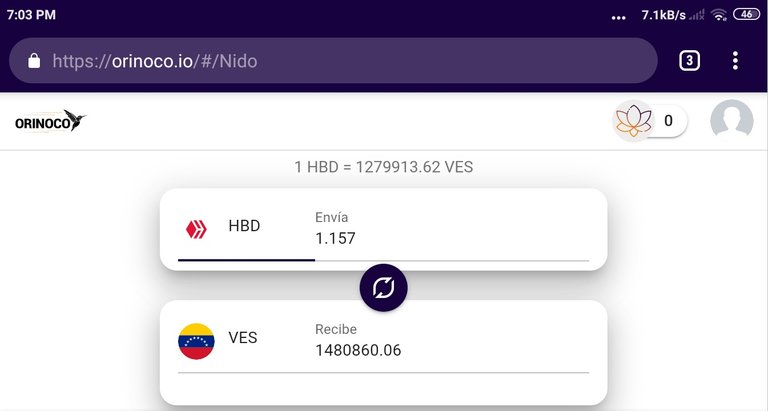 It can be seen that: // Se puede apreciar que:
1 HBD = 7.435 Hive
---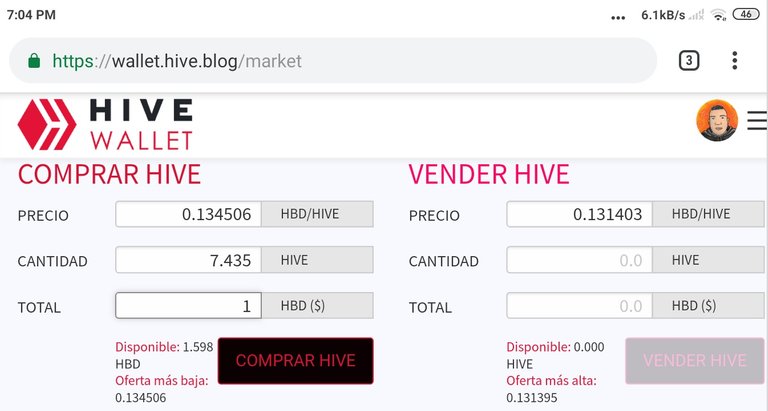 The total of Hive: // El total de Hive:
7.435 Hive = 1376758.93 VES
---

Conclusions // Conclusiones
More and more content creators are joining the platform and this is good news. With this increase in users, plans must be devised to educate in the culture of gambling as one of the most efficient ways to protect liquid assets. In this regard, Hive serves as the main investment option and also its second layer LEO token. You decide!
Cada vez más creadores de contenido se unen a la plataforma y esta es una buena noticia. Con este aumento de usuarios, se deben idear planes para educar en la cultura de las apuestas como una de las formas más eficientes de proteger los activos líquidos. En este particular, Hive sirve como la principal opción de inversión y también su token de segunda capa LEO. ¡Tu decides!
This shows the good recommendations of the popular @fermionico through its channel on 3speak, which is reported as a channel of audience growth that last year was very successful throughout its journey. The best of the successes in the year that has just begun.
Esto demuestra las buenas recomendaciones del popular @fermionico a través de su canal en 3speak, el cual se reporta como un canal de crecimiento de audiencia que el año pasado tuvo mucho éxito en todo su recorrido. El mejor de los éxitos en el año que acaba de empezar.
---
End / Fin
---
---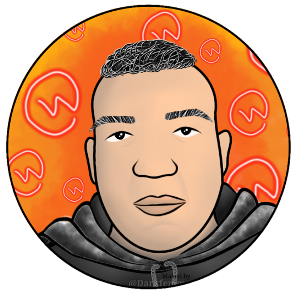 That's all for now, friends. Wishing we could meet again by this means. Without further ado, a respectful and fraternal greeting.
Eso es todo por ahora, amigos. Deseando que podamos encontrarnos de nuevo por este medio. Sin más preámbulos, un saludo respetuoso y fraterno.
---
---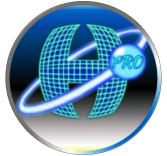 We are working in @hispapro to give value to Hive. If you plan to join and contribute to the platform we invite you to visit our Discord server to join forces and intentions and thus achieve short and medium term results for the benefit of all.
En @hispapro estamos trabajando para dar valor a Hive. Si planea unirse y contribuir a la plataforma, lo invitamos a visitar nuestro servidor Discord para unir fuerzas e intenciones y así lograr resultados a corto y mediano plazo en beneficio de todos.

Original Creation by: @yonnathang
El avatar es creación de @darkfemme

Posted Using LeoFinance Beta