This publication was also written in SPANISH and PORTUGUESE.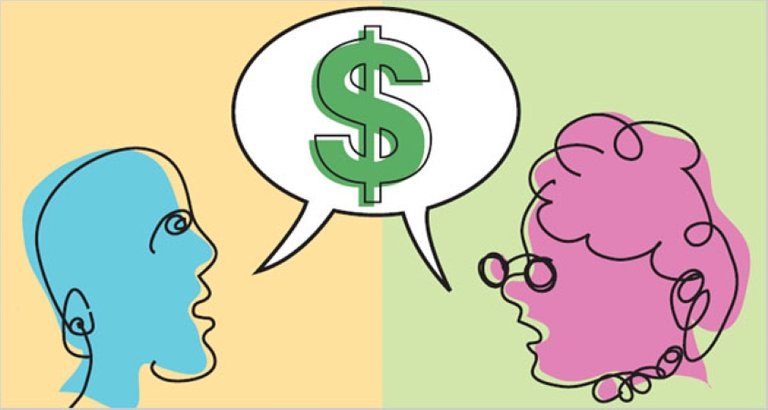 Planning Capital Management
Maybe I am wrong, but I think that anywhere in the world, for those who are not essentially wealthy, talking about finance must be a very thorny issue when it needs to be dealt with as a family. Of course, it is necessary to take into account what each person's family is like (after all, there is no standard that defines them... however, similarities do exist), because this becomes a determining (and predominant) factor.
Among more conservative thoughts and more daring thoughts, I can say that in my family, we follow the most conservative pattern. Basically, we chose a specific date in the month where all shared (mandatory) monthly bills can be paid on time (because paying interest here in Brazil, in any aspect, is absurd!), and considering our expenses (which are not vary a lot), we talked.
Fortunately, our house is our own (so that amount is out of our budget). The main accounts are for water, energy, food, gas and internet. In my family, these conversations do not usually take long, because as I said before, expenses and possible extra fees do not usually vary much (except when some event that is on the budget "is off track"), but talking is a monthly habit.
Here, I am the only member who bets on cryptocurrencies and seeks to understand more and more about blockchain. Sometimes I feel like saying that I can help more with bill payments, but due to their lack of interest in talking about it and the lack of motivation (which is a consequence of their behavior) I don't comment on my earnings online (blogging) and use only my real-world salary.
There is no room for me to talk about anything other than money in its traditional form (printed money), because for more practical purposes, money in its tangible form always sounds like something more pleasant to many people. At least here in Brazil, this is very compressible... But at the same time, I must confess that I am still very frustrated with the limited and archaic view of money.
---
¿Qué tan abierto está a hablar de dinero con su familia?
Tal vez me equivoque, pero creo que en cualquier parte del mundo, para aquellos que no son esencialmente ricos, hablar de finanzas debe ser un tema muy espinoso cuando hay que tratarlo en familia. Por supuesto, es necesario tener en cuenta cómo es la familia de cada persona (al fin y al cabo, no hay un estándar que los defina... sin embargo, sí existen similitudes), porque esto se convierte en un factor determinante (y predominante).
Entre pensamientos más conservadores y pensamientos más atrevidos, puedo decir que en mi familia seguimos el patrón más conservador. Básicamente, elegimos una fecha específica en el mes donde todas las facturas mensuales compartidas (obligatorias) se pueden pagar a tiempo (¡porque pagar intereses aquí en Brasil, en cualquier aspecto, es absurdo!), Y considerando nuestros gastos (que no son varían mucho), hablamos.
Afortunadamente, nuestra casa es nuestra (por lo que esa cantidad está fuera de nuestro presupuesto). Las principales cuentas son de agua, energía, alimentos, gas e internet. En mi familia, estas conversaciones no suelen llevar mucho tiempo, porque como dije antes, los gastos y posibles recargos no suelen variar mucho (salvo cuando algún evento que está dentro del presupuesto "está fuera de lugar"), pero hablar es un hábito mensual.
Aquí, soy el único miembro que apuesta por las criptomonedas y busca entender cada vez más sobre blockchain. A veces tengo ganas de decir que puedo ayudar más con el pago de facturas, pero debido a su falta de interés en hablar de ello y a la falta de motivación (que es consecuencia de su comportamiento) no comento mis ganancias online (blogs) y usar solo mi salario del mundo real.
No tengo espacio para hablar de otra cosa que no sea el dinero en su forma tradicional (dinero impreso), porque para propósitos más prácticos, el dinero en su forma tangible siempre suena como algo más agradable para muchas personas. Al menos aquí en Brasil, esto es muy comprimible... Pero al mismo tiempo, debo confesar que todavía estoy muy frustrado con la visión limitada y arcaica del dinero.
---
O quão aberto você é para falar sobre dinheiro com à sua família?
Talvez eu esteja equivocado, mas eu acho que em qualquer lugar do mundo, para quem não é essencialmente rico, falar sobre finanças deve ser um assunto muito espinhoso quando ele precisa ser tratado em família. É claro que é preciso levar em consideração como é a família de cada pessoa (afinal, não existe um padrão que as defina... no entanto, as semelhanças existem), porque isso se torna um fator determinante (e predominante).
Entre pensamentos mais conservadores e pensamentos mais ousados, eu posso falar que na minha família, nós seguimos o padrão mais conservador. Basicamente, nós escolhemos uma data específica no mês onde todas as contas mensais (obrigatórias) possam ser pagas no tempo certo (porque pagar juros aqui no Brasil, em qualquer aspecto, é um absurdo!), e considerando os nossos gastos (que não costumam variar muito), nós conversamos.
Felizmente, a nossa casa é própria (então esse valor fica fora do nosso orçamento). As principais contas são com água, energia, alimentação, gás e internet. Na minha família essas conversas não costumam demorar muito, porque como eu já falei antes, os gastos e eventuais taxas extras não costumam variar muito (a não ser quando algum evento que no orçamento está "fora dos trilhos" acontece), mas conversar é um hábito mensal.
Por aqui, eu sou o único membro que aposta em criptomoedas e que procura entender cada vez mais sobre blockchain. Às vezes eu sinto vontade de dizer que eu posso ajudar mais nos pagamentos das contas, mas pela falta de interesse deles em conversar sobre isso e pela falta de motivação (que é uma consequência do comportamento deles) eu não comento sobre os meus ganhos online (blogando) e utilizo apenas o meu salário do mundo real.
Não há espaço nenhum para eu falar sobre algo que não seja o dinheiro em sua forma que já é tradicional (dinheiro impresso), porque para efeitos mais práticos, o dinheiro em sua forma palpável sempre soa como algo mais agradável para muitas pessoas. Pelo menos aqui no Brasil, isso é muito compressível... Mas, ao mesmo tempo, eu preciso confessar que eu ainda fico muito frustrado com à visão limitada e arcaica sobre dinheiro.
Posted Using LeoFinance Beta