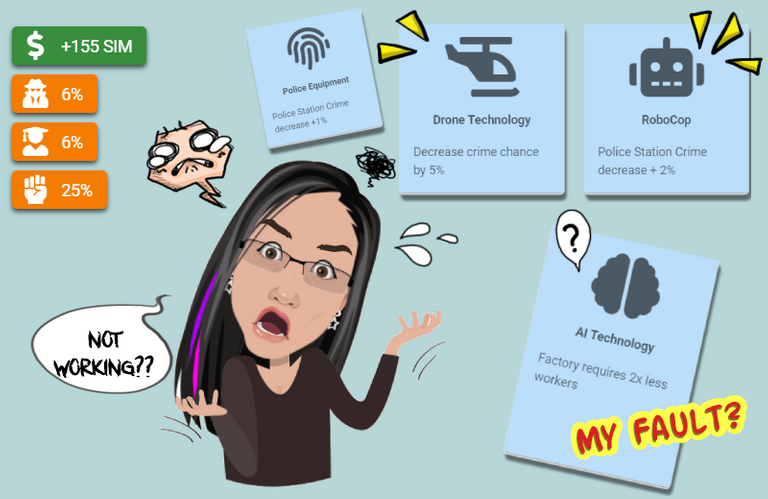 Today I have decided to test instead of purchasing more professional cards, I have invested a tech card to reduce work force need for factory in order to fill up the needs of other working cards to hire, such as Circus and Gym.
You know, just to reshuffle manpower; so everyone gets a job.
Unfortunately, this didn't work.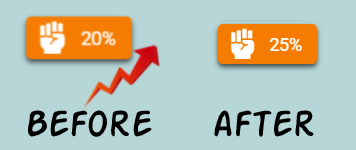 Not only it didn't reduce crime % rate, it actually increases crime rate by 5% !
---
After reading @slobberchops ' comment on yesterday's post regarding investing on tech cards to reduce crime rate, I agreed that this could work; so off I went to shop for some Law & Order (Control) cards to decrease Crime Rate.
I already had Police Equipment card with me, so I went shopping for these 2 instead.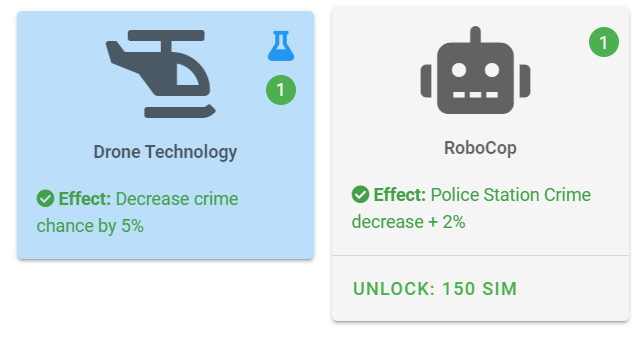 These 2 "new kids on the block" should have somewhat decreased the crime rate....
Apparently not!
---
Wrong investment? Erroneous calculation of game play? Game Glitch?
There must be somewhere that could have gone wrong, because of the AI Card?
(Yeah.... blame it all on AI!)
How about yours?
Did you encounter the same problem when you implemented an A.I Card; or is it because I have 21 homeless and 10 Immigrants pairs that just wouldn't bothered with Law and Order technology cards?
Do share your experience in the comments below. Your expertiese is greatly appreciated!