This could have been your Overlord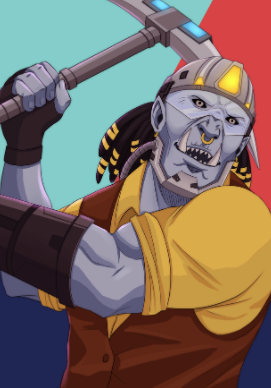 I think it's safe to say that the threat of an outright monopoly was dealt a serious blow today as the GOVERN function of FARMGOV went into effect. Players can now use their FARMGOV tokens on their wallet screen by clicking on the "govern" option next to their FARMGOV balance. They'll be prompted with a screen like that below: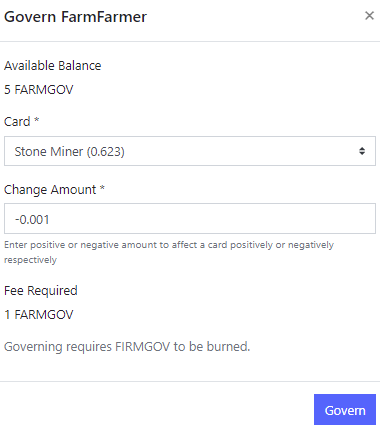 A Bullet Dodged?
What may have been a long-term devastating blow was the fact that a single player owned 88% of the Stone Miners. What's more is that this person was widely diversified across the field in the other categories and so there was a very tangible threat that this person could siphon & outperform everyone else in allocating essentially all of the mining power into a single character in which they dominated.
But as the new govern function became known, it's becoming increasingly unlikely for this to occur. Why? Because the cost of changing the mining power is just far too great. It costs 1 FARMGOV to move the mining power just 1/1000 points. Keep in mind that the Computer Coder starts at 20.000 and the Stone Miner started at 0.500 mining power. For perspective, it will take 19,500 FARMGOV in order for that Stone Miner to be pushed up just to match the power of the Computer Coder, let alone exceed it thereafter.
Consequences
While I for one fully applaud the developers for implementing this somewhat low-impact governance, it does come at a price. For all of the past week, FARMGOV was basically being bought up by that one single individual, and at extremely high prices.
I severely doubt this will continue. Indeed, I would expect for FARMGOV prices to dramatically decline in the near future in light of it's limited impact to the game dynamics. While this might hurt in the FOMO compartment of getting high prices, hopefully it does increase the willingness of people to actually play the game rather than treating their FARMGOV like the new Bitcoin.
Posted Using LeoFinance Beta