Are You Ready??
On Thursday, many of the big tech giants will report their quarterly earnings in a frenzy that is sure to shift markets. Apple (AAPL), Alphabet (GOOGL), Amazon (AMZN), and Facebook (FB) will all report their earnings after Thursday's close.
This comes off a down day in which the Dow was down by 943 points in one of its largest sell-offs in months. Can the market leaders reverse this trend or will any earnings beats result in a sell-the-news moment? After all, it is well anticipated that most of these companies will beat earnings given the recoveries seen in the last quarter. Indeed, a recent blowout by Snap (SNAP) has already suggested that the online advertisers such as Alphabet & Facebook are likely to ride on similar market coattails.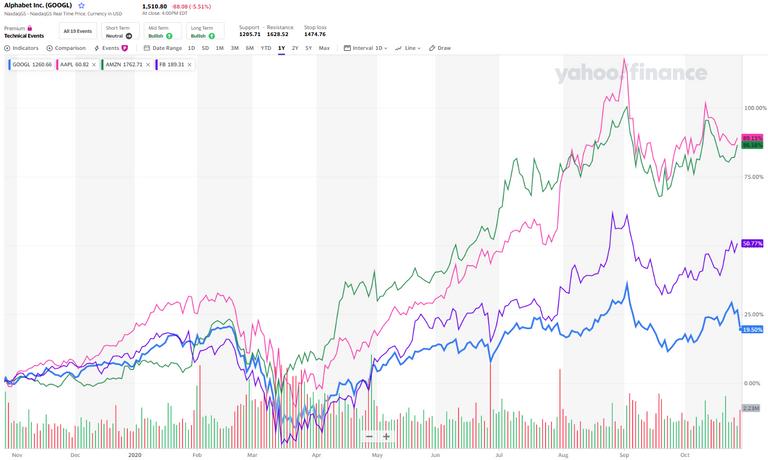 Compounding the issue though is the ongoing antitrust issues that continue to playout, with the most susceptible victim likely to be Alphabet. The reverberations that are likely to play out simultaneously across the waters in Europe are likely to compound the issue going forward. Additionally, with COVID-19 cases on the rise globally as we head into winter, economies around the world are likely to slow down yet again, resulting in potentially slowing earnings guidance going forward.
This leads to a curious situation in which fully valued companies will be able to continue their momentum despite the headwinds of regulatory pressure and a economic backdrop that is likely to be less positive moving forward.
Will Wednesday's sell-off prove to have let enough steam out of the bubbly tech names to give them a boost if they beat earnings and forward guidance?
Stay tuned. We're about to find out.
Posted Using LeoFinance Beta