ASK LEO : DOES MINDSET PLAYS A ROLE IN OUR PATH TOWARDS ACQUIRING WEALTH?
Attaining a point where we can literally come to a consensus that we're wealthy and have arrived at a point of being financial secured requires a lot, which ranges from indulging in extra work, investing wisely in projects and concrete research on different wealth accumulating ideas and co, but does mindset as a role to play in our bid towards becoming financially secured?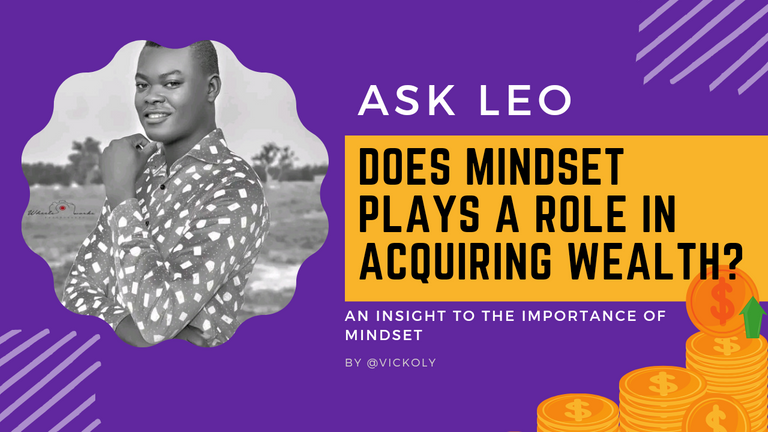 Design by me on canva.
The truth is that in any plans or destination we wish to attain, the role of mindsets can never be overemphasized, there's a common saying that we can only become what we can envision, so in achieving our goals and accumulating wealth, the place of creative imagine, thinking and mindset can not be put aside, because the things we've envisioned within our mind will literally create a desire and birth a hunger that wishes to do all it takes to arrive at our envisioned final destination.
It's worthy of note that, it's unlikely for you to become what you cannot see, get hold of and have within you mind, the beauty that comes from having these mindset when trying to acquiring wealth is that it mount pressure on us, which then energizes us be become focus, resilient and persevere throughout whatever would have stand as a distraction or step backs in our path towards acquiring and having such things in reality.
Every time we think and wish to attain a point within our mind, a pressure is being infused on us to get to that point in reality before our mind will be at ease, so below I listed some Importance of mindset in our path towards acquiring wealth.

THE ROLE OF MINDSET IN ACQUIRING WEALTH
It incubate a desire to succeed on you.

It mount a pressure on you.

It makes you remain focus on the desired destination.

It brings about a creative thinking and constructive implementation that aids your journey towards financial stability.
With those being said, and we knowing how important mindset is, it's worth of note that though mindset plays a big role on how we fair in any path, it should be noted that a right mindset without concrete implementation is just meer wishes that will never come to existence, so for us to acquire wealth, then We must compliment our mindset with a zealous effort.

Thanks for staying with me thus far, I hope these article brooded something within you, till we met in the next write-up, have a blessed day.
Posted Using LeoFinance Beta
---
---