I'll always keep you posted with changes happening around Hive tokens. I'm already in the future of internet tokenization. This would happen in internet communities and we're already experimenting that here on the Hive blockchain. I wish I had understood much more about Hive tokens as I do back then in Steem, it would have been a different story altogether. The good part of the story is that I've seen and I'm running with it.
The future of Hive blockchain hangs with the Hive tokens and whosoever wants to be relevant here in the next 2 to 3 years must have an affiliation with the token economy of Hive. The launch of https://www.palnet.io/ around the Q3, 2019 was the beginning of tribes and tribes token on Hive blockchain. We started earning PAL in addition to STEEM then in posts by adding the "palnet" tag.
Those who were involved can tell the buzz that surrounded the PAL token on the then steem-engine market. The good thing was that all contents were supported and zoom! there was push for other communities to emerge with their token. PAL actually did set the pace. Thanks to @Agrroed and his team.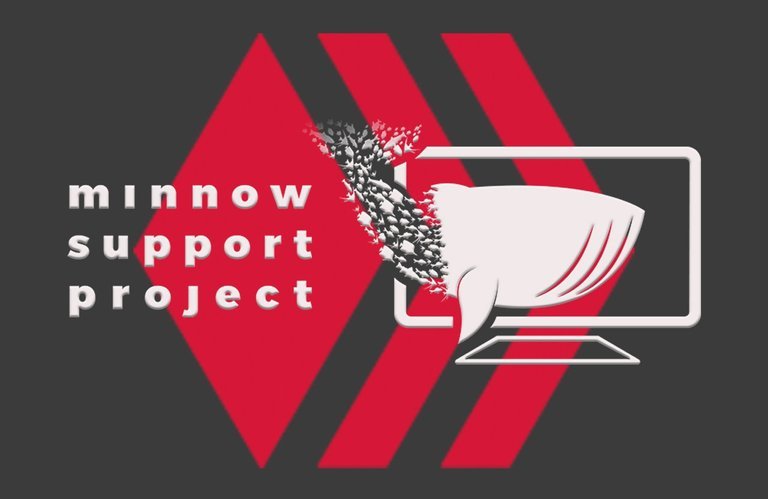 @Minnowsupport has been the handle for communication of information about Palnet tribe and the PAL token. PAL is an acronym for Peace, Abundance and Liberty and the community has always been consistent in curating quality contents around the SteemHive blockchain.
The 600% Push
When PAL token got airdropped to Steem users then in proportion of Steem power, everyone saw an opportunity to earn PAL which was trading solidly in the Hive-engine market. I remember buying/selling PAL for 0.8 STEEM and more. PAL became the yardstick for the airdrop of other tokens that were created. As more tokens came onboard, some with support for specific content types, the "rulereship" of PAL started going down as demand reduced.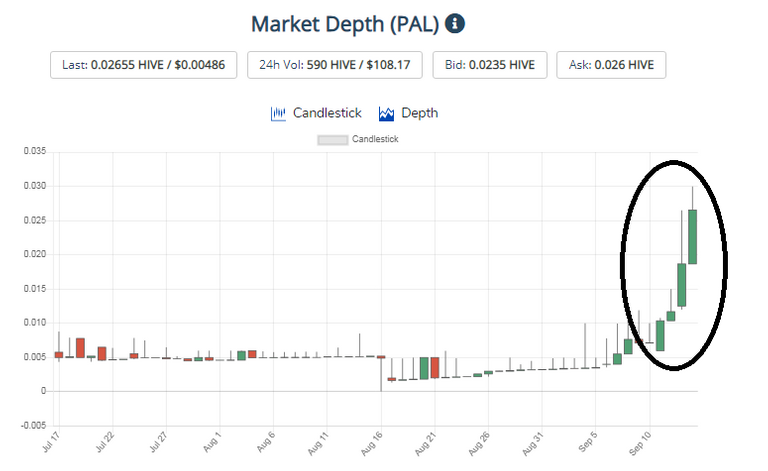 many things have happened along the way till the Hive fork from steem and we lost sight of PAL. The value dwindled down to the lows of 0.001 HIVE and with no traction in volumes atimes. Some of the issues that contributed was scarcity in communication from the PAL community which made many curators and investors lose interest in the token.
Almost when HIVE emerged, there was an announcement of an airdrop of PAL tokens for stakeholders and since then, there have been successive monthly airdrops I didn't actually follow. It was surprising to see a green offshoot against PAL on my wallet this morning and I opened the market page for the token to discover a 6x pump from the last two days.
I'm pretty aware that such doesn't just happen with cryptocurrencies except for three reasons: (1) Huge investor joins community (2) Luring market triggers, and (3) Information that wins investors' trust. I decided to lookup @minnowsupport account to see this announcement made few days ago. It's an airdrop announcement, actually the 6th and 7th. read-up the updates foe details.
Could it be the Market maker Effect?
Another thought that came through my mind that would have caused the mrket pump is the Market Maker feature of Dswap which allows a trader to make buy/sell orders automatically. Yes! there are traces of the bot actions in PAL market as shown below.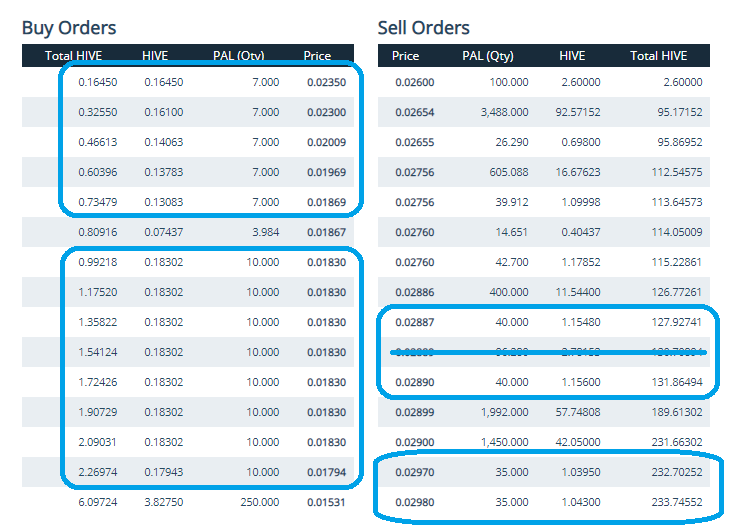 All the emphasized part of the buy/sell orders denote a bot action with a constant amount of token ordered at intervals as shown. I think that Market makers have the tendency of resurrecting some activity and trading volumes around some hive tokens.
The future is nearer!
We're seeing DeFi protocol becoming quite real and tangible on Hive blockchain via the Hive tokens. It would be possible to instantly swap Hive tokens with fee and convert same to a unique token with desired value. It's time to accumulate most of these Hive tokens, now that they are cheap and very affordable.
One who had $100 worth of PAL few weeks ago, would be $600 rich today. Those jerks would often happen around cryptocurrencies, positively or negatively. On the aggregate, it gets better each day.
Posted Using LeoFinance Beta